Chocolate Chip Moon Cakes with Almonds and Spiced Fruit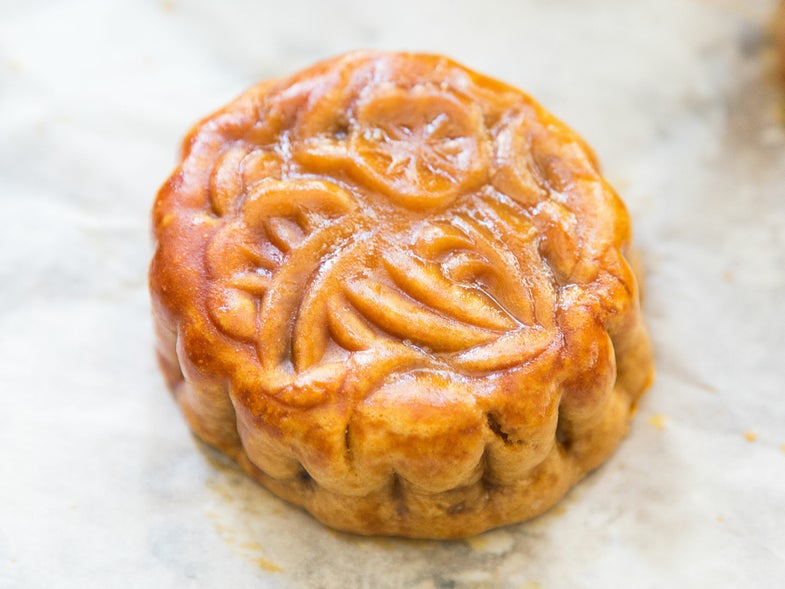 Pastry chef Pichet Ong's whimsical spin on the classic mooncake takes inspiration from American chocolate chip cookies. He folds chocolate chips and candied fruits into a bean- and almond-paste filling and then wraps it in brown sugar-like cookie dough. You can purchase a paddle for molding round or square mooncakes at amazon.com.
Note: Allow up to 2 days resting time for optimal taste and texture.
What You Will Need
Chocolate Chip Moon Cakes with Almonds and Spiced Fruit
These whimsical mooncakes take inspiration from American chocolate chip cookies, with chocolate and candied fruits folded into a lotus–almond-paste filling.
Yield:
makes about 28 moon cakes
Time: 3 hours
For the Dough
5 cups cake flour, plus more for rolling
3 tbsp. custard powder, such as Bird's
1 2⁄3 cups honey or golden syrup
1⁄4 cup plus 1 tbsp. unsulphured molasses (not blackstrap)
1 tsp. kosher salt
1⁄4 cup water
1 1⁄2 tsp. baking soda
3⁄4 cup plus 1 tbsp. peanut oil
For the Filling
3 lb. lotus seed paste, such as Wu Chung
1 lb. almond paste
3 tbsp. vegetable oil
2 tsp. kosher salt
Finely grated zest of 4 oranges
2⁄3 cup finely diced dried apricot
1⁄2 cup dried cherries or cranberries
1⁄2 cup finely diced candied ginger
1 cup finely chopped toasted almonds
1⁄2 cup finely chopped toasted pecans
5 oz. high-quality dark chocolate, roughly chopped
5 oz. high-quality milk chocolate, roughly chopped
1 large egg, beaten with 1 tbsp. water, for egg wash
Instructions
In the bowl of a stand mixer fitted with a paddle, combine the flour with the custard powder. In a medium, high-sided saucepan, bring the honey, molasses and salt to a boil. Meanwhile, in a small bowl, stir the baking soda with 1⁄4 cup water.
Add the baking soda solution to the boiling syrup and cook, stirring, for 3 seconds (the syrup will bubble up). Remove the syrup from the heat and pour into the flour along with the peanut oil and turn the mixer on medium speed. Mix the dough until smooth, about 90 seconds, and then form into a ball and wrap in plastic wrap. Let the dough rest at room temperature for at least 2 hours.
Divide the dough into 2-oz. balls and place on a parchment paper-lined baking sheet. Wrap the baking sheet in plastic and let stand at room temperature until ready to use. *If making the dough ahead, refrigerate the dough, and allow it to return to room temperature before proceeding.
Heat the oven to 375°. In the bowl of a stand mixer fitted with a paddle, beat the lotus seed paste with the almond paste, oil, salt, and zest on medium-high speed until smooth. Reduce the mixer speed to low and add the apricots, cherries, and ginger, followed by the almonds and pecans. Add the chocolates, and beat until just combined. Divide the filling into about twenty-eight 3 1⁄2-oz. pieces, and roll each piece into a ball.
Using a rolling pin, flatten each ball of dough into a 5-inch circle, about 1⁄4-inch thick. Place a ball of filling in the middle of each dough circle and wrap the dough around the filling, sealing it in completely and smoothing out the surface. Place each dough-wrapped ball into the lightly floured cavity of a mooncake paddle (amazon.com) and press to fill the mold. Bang the mooncake paddle on each side against a work surface to loosen the mooncake, and then turn the paddle so the cavity is facing down and bang the paddle to release the mooncake, allowing it to fall onto the work surface. Arrange the molded mooncakes on parchment paper-lined baking sheets, spaced 2 inches apart and spray lightly with water.
Bake the mooncakes for 10 minutes and then remove from the oven and lightly brush each with egg wash. Reduce the oven temperature to 350° and bake until golden brown and warmed in the center, 5 minutes more. Remove the mooncakes from the oven and transfer to a rack to cool completely. Ideally, allow the mooncakes to sit at room temperature, sealed in an airtight container, for 2 days to allow to soften before eating.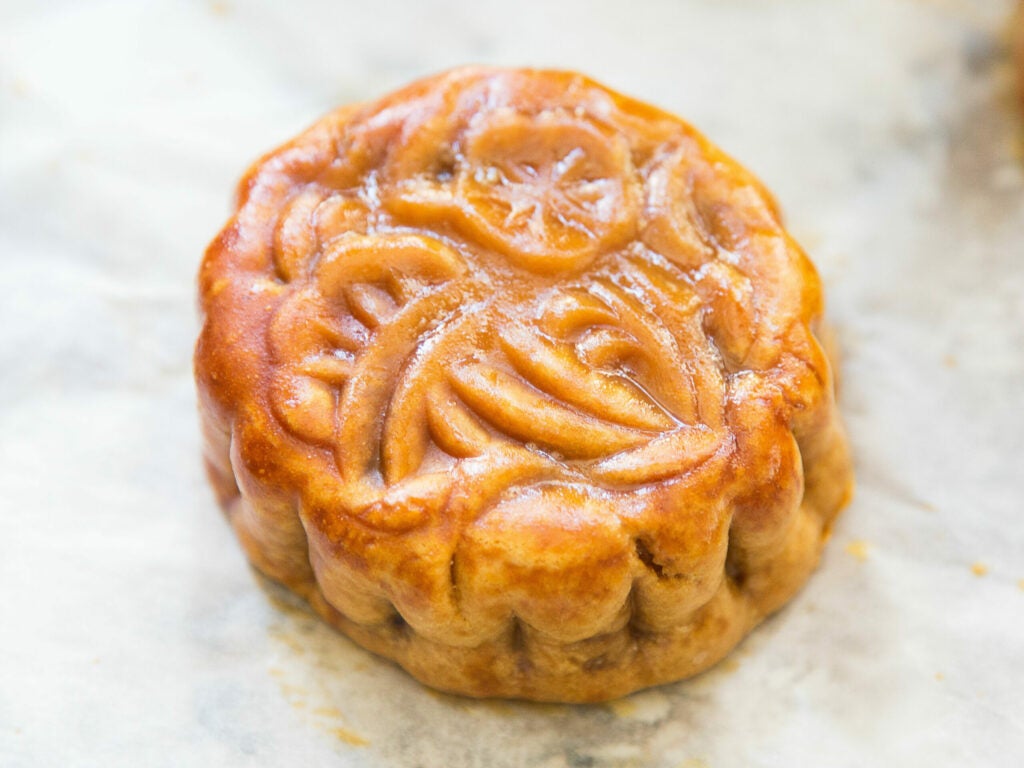 Chocolate Chip Moon Cakes with Almonds and Spiced Fruit
Chocolate Chip Moon Cakes with Almonds and Spiced Fruit