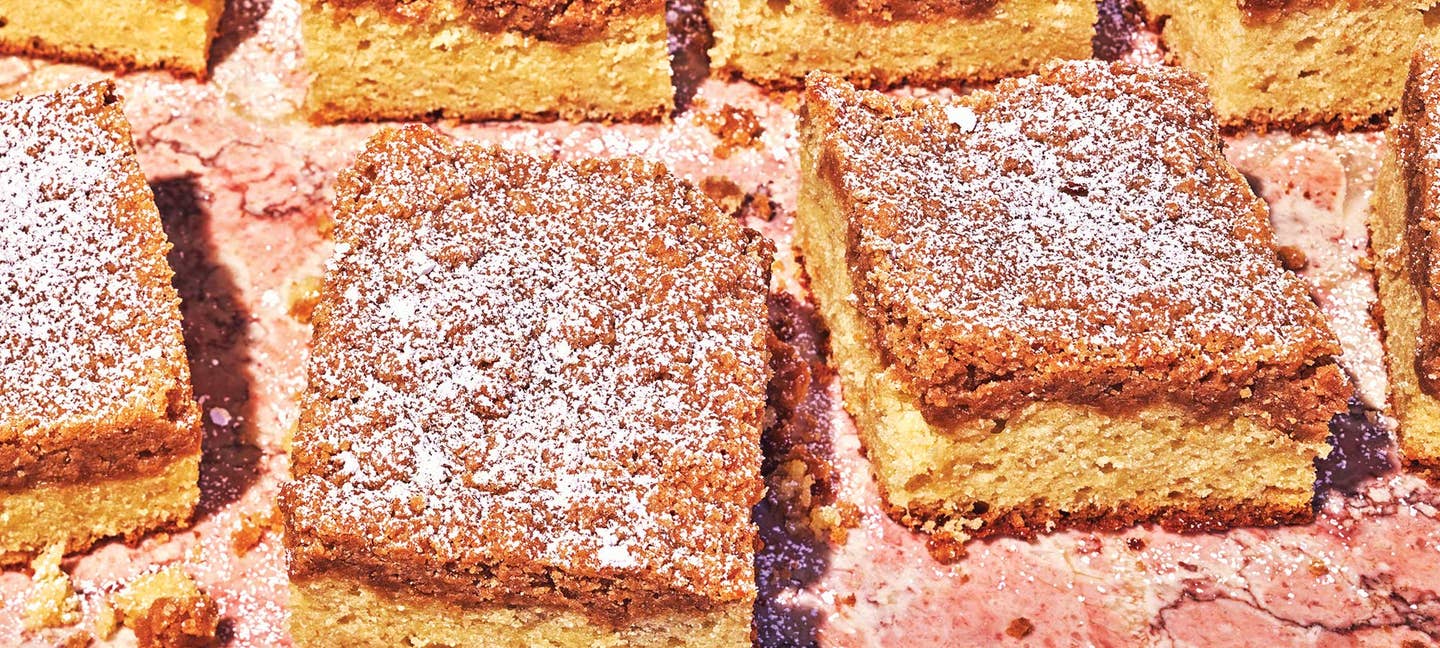 Recipes
Crumb Cake Is Germany's Gift to Baking
Try the classic and some variations, like chocolate-pistachio and cranberry-almond-oat
For many of its fans, crumb cake is a time machine back to childhood. A thick square—even a packaged one—dusted with powdered sugar was a treat you could ask for at any time of day. "That topping on the Hostess crumb cake—I've always been obsessed with it," says Michelle Polzine, who re-created a similar golden crumb at her Central European–leaning 20th Century Cafe in San Francisco. Baker Rose Levy Beranbaum, author of Rose's Baking Basics, gleefully recounts discovering Drake's crumb cakes in college. "I still love crumb cake as one of my top cakes," she says. My own first was Entenmann's, in a windowed box through which I could see the buttery crumbs."It's easy to make your own 'house' version," says Dorie Greenspan, baker and author of Everyday Dorie. You can control the sweetness, pile the crumb inches high, and flavor it with whatever you like. As Greenspan says, "Anything good should be allowed, right?"To Start: Master The Classic Crumb CakeLikely an offspring of Germany's Streuselkuchen, New York–style crumb cake is easy to perfect"Although there is no written evidence that crumb cake was invented in Germany," Alfons Schuhbeck, author of The German Cookbook, says, "its emergence is attributed to the cuisine of Silesia in the 19th century, which at that time was still [German]." There, where today the cake is eaten mostly as an afternoon snack, traditional Streuselkuchen, or streusel cake, features a yeasted batter and, occasionally, a second layer of streusel ribboned through the center.Get the Recipe for Classic New York–Style Crumb Cake »This New York–style variation—which gets both lift and added richness from a combination of sour cream, baking soda, and baking powder (but no yeast)—is easier to mix and bake. While the crumb is similar (streusel is mostly butter, flour, and sugar, with cinnamon and sometimes oats or nuts), usually there's more of it on the New York version, and a hefty dose of powdered sugar.
Why reserve the season's best produce for cobblers and pies?
Beneath the streusel,German crumb cakes often have a layer of colorful fruit. "[It] can vary in different seasons," Schuhbeck says, noting that apples, cherries, apricots, and prunes are popular. According to Beranbaum, adding fruit sparingly is key—a little moistens the cake, but too much causes sogginess. (She also suggests cutting larger fruits thick enough to retain a little bite.)
At 20th Century Cafe, Polzine adds nuts to the crumb to complement the fruits. "Walnuts are so good with apple," she says. "Or black walnuts with huckleberries, pistachios with apricots—just pair things you like." Season the fruit separately, tossing with sugar, spices, or salt as needed.
Blending Batters: All the Marbles
Thanks to a sturdy batter, you can weave in other flavors, from apple butter to chocolate
Although conservative bakers will tell you never to mess with a cake recipe, crumb cake's eggy, resilient batter can be added to and marbled with other flavors with minimal risk. The easiest add-in is unsweetened cocoa powder, which you can simply stir in to the classic batter. Or, to add a ribbon of flavor, stir in a small amount of apple butter, lemon curd, or seasoned pumpkin purée, cooked down to remove excess moisture and cooled.
With a hit of cocoa powder, one batter can easily become two (see recipe, opposite). Here's how to combine them
1. Build a Layer Fill a greased cake pan with the larger proportion of cake batter (in this case, classic vanilla). Using an offset spatula, spread the batter evenly, making sure it reaches and fills the corners (the layer will be thin).
2. Dollop a Second Using a spoon or stiff spatula, evenly add the second flavor (in this case, chocolate) in small mounds atop the existing layer of cake batter.
3. Swirl Them Together Insert an offset spatula or butter knife straight down into the batter to the bottom of the pan. Drag in swirling patterns around and across the cake, intermixing the batters, then smooth the top.