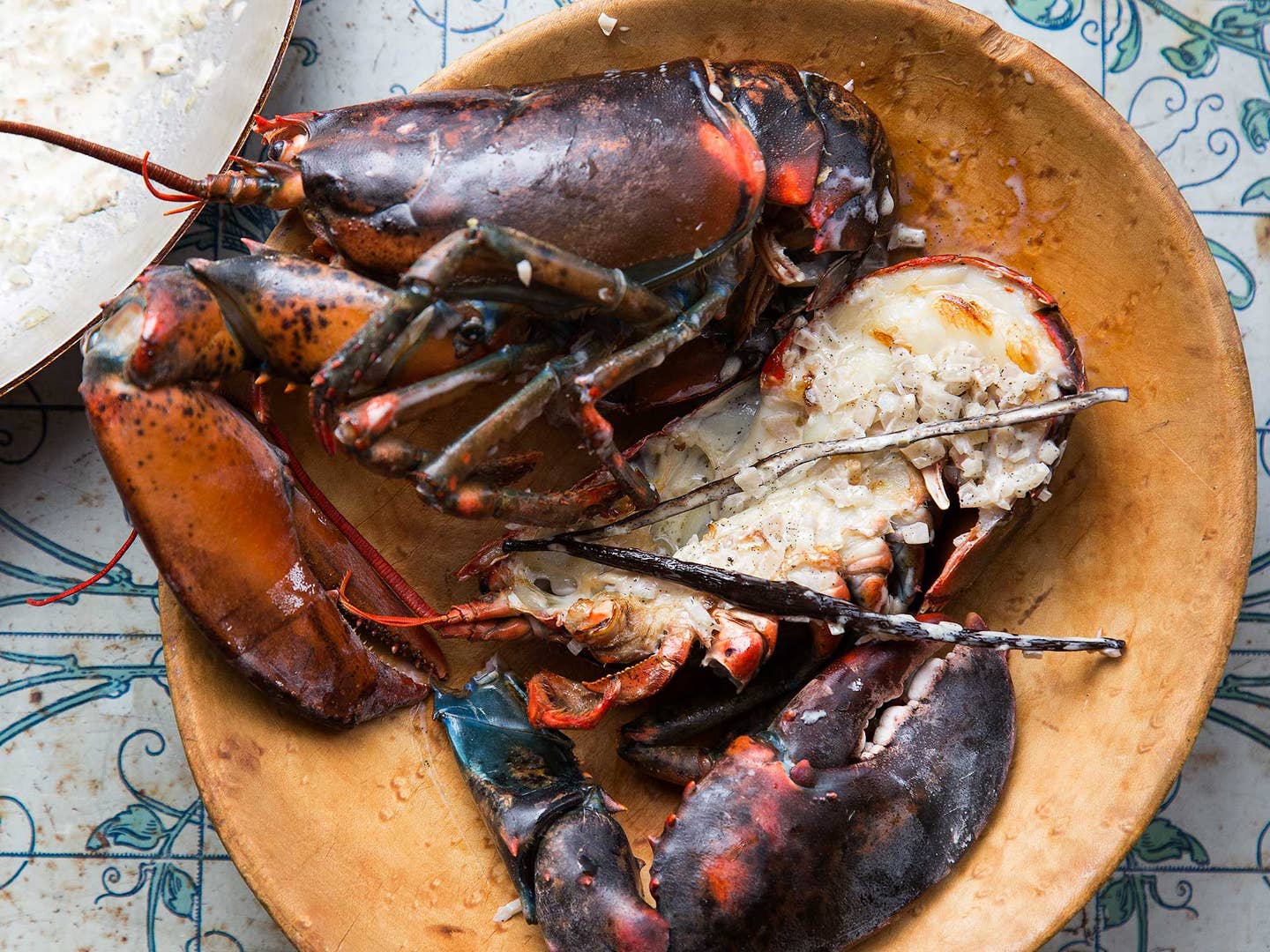 Techniques
Fish: Best With…Vanilla?
Seafood with vanilla sauce is a pairing loved by Michelin-starred chefs, but it all began on a tiny African island
I use a lot of vanilla in my kitchen. I have bottles from Mexico, Tahiti, and Madagascar, and pour it generously into all manner of cookies and cakes. Where I've never thought to use it, though, is on a fish.
That changed on a visit to Comoros, the small African archipelago set in the channel between Mozambique and Madagascar. There the national dish is langouste à la vanille—local lobster drizzled in a vanilla sauce. I had my first taste of it at a rustic beachside restaurant on the Comoro island of Anjouan. The langouste, or rock lobster, had been caught that day then grilled over an open flame. Equal parts briny from the sea and smoky from the fire, it got an unexpected but delightful dose of sweetness and floral aroma from the addition of a slow-simmered vanilla cream sauce, more French than African with touches of white wine, shallots, and butter. In the breezy shade of a palm tree, watching fishing boats come and go while children played in the surf, it was the perfect meal.
At Western restaurants, the savory pairing of seafood and vanilla is hardly new, from three-Michelin-star destinations in Paris to high-flying spots in New York. But rarely do the people who cook and eat this exotic combination recognize where the idea originated. It's no accident that Comoros is the world's second most prolific producer of the vanilla bean.
The point first hit home with me when my guide Makeste took me through the green hills of Anjouan and pointed out vanilla growing wild under clove trees. Picking a near-ripe bean, we caught the subtle scent of vanilla, and I asked how the locals use the spice.
His answer, "with fish," surprised me, and sent me to that beachside restaurant for that grilled lobster. But then I started wondering how a remote Islamic island country ended up with a national dish that calls on such an emblem of French cooking technique: a butter-and-wine sauce.
Hunting down its origin turned out to be a history lesson in vanilla. The French (who also popularized vanilla ice cream) started growing vanilla in the Comoros Islands in the 1890s. Locals say they paired vanilla with savory foods right from the beginning; French cookbooks started offering recipes for vanilla and fish in the 1950s. By the mid 1980s, several French-influenced restaurants in other tropical vanilla-growing locales, including Tahiti, boasted dishes including mahimahi in a vanilla sauce. But only on the Comoros Islands is it the national dish.
Comoro cooks debate the proper way to make langouste a la vanille. Some insist the lobster must be simmered in vanilla sauce, while others say it should be stuffed with the beans and roasted. In the version I tasted, a grilled lobster was drizzled with a fragrant cream sauce using a recipe that my guide said was the 'official' version, which is good enough for me.
But however you make it, the lobster tastes like it couldn't belong anywhere else. You don't need to go to Comoros to eat it, but if you do, be sure to try it on a beach, timed so can watch the glorious tropical sunset with your last bite.