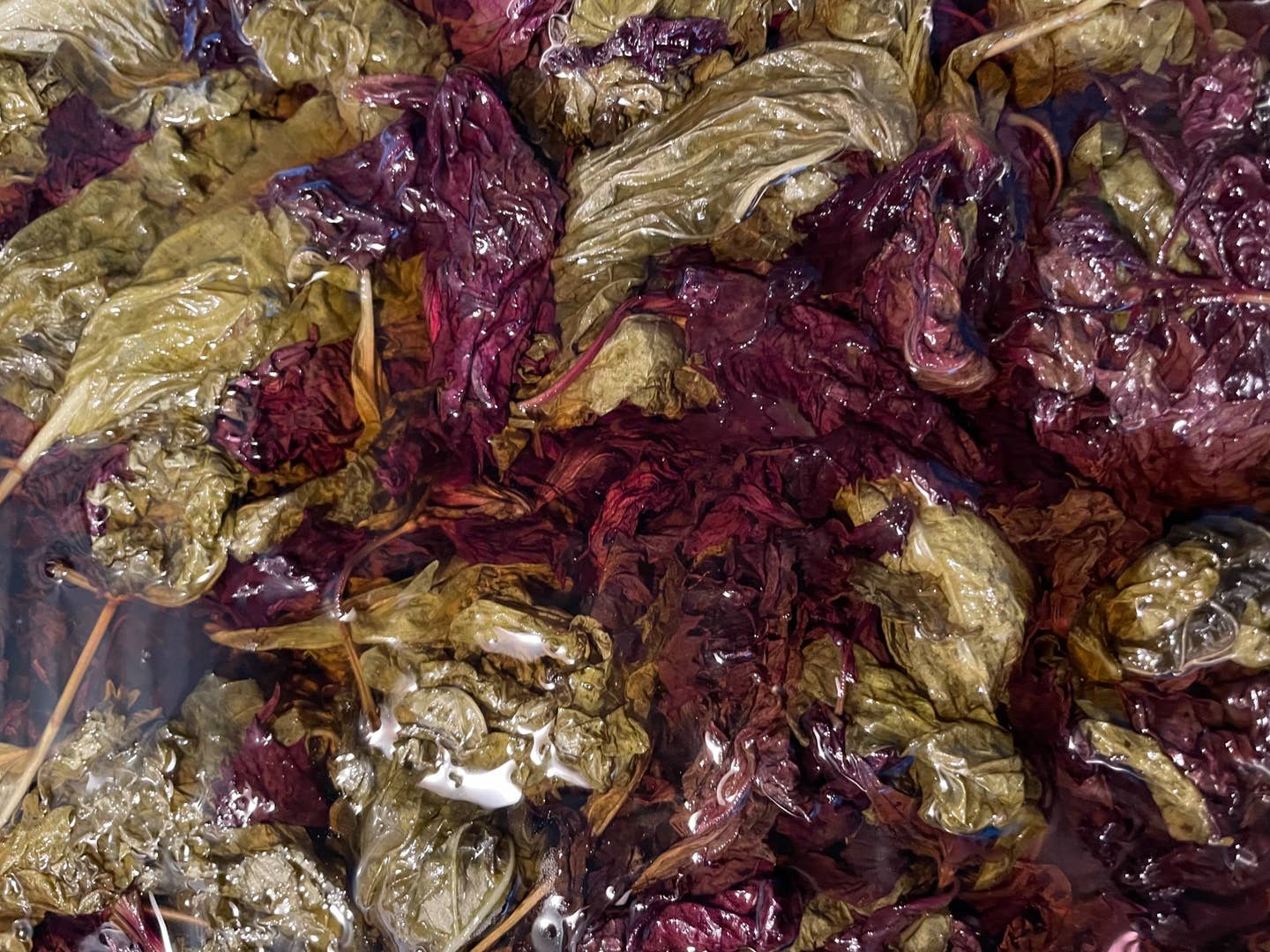 Drinks
Showcase Your End-of-Season Aromatics in Cosme's Herbal Elixir
Bright and bitter shiso, made drinkable in a sweet-and-sour shrub.
Every restaurant kitchen is filled with its own distinct collective of sounds, textures, and smells. Back in 2014, I worked as a line-cook at Cosme, an upscale, contemporary Mexican restaurant in Manhattan's Flatiron District. Along with the pervasive scents of fresh lime and cilantro, and the sound of nixtamalized corn being ground into masa, one aroma in particular always brings me back to that bustling place. Cooling in the walk-in refrigerator, there was always a steaming tub of tart and herbal shiso shrub.
A shrub is a type of liquid concentrate, made with vinegar, sugar, and any number of flavorings, from herbs and spices to fresh fruit. Typically too potent to drink on their own, shrubs are best enjoyed diluted, most often as a mixer in either alcoholic or soft drinks. At Cosme, beverage director Yana Volfson rotates several of these potions through the cocktail program, using flavorings ranging from fresh strawberry and kumquat to xoconostle cactus. "I love making shrubs out of short-lived seasonal ingredients," she explains, because the technique is, above all, "a way to preserve flavors that appear briefly in the markets." Of all of them, my favorite was the one flavored with fresh shiso leaves.
Shiso is the Japanese name for Perilla frutescens, an aromatic herb from the mint family commonly used for cooking in parts of Asia. It contributes a powerful flavor with notes of citrus, mint, and black pepper. Like many leafy greens, the plant is rich in a number of vitamins and minerals, and it has been used medicinally in Japan and elsewhere in Asia. For me, though, it's the herb's sharp perfume and complex flavor that I love.
Cosme's bar program is by far one of the best in the city, and the way shrubs are thoughtfully incorporated fits perfectly into the cocktail menu. While the restaurant's concept is Mexican, this Japanese-inflected recipe fits right alongside traditional Latin American ingredients, melding nicely with pineapple and agave spirits. Volfson, a native New Yorker, has developed recipes and cocktail programs for bars throughout the U.S. and Mexico, and she's always ready to share her knowledge and advice.
All summer, I'd been seeing bunches of fresh shiso, first at the local farmers markets, then also growing in our Chief Content Officer Kate Berry's home garden. I kept thinking of the unmistakable fragrance of that shrub cooling in the walk-in and knew I had to recreate it at home. I reached back out to Volfson, who was willing and excited to share her technique. First, she told me, I needed to start with the freshest leaves I could find. A mix of colors is also key: Purple shiso gives the shrub its deep amber color, while green leaves provide a bit more flavor and a touch bitterness. There are a few different types and colors available, so mix and match until you find the combination you like. For acidity, Volfson suggests using mild and sweet rice vinegar (look for versions labeled "unseasoned," which do not contain salt). And while any neutral sugar works in a shrub, Volfson likes to use agave syrup, which dissolves easily and is versatile enough to work with any spirits.
At Cosme, bartenders stir or mix this tangy shrub into cocktails with mezcal, gin, and vermouth; but it shines brightly with nonalcoholic ingredients too, including fresh ginger, tonic, and lime. Volfson suggests adding a splash to a gin and tonic for a refreshing take on the standard high ball—or even adding it to the bath for an uplifting steam treatment! But I've been enjoying it unadulterated—with club soda and loads of ice. As the weather cools, I still have plenty of shiso shrub in the fridge, so I'll be adding it to hot tea, with a squeeze of lemon for digestion and hydration, extending the herb's freshness and flavor far into the winter.