Francis Mallman's 4-Hour Grilled Pineapple Is Worth the Wait
Slow-cooking pineapple whole on the grill concentrates its flavors while keeping the fruit fresh and bright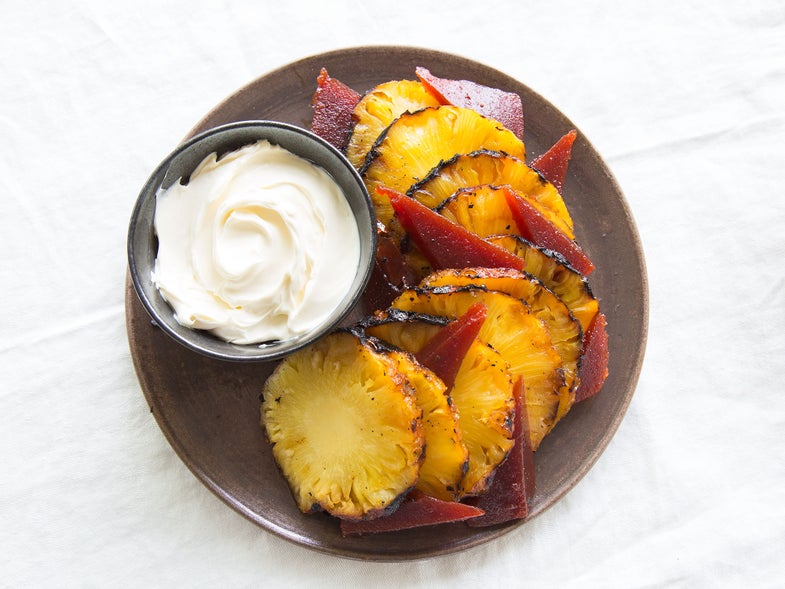 What's better than really ripe pineapple on a summer day? How about plunging that pineapple in a syrup of sugar and wine then slow-grilling it until the flesh turns jammy and the exterior develops a beautiful caramelized crust?
The process takes a whopping four hours, but it's worth it to turn a basic fruit into a dessert that's candied in its own juices. Up the color by serving it with quince paste, and add a pile of mascarpone cheese to dip the fruit into while cutting the sweetness. The accompaniments are flexible, though: whipped cream and pepper jelly would be great, too.
What's less flexible is the quality of the fruit. "The pineapple must be very ripe," Argentinian grillmaster Francis Mallmann, the developer of this recipe, says. "If not, it's useless. And the slower you do it, the better."
While the pineapple does require tending every half hour, this gives you plenty of time to prepare your other dishes in the meantime, lessening your pre-party stress levels. For more grilled fruit magic, check out Francis Mallman's Case For Burning Your Dessert. And go grill some cocktails while you're at it.