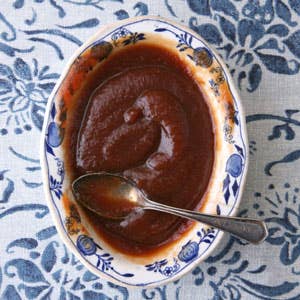 Recipes
Homemade Condiment Recipes
Making your own condiments is easy and satisfying
There's a comforting familiarity to store-bought condiments—not only is that bottle of ketchup or jar of mayonnaise easy, but it always tastes the same. But the truth is that that consistent taste is often pretty mediocre. Making your own condiments gives you access to a vibrant palette of flavors that you'll never find in the supermarket. From barbecue sauce to guacamole, we've rounded up 40 of our favorite homemade condiment recipe.
Let's start with those two staples: ketchup and mayonnaise. Rather than a sweet, one-note ketchup you find at the store, try our version with smoked paprika, apple cider vinegar, and Worcestershire sauce. Mayonnaise might seem intimidating, but it's actually unbelievably easy to make—using an immersion blender you can whip it up in just 20 seconds with egg, mustard, vinegar, and canola oil. Adding garlic to the basic recipe gets you a tangy aïoli.
Compound butter is great for slathering on meat, seafood, or corn on the cob. Our seaweed butter, perfect for accompanying king crab legs, is made with white miso, ground nori, and Chinese hot mustard. For an another oceanic umami bomb, bonito flakes make a butter that will highlight the beefiness of a good steak.
Indian cuisine can be very spicy, and to counteract that it has many cooling condiments. Our cilantro-mint chutney is earthy, bright, and tangy—it's a perfect complement for classic fried samosas. For taming a fiery curry, try kheera ka raita, a cucumber-tomato yogurt sauce.
Find all of these condiments and more in our collection of 40 global condiment recipes.