Sweet and Savory Stone Fruit Recipes
Summer brings a bounty of stone fruits: cherries, nectarines, peaches, plums and apricots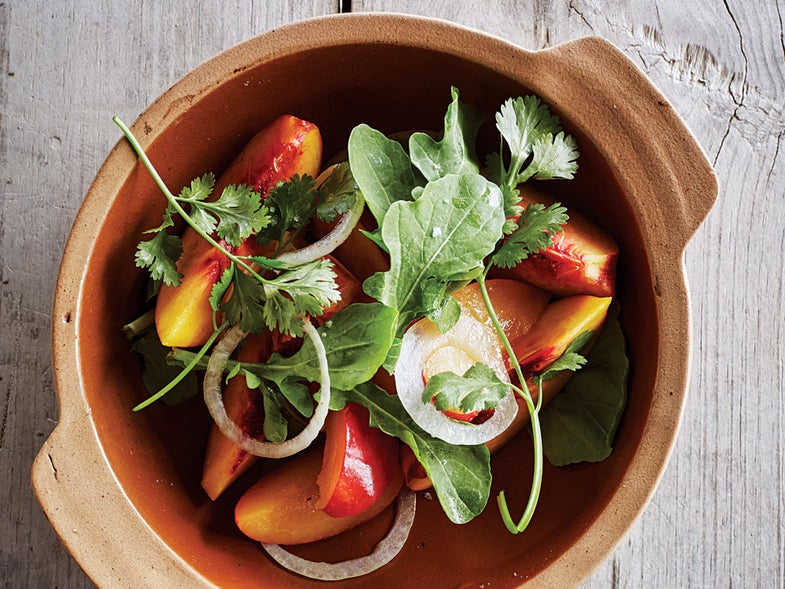 While we'll never tire of sweets such as cherry clafoutis and peach pie, this summer we're also using stone fruits in a variety of savory recipes, from a cherry and herb salad to apricot salsa. Summertime brings a bounty of stone fruits. Stone fruits, or fruits that have outer flesh encasing an inner pit, include cherries, peaches, plums, nectarines, and apricots. We love using all of them in a huge variety of sweet and savory preparation and have rounded up our favorite stone fruit recipes for you to try.
The flavor of cherries ranges from super sweet to puckeringly tart, which makes them extremely versatile. Try them in a savory salad with walnuts and cilantro or a sweet, rustic clafoutis.
Peaches are a dessert staple—we have recipes for pie, ice cream, and more. But they also work well in savory applications like a salad with green beans and caramelized onions. If you get thirsty whip up a batch of bellinis. The cocktail is traditionally made with peach puree and sparkling wine—our versions have apple brandy and aquavit.
Peaches pair well with plums in a salad dressed with red wine vinegar and topped with cilantro. Also try plums in a crumbly strudel or an olive oil pound cake (other stone fruits work wonderfully). Plums and basil are great flavorings for a variation on the classic gin fizz.
Nectarines don't get as much attention as some other fruits, and that's a shame. Put them to use in murabba, a sweet-savory Pakistani jam pickle flavored with cardamom and rosewater. Or put them into a salad with blueberries, shiso leaf, and a touch of sesame oil.
Don't forget apricots. Their acidity makes them good for cooked salsas like ours with orange juice, vinegar, mint, and red onion. For something sweeter, try our apricot-almond tart.
Check out these recipes and more in our collection of great stone fruit recipes.