Recipes
Galilee-Style Grilled Fish Kebabs
A bright and garlicky marinade is the secret to Rawia Bishara's juicy, skewered swordfish.
Serves

makes 10

Cook

1 hour 25 minutes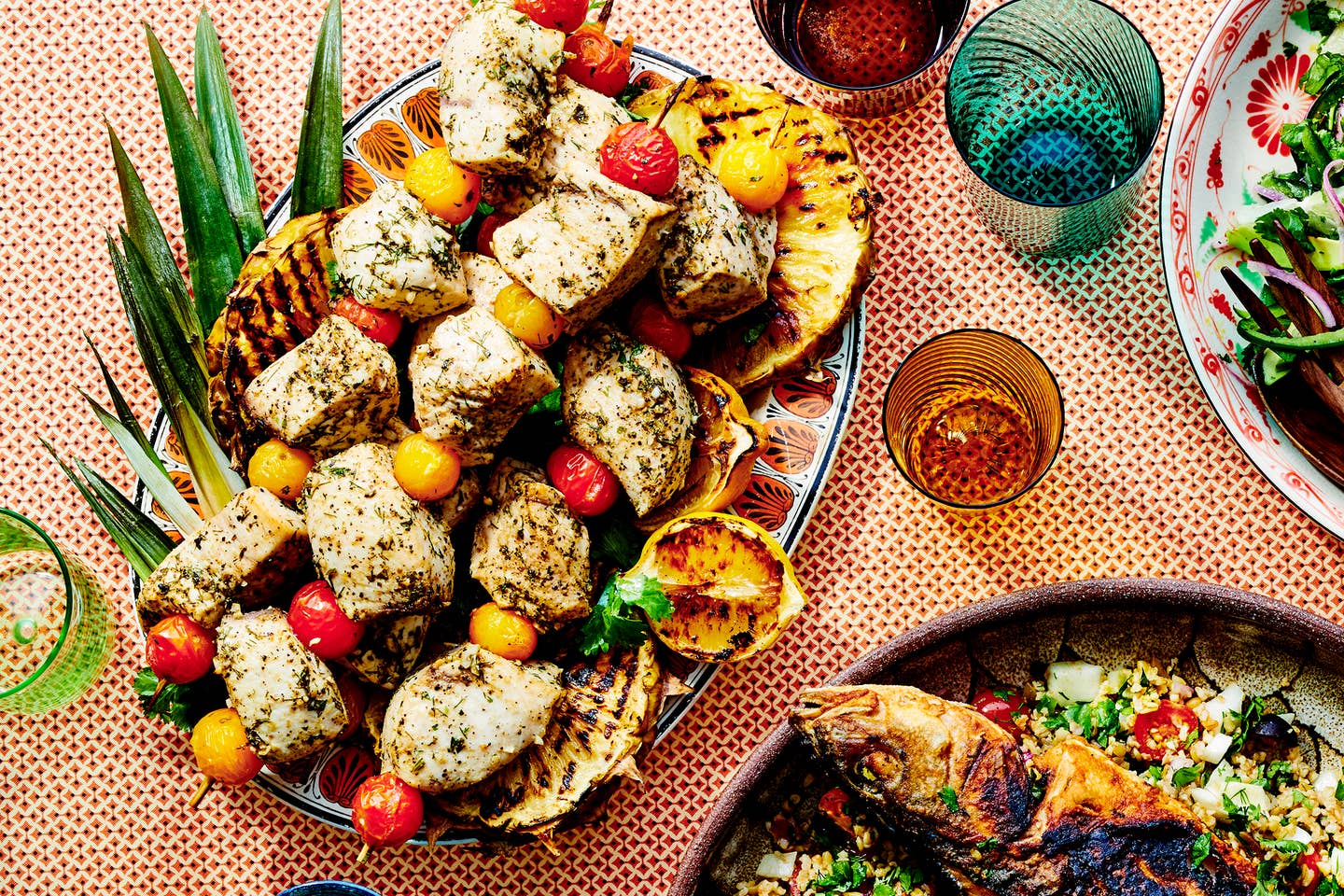 The ground spice and garlic marinade that adds layers of flavor to these fish kebabs also works well on cubed chicken or lamb. The recipe for these smoky kebabs comes from Rawia Bishara, the chef behind Brooklyn's Tanoreen, who associates Friday fish cookouts with her childhood near the Sea of Galilee in Palestine.
Ingredients
½ cups cilantro leaves, finely chopped
6 garlic cloves, finely chopped
1 tbsp. kosher salt
1 tsp. freshly ground black pepper
1 tbsp. ground coriander
1 tsp. ground cumin
½ tsp. ground fennel seed (optional)
2½ lb. firm, thick fish fillets such as swordfish, striped bass, or halibut, cut into 1-by-2-in. cubes
½ cups extra-virgin olive oil
½ cups lemon juice
1 tbsp. fresh dill, finely chopped
Arugula or grilled fresh pineapple rings, for serving (optional)
Vegetable oil, for brushing
40 red or yellow cherry tomatoes
Lemon slices, for serving (optional)
Instructions
Step 1
In a large bowl, combine the cilantro, garlic, salt, black pepper, coriander, cumin, and fennel seed, if using. Add the fish and toss to coat. Let rest for 10 minutes.
Step 2
In a medium bowl, whisk the olive oil, lemon juice, and dill together. Pour the mixture over the spiced fish, turning to coat. Cover and refrigerate for 1 hour.
Step 3
Prepare ten 12-inch metal or (thoroughly soaked) bamboo skewers, shaking off any excess water before using. Line a large platter with arugula or grilled pineapple rings, if using; set aside.
Step 4
Heat a grill or grill pan to medium heat, and brush lightly with vegetable oil. Thread about 5 pieces of fish onto each skewer, adding a cherry tomato between each piece.
Step 5
Transfer the kebabs to the grill, spacing them at least 2 inches apart; cook, turning once, until the fish is just cooked through, 6–8 minutes. Remove and transfer to the prepared platter. Serve hot with lemon slices, if using.