Grilled Eel with Polenta
In Emilia-Romagna, locals roast the slender freshwater fish over an open flame.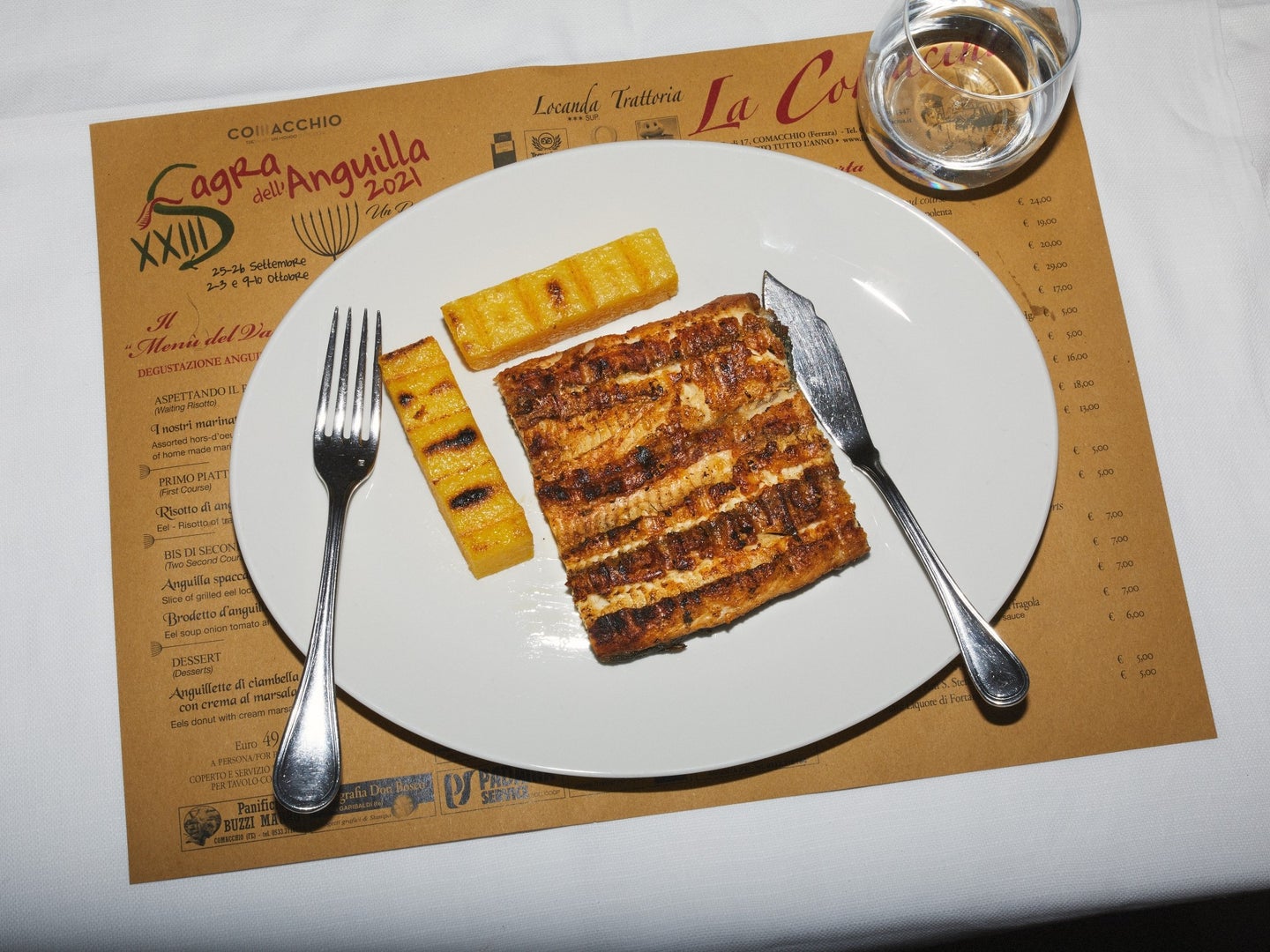 This is the most typical way to eat eel in the region of Comacchio, where writer and photographer Simon Bajada sampled the dish at the Sagra dell'Anguilla—the annual fall Eel Festival. The fish holds up well to open-fire cooking, its flesh roasting tenderly as the skin turns crisp with char. It's important that the grill is not too high and hot; moderate heat will ensure the eel cooks evenly and develops a pleasant crust.
Ask your local fishmonger to bleed and "deslime" fresh eel for you, or order cleaned, frozen eel online from American Unagi.
Featured in: "Fatty, Moist, and Perfectly Crisp When Grilled, No Wonder Eel Is a Big Deal In This Adriatic Town."
Yield: serves 4
Time: 50 minutes
Ingredients
For the eel:
2–2½ lb. eel fillets, cut into 3-in. pieces
2 tbsp. extra-virgin olive oil
Kosher salt and freshly ground black pepper
For the polenta:
3 tbsp. extra-virgin olive oil, divided, plus more for oiling the grill
1 tsp. kosher salt
¾ cups (6 oz.) medium-grain polenta
¼ cups (2 oz.) ground buckwheat
Instructions
Rub the eel fillets with the oil, season all over with salt and black pepper set aside.
Make the polenta: To a medium, heavy bottomed pot over medium-high heat, add 4 cups of water, 2 tablespoons of the olive oil, and the salt, and bring to a boil. Slowly whisk in the polenta and the buckwheat until no lumps remain. Lower the heat to a simmer and cook, whisking frequently, until the polenta has thickened and the grains are tender, about 10 minutes. Pour the polenta onto a large rimmed baking sheet, smooth the surface with a spatula, and set aside to cool to room temperature.
Preheat the grill to cook over medium heat; lightly oil the grates. Once hot, add the eel skin-side down and cook until a crust has formed, about 8 minutes. Using tongs, flip the fillets and continue cooking until the flesh is cooked through, about 8 minutes more. Transfer to a platter and turn the grill up to medium-high heat. Cut the polenta into 8 equal portions, rub them with the remaining oil, and grill the pieces, turning occasionally, until a delicate crust has formed, 7–8 minutes per side. Transfer to the platter with the eel and serve hot.