Recipes
Prawns with Edamame Slaw and Carrot-Miso Sauce
Serves

serves 4

Cook

40 minutes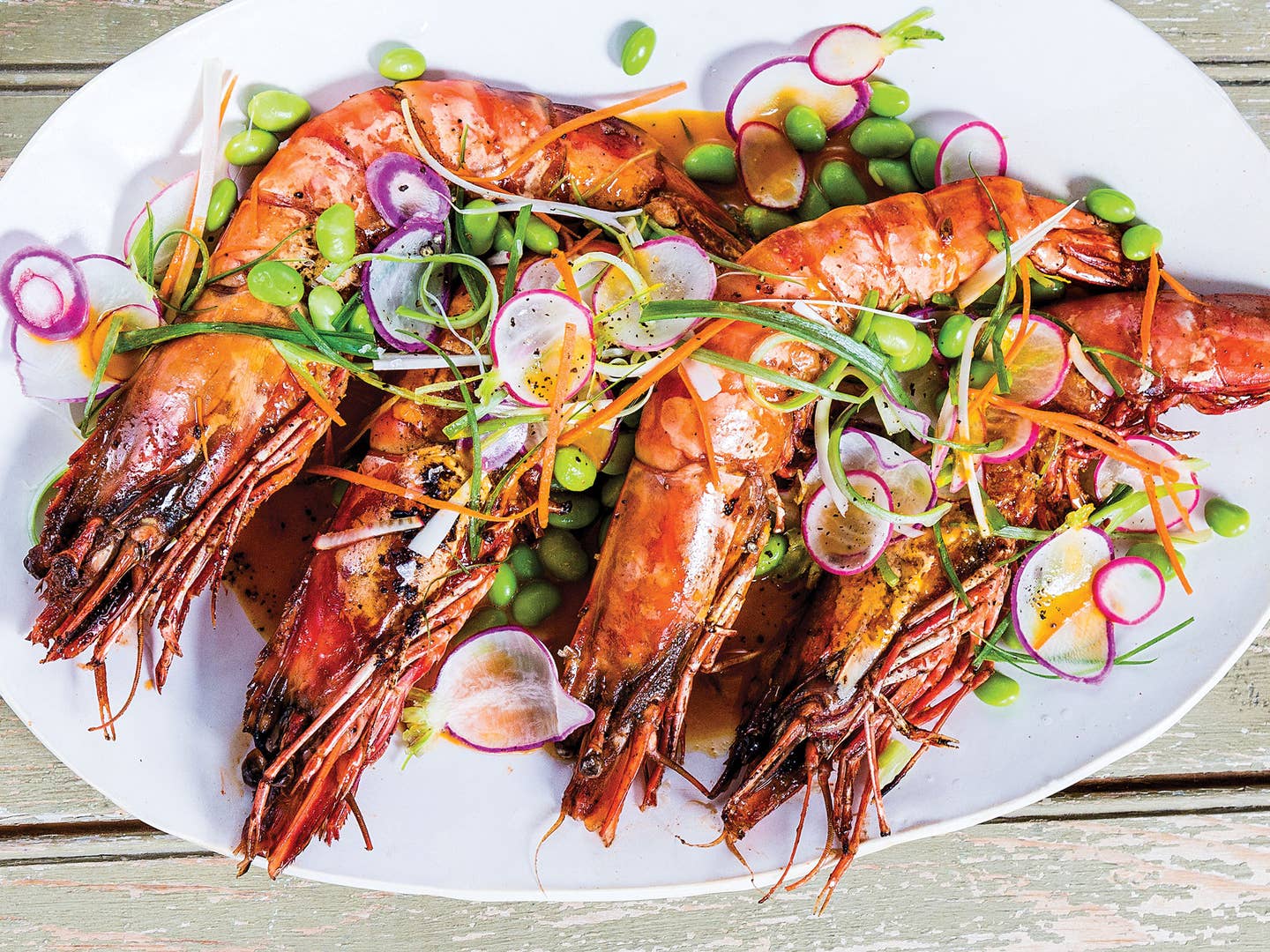 Carrot juice and white miso make a sweet umami dressing for jumbo prawns and a spicy slaw of radish and edamame in this recipe adapted from chef Ryan Edwards of Appellation restaurant in Barossa, Australia.
Ingredients
1⁄2 cup carrot juice
1⁄4 cup fresh orange
1 tbsp. finely grated ginger
1 tbsp. white miso
5 1⁄2 tbsp. unsalted butter
Kosher salt and freshly ground black pepper
3⁄4 cup shelled edamame beans
1⁄2 cup finely julienned radishes, plus 1/4 cup radish slices
1⁄2 cup finely julienned carrots
1⁄2 cup finely julienned scallions
1 tbsp. vegetable oil
2 tsp. fresh lime juice
4 large prawns (1 1/4 lbs.), head and shell on
Instructions
Step 1
In a small saucepan, combine the carrot and orange juices and bring to a boil over medium-high heat. Cook the juices, stirring, until reduced by two-thirds, about 10 minutes. Whisk in the ginger and miso, and then remove the pan from the heat and whisk in 3 1⁄2 tablespoons of the butter until smooth. Season with salt and pepper and transfer to a bowl.
Step 2
In a small saucepan of boiling water, add the edamame and cook until just tender, 1 to 2 minutes. Drain and transfer to a bowl of ice water to chill. Drain again, transfer to paper towels, and dry thoroughly. Place the edamame in a bowl and toss with the julienned and sliced radishes, carrots, scallions, oil, and lime juice. Season with salt and pepper and let stand for 10 minutes.
Step 3
In a 12-inch skillet, heat the remaining 2 tablespoons butter over medium-high. Add the prawns and cook, turning once, until lightly browned and just cooked through, about 6 minutes. Spread two-thirds of the slaw onto a small platter and top with the prawns. Drizzle the prawns with the carrot-miso sauce and top with the remaining slaw to serve.