Recipes
Honey-Drizzled Crêpes (Moufleta)
Serves

serves 10

Cook

2 hours 15 minutes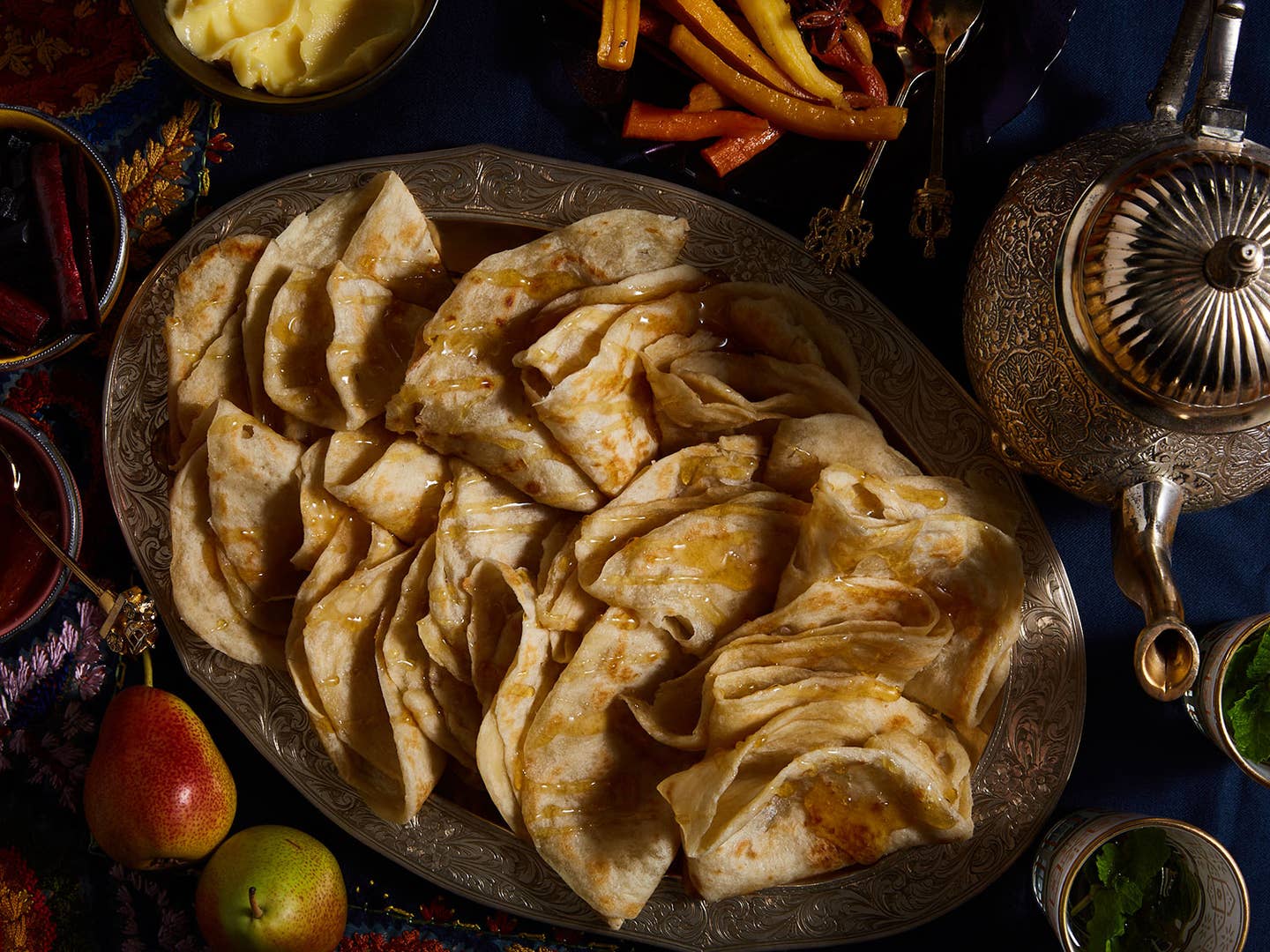 These soft, simple flatbreads drizzled with honey are one of the main dishes at Mimouna, a North African Jewish celebration held the day after Passover ends. Warm your serving platter and serve with extra honey and softened butter if desired.
Ingredients
3 large eggs
2 Tbsp. canola oil, plus more for shaping
1½ tsp. baking powder
1½ tsp. kosher salt
6 cups (1 lb. 12 oz.) all-purpose flour
½ cups honey, plus more as needed
Instructions
Step 1
In a large bowl, whisk 2 cups cold water, the eggs, oil. baking powder, and salt. Add the flour, then stir gently with one hand until a soft dough comes together (do not knead). Cover loosely with plastic film and set aside at room temperature for 30 minutes.
Step 2
Lightly oil a large, clean work surface, then turn the dough out onto it. Divide the dough into 36 pieces, about 1½ oz. each. Shape each piece into a ball, then cover with plastic wrap and let rest an additional 20 minutes.
Step 3
Heat a heavy nonstick or well-seasoned cast iron skillet over medium-high heat. Still working on the oiled counter, press one of the dough balls out to a thin round, about 8 inches in diameter. Transfer the round to the hot skillet and cook until the crèpe is dry and bubbled on the surface and very lightly browned in places but still soft and flexible, about 30 seconds per side. Transfer to a plate and cover with a dry towel while you continue cooking the remaining crèpes and stacking them under the towel to keep them warm and soft.
Step 4
When all of the mofletah are cooked, arrange them over a large, warm serving platter. Drizzle with ½ cup honey, or more as desired and serve warm.