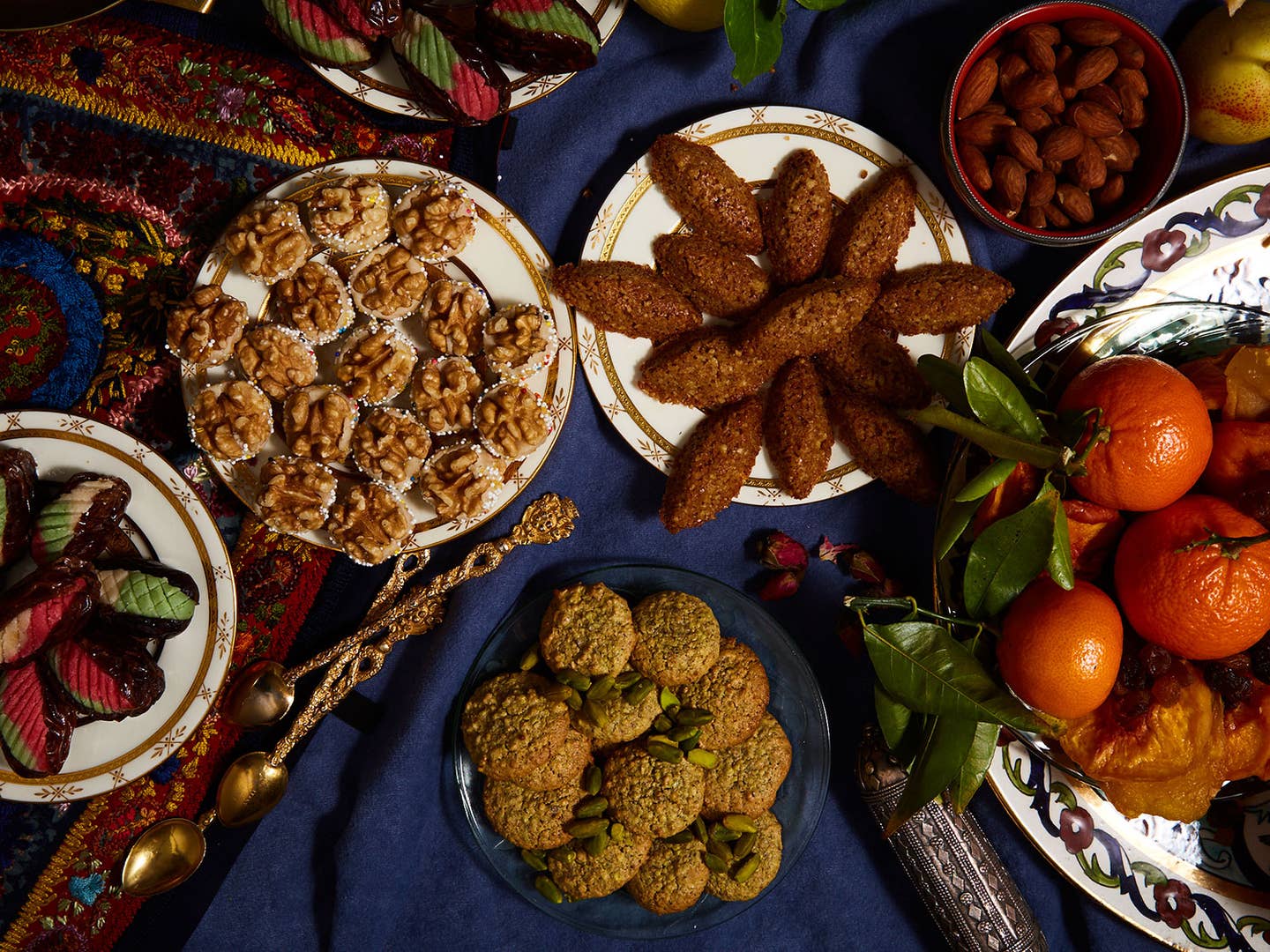 Recipes
This Pastry-Filled Feast May Be the Best Way to Celebrate the End of Passover
In Moroccan Jewish culture, Mimouna marks the end of Passover with a return to eating breads and pastries. Restaurateur Gabe Stulman shares some of his family recipes, from honey crêpes to pistachio cakes
There are parts of the Jewish holiday of Pesach (Passover) that don't always feel like a celebration. An eight-day commemoration of the liberation of Jews from their enslavement in Egypt (around 2450 on the Hebrew calendar, 1300 B.C.), it largely retells the story of a series of plague-filled days (a tale involving locusts, lamb's blood, etc.) and exile. There's also the caveat that you not eat leavened bread during this period, a way of commiserating with ancestors who fled without sufficient time to ferment their loaves.
For Gabe Stulman, the New York City restaurateur behind Happy Cooking Hospitality, it's Mimouna, the night after Passover, that is joyful and distinct.
During Passover you recite "ma nishtana" (מה נשתנה), "How is this night different from all other nights?" But to Stulman, Mimouna marks something special: "Mimouna is the start of a new chapter rather than the end of the story," he says. He grew up in Virginia where his mother, Ruth Stulman, raised him in the traditions of her Moroccan Jewish heritage. While most Jews find relief in finishing that last box of matzo, Sephardic Jews living in this part of North Africa celebrate Mimouna in addition to Passover, which not only marks the day the Jews crossed the Jordan River into the land of Canaan, but also a jubilant return to eating chametz (leavened bread).
Naama Shefi, the executive director of the Jewish Food Society, grew up in Israel on a kibbutz, a community that's based around shared living and farming, so she didn't experience Mimouna until later in life, when she met Jews of different backgrounds and ethnicities. "Mimouna is festive, and in Israel today, it's very famous. When politicians want to connect with the people, they attend a Mimouna on TV." For the Stulmans, it's not about show, but about communicating a diverse representation of Jewish life.
Traditionally and at the Stulman residence, the hosts dress in traditional party attire, colorful and ornate caftans and djellabas, while tables are overflowing almost entirely with sweets, symbolizing happiness, bounty, and joy. Families open their doors to neighbors and friends, cocktail party-style, rather than serving a seated dinner. The centerpiece is moufleta—a stack of warm flour crêpes slathered with honey and butter, and eaten with hands. "I would eat five or six of them when I was little," Gabe says. They're very soft, as opposed to matzo." He also reflects fondly on platters of date-and-walnut fourrées (which literally means "filled") stuffed with his mom's marzipan. She makes it from scratch, whirring unblanched almonds in a food processor until the oils are drawn out, the sugars break down, and a sweet paste forms. She splits the marzipan into three bowls and dyes one red, one white, and one green—the colors of the Moroccan flag.
"We celebrate with a table full of sweet things, for a happy moment," says Ruth, who keeps repeating the word "terbach," which in Arabic means "may you win and be fortunate." This holiday is not short on blessings; there's lively singing, spirited versions of Yiddish prayers with a Moorish/Spanish rhythm by way of Morocco.
To the Stulmans, the more treats the merrier: There are plentiful cookies such as petit gateaux, pearlescent rounds made of shelled pistachios ground together with sugar, rose water, and egg whites, rolled into little balls then baked. And freshly-fried sfinge—bite-size Moroccan donuts tossed in sugar or coated in honey—and it's all served with cups of mint tea.
This year, Gabe is recreating Mimouna in his New York City restaurant Fairfax in collaboration with the Jewish Food Society. At what some might argue is Stulman's most relaxed and coziest restaurant—named for his hometown of Fairfax, Virginia—the design is made to resemble a living room with couches, armed chairs, curious artwork, and coffee tables throughout. Ruth's recipes are at heart of this event, but the Happy Cooking Hospitality team, which includes chef Jack Harris and pastry chefs Lindsey Prokscha and Zoë Kanan, are also offering some savory options, like fish cigars and couscous, which you won't typically find on the usual Mimouna menu.
Kanan pored over Ruth's handwritten recipes and is scaling them up to feed a rotating crowd. Having first seen sfinge stacked in pyramids at a shuk in Israel, Kanan has actually had it on the menu at Happy Cooking Hospitality's Studio since the restaurant opened a few years ago, so that was a given. After mixing up a wet dough by hand, she pinches off golf ball-size pieces with a hole poked in the center. Best eaten within minutes of frying, the warm, golden donuts are magical. For Ruth's boules au noix (walnut balls), Kanan adds a little more orange zest, cinnamon, and cloves and bakes the typically free-form pastries in a financier mold for a beautiful baton shape. But she is leaving the moufleta all up to Ruth.
While it takes days to prepare all these treats, many are able to be made in advance. "It's a bit of a process," says Gabe. "But so was getting out Egypt. That's what we celebrate. It's the afterparty."