Recipes
Masaharu Morimoto's Pork and Shrimp Shumai
Serves

makes 12 Dumplings

Cook

45 minutes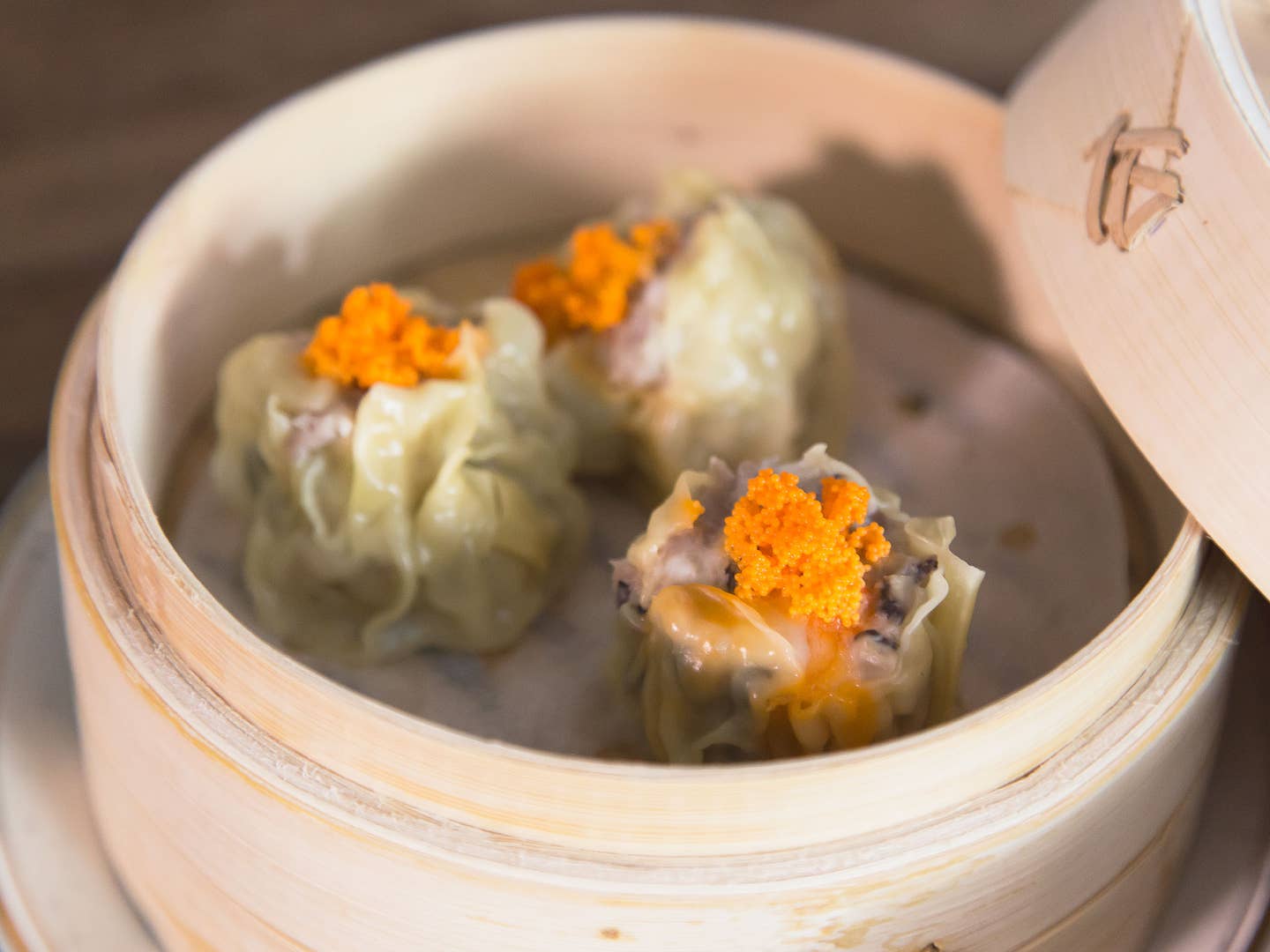 Dumplings so easy you don't even need to fold them. These traditional shumai come from dim sum chef Takeshi Ikeuchi of Morimoto Asia.
Ingredients
15 dried shiitake mushrooms
12 cleaned and deveined shrimp (about 5 oz.)
5 oz. ground pork
2 tbsp. cornstarch
2 tsp. sesame oil
1 1⁄4 tsp. kosher salt
1 tsp. plus 1 tbsp. sugar
1⁄4 tsp. freshly ground black pepper
12 square wonton wrappers
2 tbsp. tobiko (flying fish roe)
3 tbsp. rice vinegar
3 tbsp. soy sauce
Instructions
Step 1
In a medium bowl, cover shiitake with boiling water and soak for 10 minutes. Strain, discarding liquid, and finely chop mushrooms.
Step 2
In a small food processor, pulse 8 of the shrimp until it forms a paste and transfer to a bowl along with the mushrooms, pork, cornstarch, 1 1⁄2 teaspoons of sesame oil, the salt, 1 teaspoon of sugar, and the pepper. Cut the remaining shrimp into 1⁄4-inch pieces and add them to the bowl. Mix well and set aside.
Step 3
Lay 1 wrapper across the flattened palm of one hand. Put 2 tbsp. filling in center of wrapper. Close fingers around wrapper, gathering up edges, to form a "basket" with loosely pleated sides. Gently squeeze sides, pressing in the pleats to seal them. Gently drop dumpling on a flat surface to flatten the bottom. Work fingers gently around the edges to even out its shape. Use a knife to pat down any filling that protrudes above top of wrapper. Top with 1⁄2 teaspoon of tobiko and put in a bamboo steamer. Repeat to make 12 dumplings.
Step 4
Cover the steamer with lid and put into a wok. Pour water into wok until just high enough to show around edges of the bottom steamer but not high enough to touch the dumplings inside. Bring to a boil over medium-high heat. Steam dumplings, replenishing water if necessary, until cooked through, about 10 minutes.
Step 5
Meanwhile, in a small bowl, mix the remaining 1 teaspoon of sesame oil and 1 tablespoon of sugar with the rice vinegar and soy sauce. Serve with the dumplings.