Recipes
Chaman Kaliya (Kashmiri Paneer Curry with Cardamom and Turmeric)
Fresh cheese and green chiles are simmered in an aromatic yellow gravy for chef Romy Gill's rich, Himalayan dish.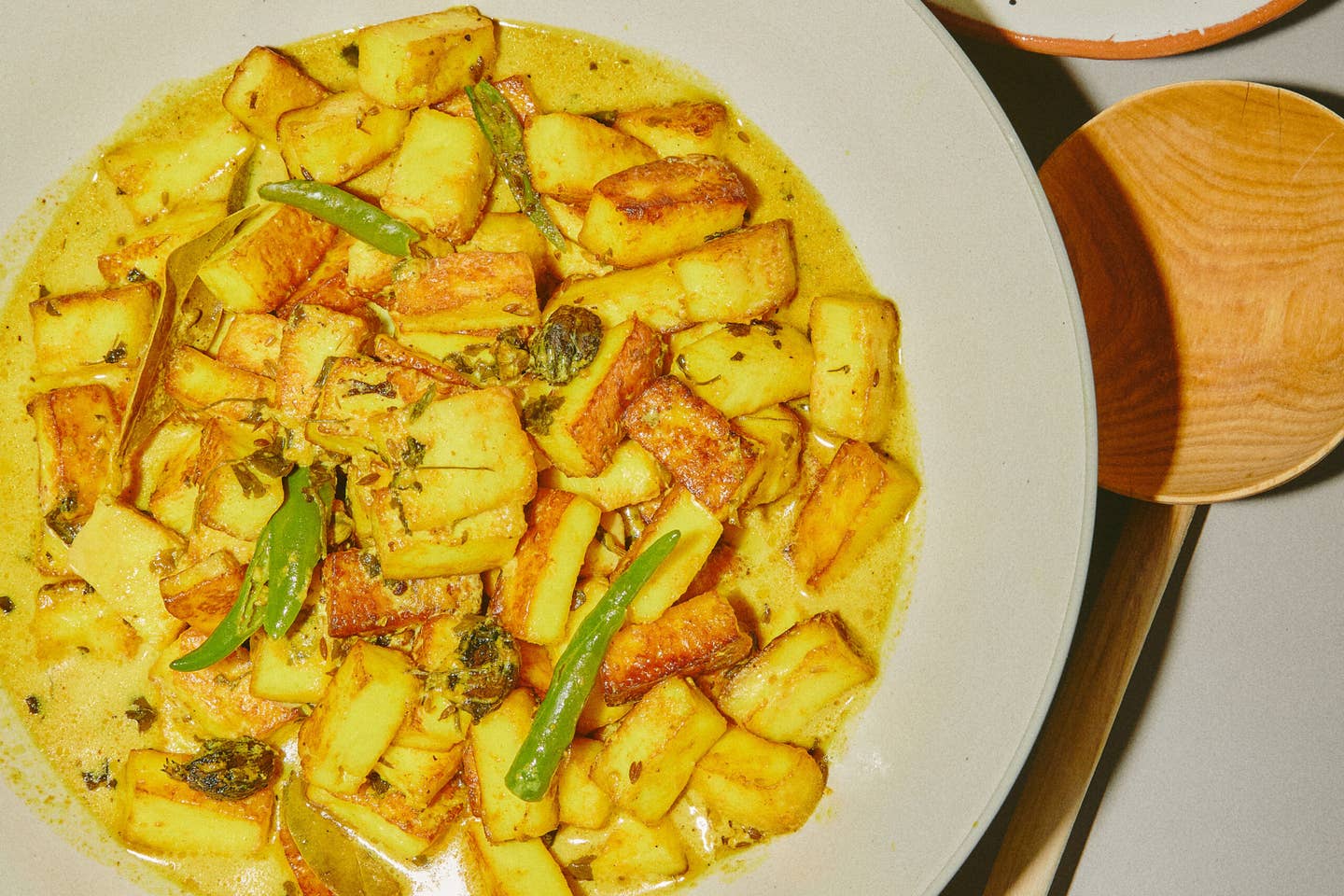 When U.K.-based chef and cookbook author Romy Gill was traveling in Kashmir, she was dazzled by the many different ways in which restaurants, hotels, and home cooks cooked with chaman, the Kashmiri term for the South Asian fresh cheese widely known as paneer. This chaman kaliya recipe, adapted from Gill's cookbook On the Himalayan Trail, was inspired by a dish served by the parents of her friends Amit and Prateek.
Watch out for small children and pets when frying paneer, which has a tendency to splatter. (Find our picks for the best splatter screens here.)
Ingredients
3 Tbsp. mustard seed oil
1 lb. 2 oz. paneer, cut into bite-sized pieces
8 green cardamom pods
4 black cardamom pods
4 whole cloves
2–3 dried bay leaves
1 tsp. brown cumin seeds
1½ tsp. ground fennel seed
1 tsp. ground ginger
1 tsp. ground turmeric
1 tsp. fine sea salt
½ tsp. asafoetida powder
2 hot green chiles, such as bird's eye, stemmed and halved lengthwise
1¼ cup whole milk
1 tsp. dried fenugreek leaves
Steamed basmati rice, to serve
Instructions
Step 1
To a large, deep pan set over medium heat, add the mustard oil; once it is hot and shimmering, add the paneer, and cook, turning occasionally, until light brown all over 6–8 minutes. Using a slotted spoon or tongs, transfer the browned cheese to a plate and set aside. To the same pot, add the green and black cardamom, cloves, bay leaves, and cumin, and bay leaves and cook, stirring frequently, just until fragrant, about 1 minute. Add the fennel, ginger, turmeric, salt, asafoetida, and chiles and cook, stirring occasionally, until fragrant, about 1 minute more. Turn the heat up to medium-high, stir in 1¼ cups of hot water, and bring to a boil. Turn the heat down to medium-low, add the reserved paneer, and cook at a simmer for 3 minutes. Stir in the milk, and continue cooking until the gravy thickens slightly,  5–6 minutes.
Step 2
Stir in the fenugreek leaves, remove from the heat, and serve hot, with steamed basmati rice.