Recipes
Leftover Pasta Frittata with Chicken, Broccoli, and Fontina
Turn yesterday's spaghetti into a cheesy, protein-packed meal in a skillet.
Serves

Serves 4

Cook

25 minutes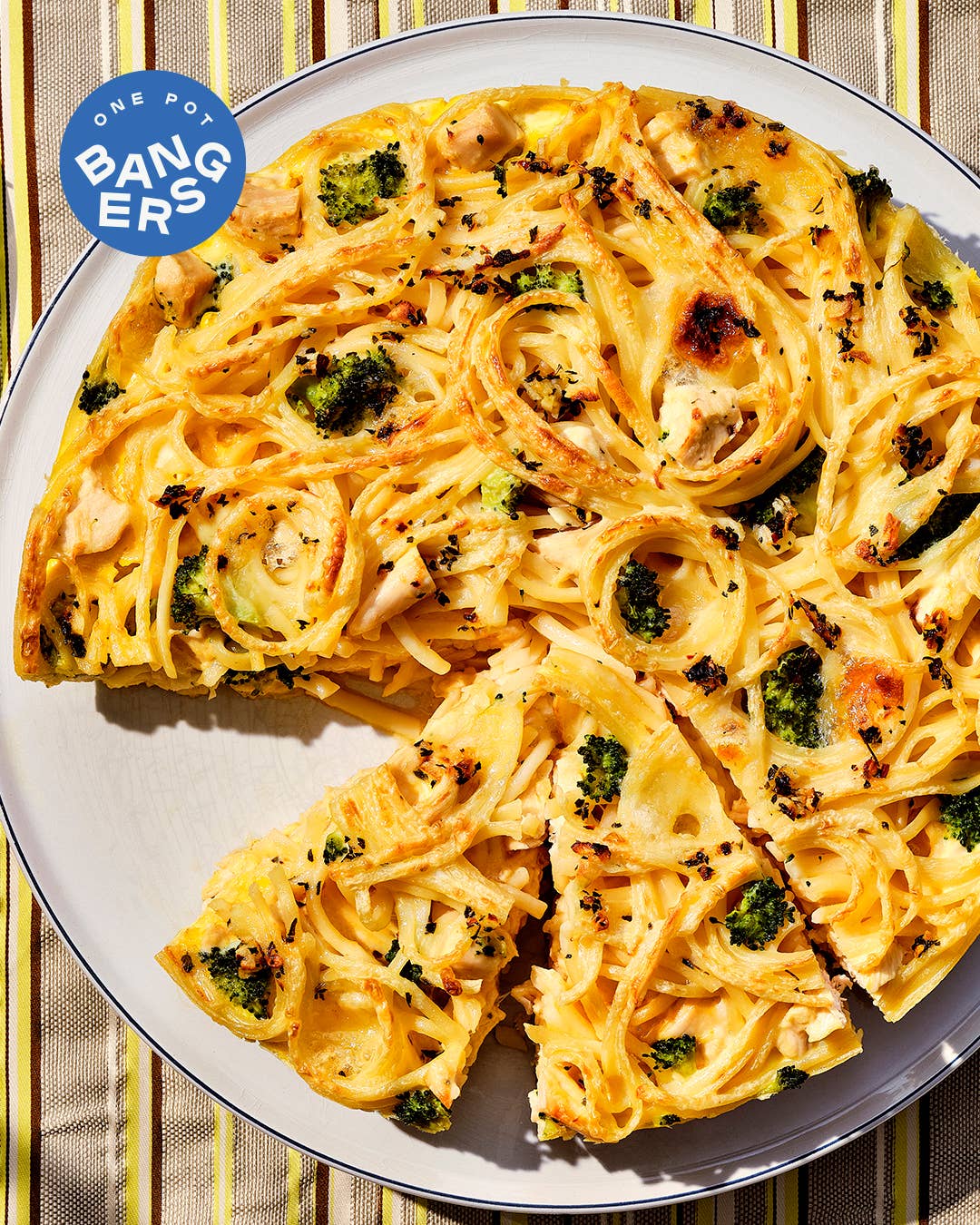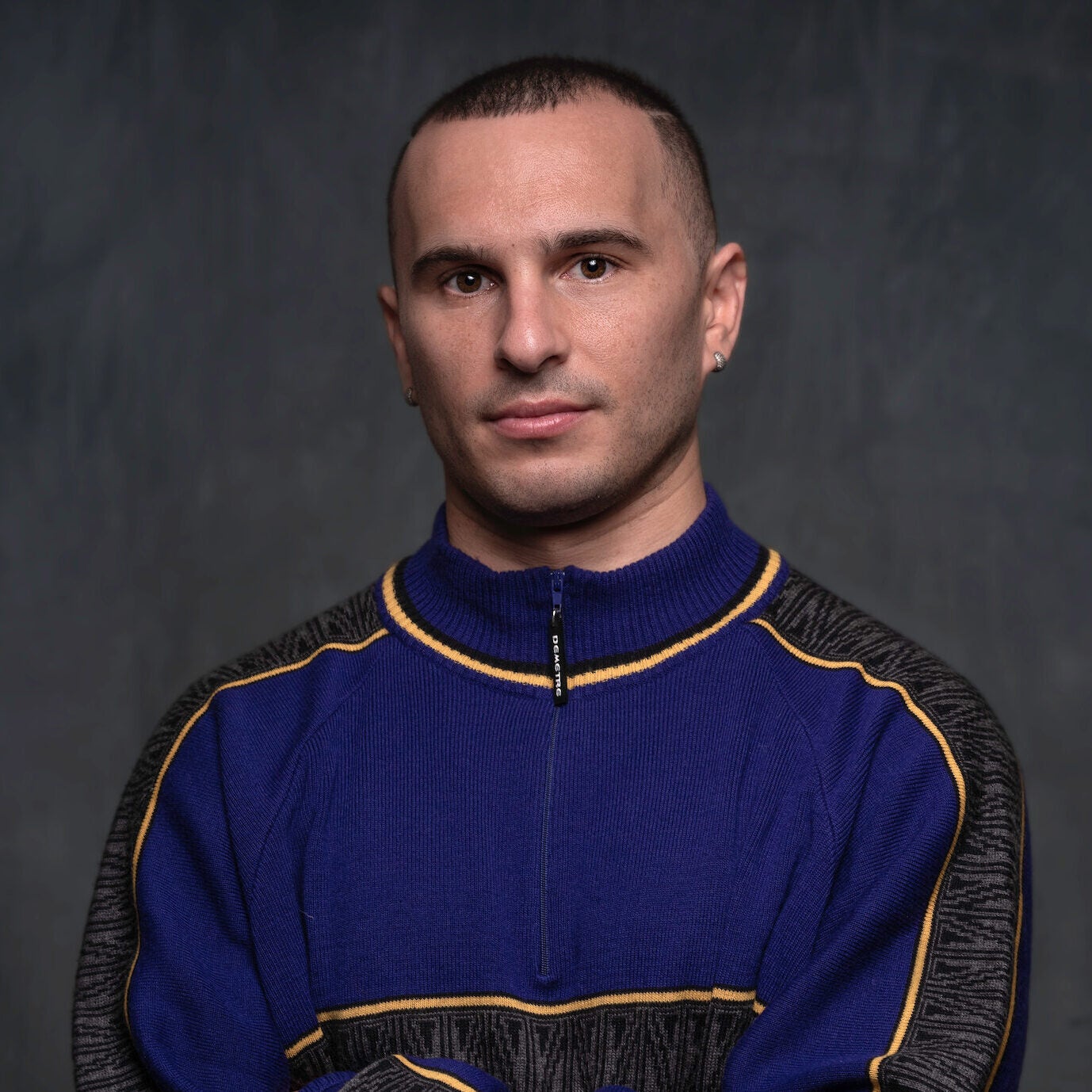 ---
Welcome to One Pot Bangers, Benjamin Kemper's column, where you'll find our freshest, boldest cooking ideas that require just one pot, skillet, or sheet pan. Busy week? We've got you covered with these low-effort, high-reward recipes from around the globe.
I turn to pasta frittata whenever I have leftover spaghetti. It comes together in under 30 minutes: I crack a few eggs into a bowl, stir in a handful of parm and whatever veg and protein I have lying around, then fold in the cooked pasta. The dish starts on the stove and finishes under the broiler, where it puffs and hisses and browns.
Marcella studs hers with ham and cubes of melty mozzarella, but the fixin combo I can't get enough of lately is broccoli, fontina, and chopped rotisserie chicken. The trick, I've found, is to overcook both the pasta and the broccoli, which makes for gorgeously brûléed whorls, a creamy texture, and neat slices. Just don't expect any more leftovers—this dish is so satisfying, it won't stick around.
Ingredients
5 large eggs
3 Tbsp. half & half
8 oz. spaghetti, cooked until soft and cooled slightly
2½ oz. fontina cheese, or provolone, cubed (½ cup)
1½ cup cubed cooked chicken
1½ cup cooked broccoli florets, coarsely chopped
½ cup finely grated Parmigiano-Reggiano cheese
3 Tbsp. coarsely chopped parsley leaves
1½ tsp. kosher salt
Freshly ground black pepper
1 Tbsp. olive oil
1 Tbsp. unsalted butter
2 medium garlic cloves, finely chopped
½ tsp. crushed red chile flakes
½ tsp. dried oregano
Instructions
Step 1
Position a rack 6 inches from the broiler element and heat the broiler.
Step 2
In a large bowl, lightly beat the eggs and half & half, then stir in the spaghetti, chicken, broccoli, half of the fontina, the Parmigiano, parsley, salt, and black pepper to taste.
Step 3
To a 10-inch heatproof nonstick skillet set over medium heat, add the oil, butter, garlic, chile flakes, and oregano. Cook until fragrant, about 2 minutes, then turn the heat to high and add the egg mixture. Using a silicone spatula, scrape the bottom and sides of the pan occasionally until curds form but the eggs are still wet, about 2 minutes. Flatten the top, then sprinkle with the remaining fontina and transfer to the oven.
Step 4
Broil until the center is puffed, the surface is golden, and a knife inserted into the center comes out moist but not wet, about 5 minutes. Set aside to cool slightly for 5 minutes, then use a metal spatula or knife to loosen the edges. To serve, slide the frittata onto a platter and cut it into wedges.