Recipes
Sardine Meatballs with Green Goddess Aïoli
A must-order appetizer at Marseille's coziest seafood restaurant, these herb-flecked balls make a perfect light lunch—or primo finger food for a crowd.
Serves

Serves 4

Cook

1 hour 35 minutes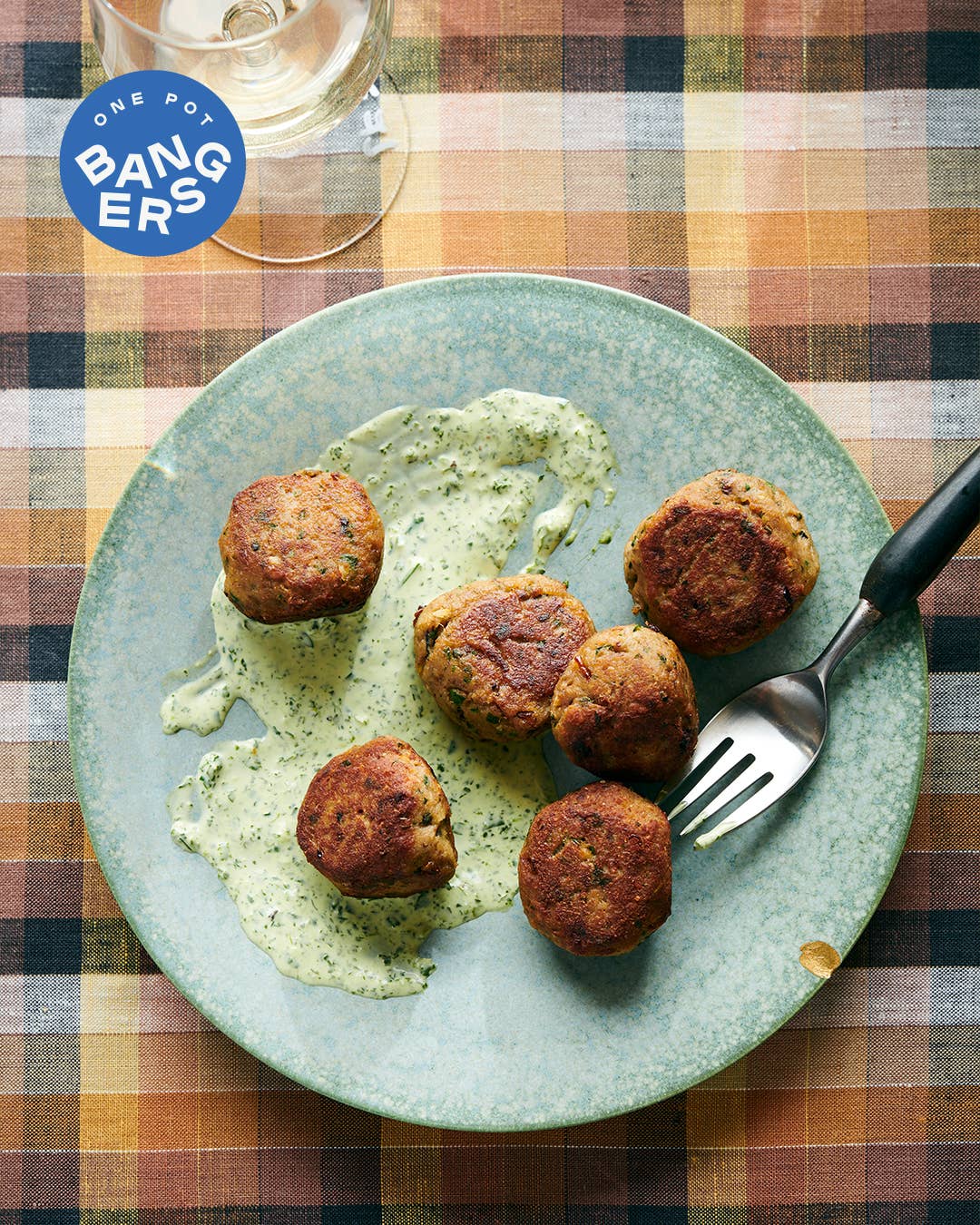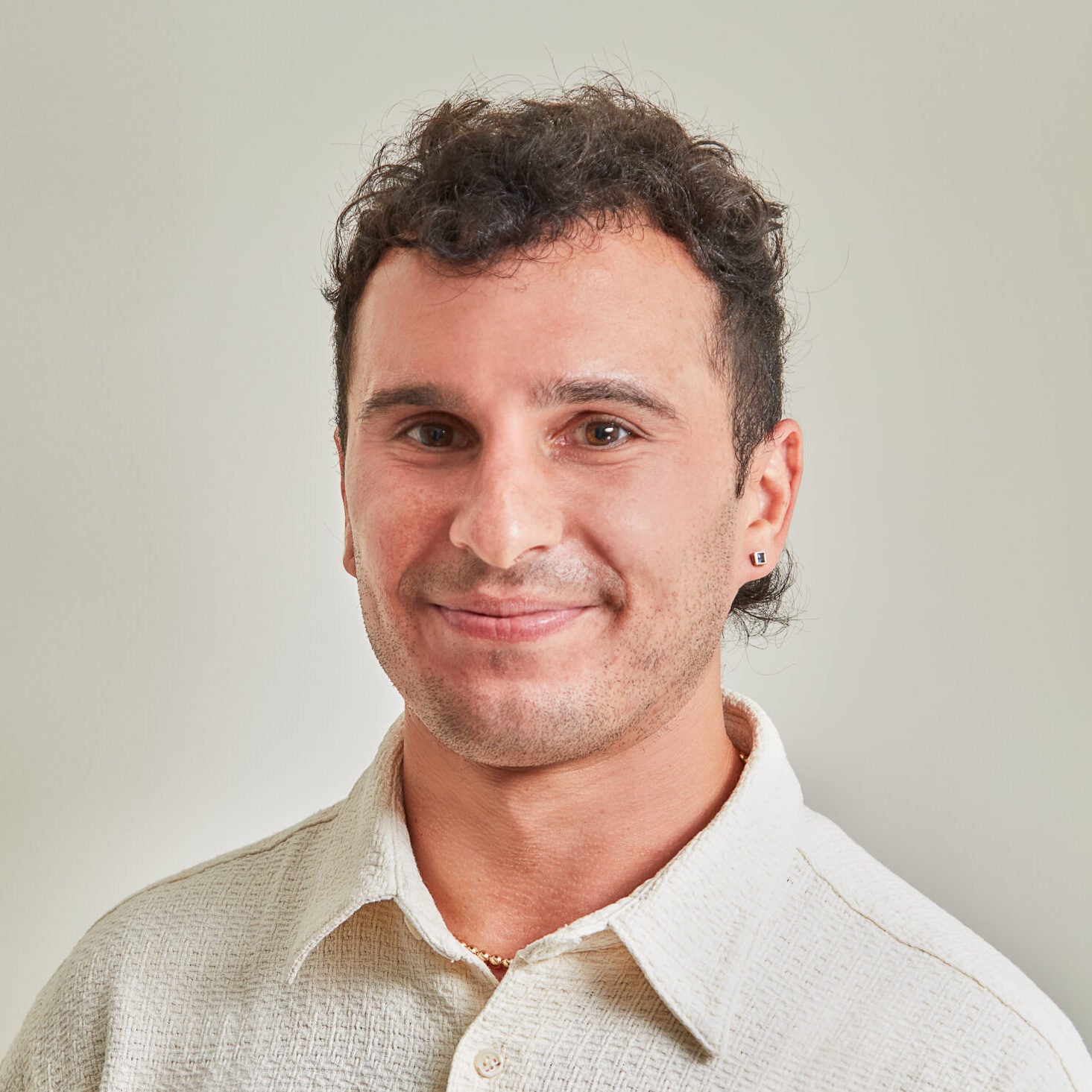 ---
Welcome to One Pot Bangers, Benjamin Kemper's column, where you'll find our freshest, boldest cooking ideas that require just one pot, skillet, or sheet pan. Busy week? We've got you covered with these low-effort, high-reward recipes from around the globe.
Walk into La Boîte à Sardine—Marseille's coziest seafood restaurant, festooned with nets and buoys and shells—and you'll notice one dish gracing nearly every table: boulettes de sardines (sardine meatballs). They're the specialty of chef and co-owner Céline, as I learned on a food tour with Culinary Backstreets, and as easy to prepare as salmon croquettes. I like making tiny, toothpick-able ones when I'm entertaining for a crowd and burger-size patties for weeknight dinners (either slid onto a bun or enjoyed with a simple salade verte). Green goddess is a decidedly unorthodox accompaniment—désolé, Céline!—but to me it makes the perfect foil as it adds color, tang, and freshness.
Ingredients
For the green goddess aïoli:
¼ cup coarsely chopped cilantro
¼ cup coarsely chopped parsley leaves
¼ cup mayonnaise (preferably Sir Kensington's)
1 Tbsp. fresh lemon juice
1 Tbsp. sour cream
½ tsp. finely grated lemon zest
⅛ tsp. Dijon mustard
1 small garlic clove
Kosher salt and freshly ground black pepper
Finely chopped red bell pepper, for garnish (optional)
For the meatballs:
5 oz. stale bread, torn (about 5 slices)
⅓ cup whole milk
2 Tbsp. extra-virgin olive oil
½ medium yellow onion, finely chopped (½ cup)
2 lb. fresh whole sardines, cleaned and filleted
2 Tbsp. finely chopped mint leaves
2 Tbsp. finely chopped parsley leaves
2 Tbsp. finely grated parmesan (½ oz.)
1 Tbsp. toasted pine nuts, coarsely chopped
1 tsp. kosher salt
¼ tsp. freshly ground black pepper
Pinch cayenne pepper
1 garlic clove, finely chopped
1 large egg
Sunflower oil, for frying
Instructions
Step 1
Make the green goddess aïoli: In a food processor, blend the cilantro, parsley, mayonnaise, lemon juice, sour cream, lemon zest, mustard, garlic, salt, and black pepper to taste until only tiny flecks of herbs remain, about 30 seconds. Scrape into a small bowl and sprinkle with the red bell pepper, then cover and refrigerate until ready to serve. Wipe out the food processor.
Step 2
Meanwhile, make the meatballs: In a small bowl, soak the bread in the milk until softened, about 10 minutes. Strain, pressing gently on the bread to remove any excess milk. (Discard the milk.) Set aside.
Step 3
To a large, high-sided nonstick skillet set over medium-high heat, add the olive oil and onion and cook, stirring occasionally, until softened and golden brown, about 11 minutes. Scrape into the food processor, then return the pan to the stove.
Step 4
To the food processor, add the sardines, the reserved bread, the mint, parsley, parmesan, pine nuts, salt, black pepper, cayenne, garlic, and egg and blend to a coarse paste, 30–45 seconds. Cover with plastic wrap and refrigerate until firm, at least 1 hour.
Step 5
Using your hands, roll the mixture into approximately twenty-five ½-ounce balls (about 1 tablespoon each), and place on a plate beside the stove.
Step 6
Into the empty skillet, pour the sunflower oil to a depth of ¼ inch and turn the heat to medium-high. When it's hot and shimmering, working in batches, fry the meatballs until browned on all sides and cooked through, 4–6 minutes per batch. Transfer the cooked meatballs to a paper-towel-lined plate. Serve hot or warm alongside the aïoli.