Recipes
Catalan Braised Pork Ribs With Chestnuts
A comforting cold-weather dish from the kitchen of renowned chef Joan Roca.
Serves

serves 4

Cook

2 hours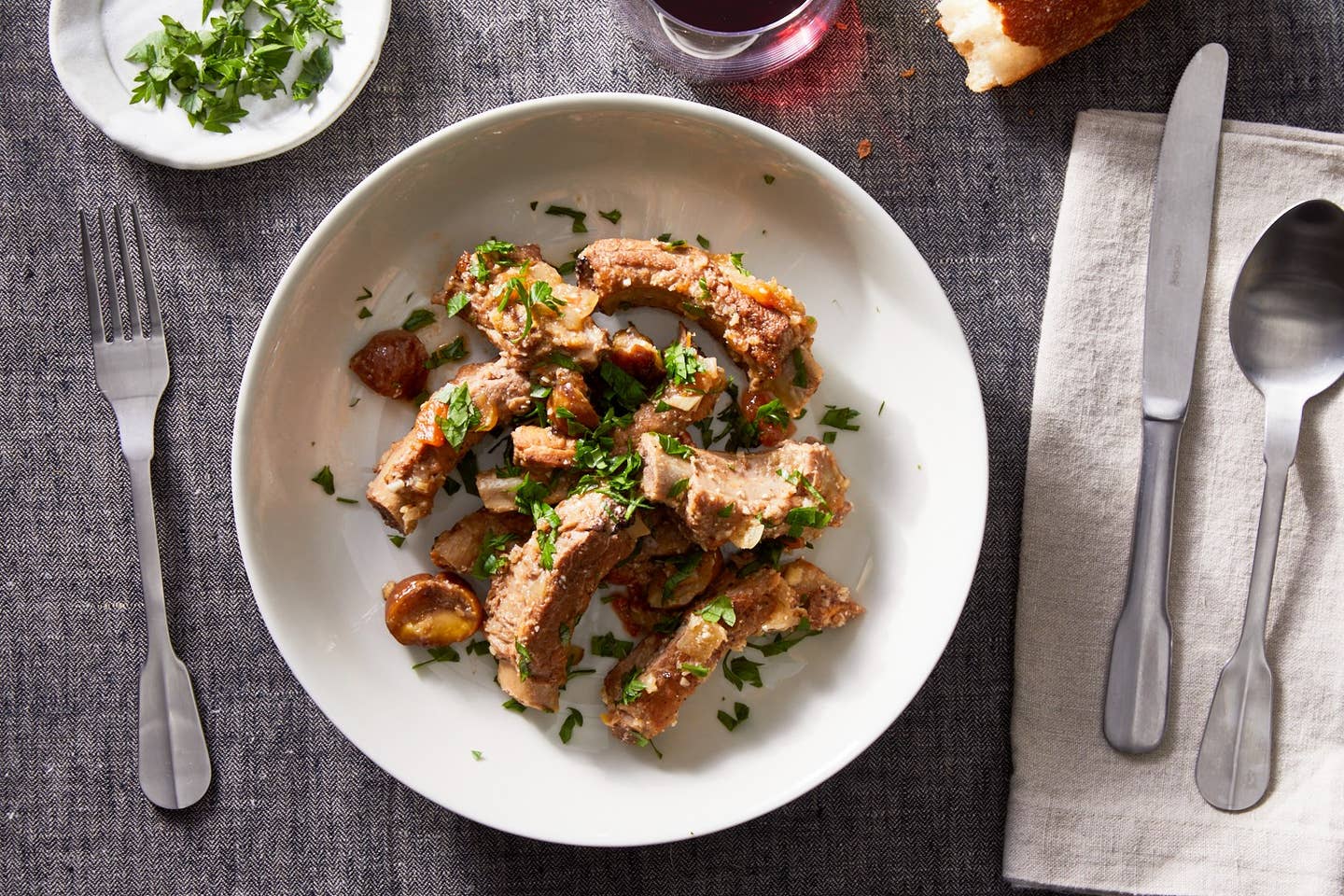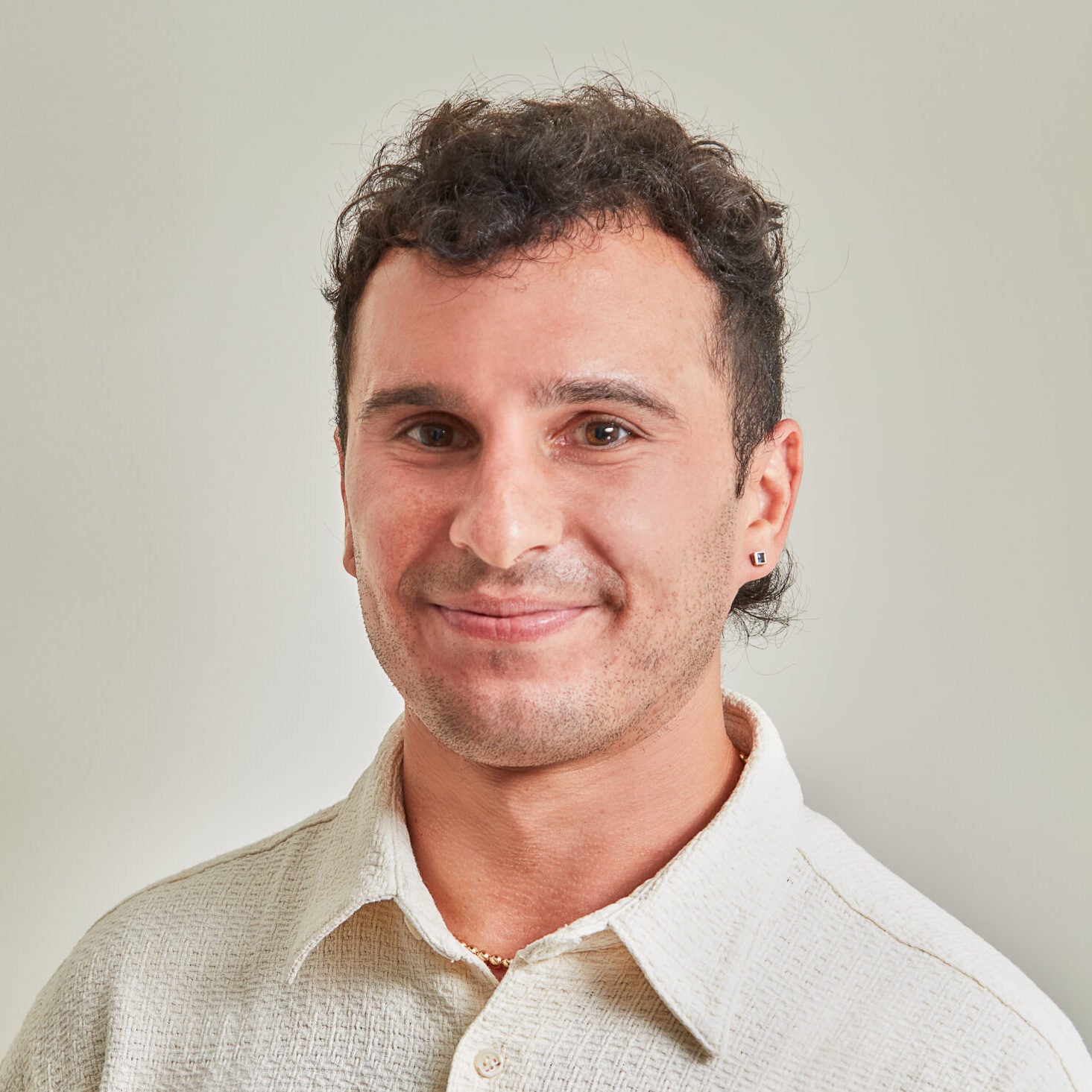 ---
Joan Roca, chef of the three-Michelin-star Celler de Can Roca in Girona and one of Spain's most revered culinary figures, grew up on simple Catalan comfort food prepared by his mother, Montserrat. This saucy braise of pork ribs and chestnuts was one of his favorite childhood dishes. Adapted from Roca's cookbook Cocina Madre, this recipe calls for the classic Catalan blend called a picada—a nutty, garlicky paste bashed up in a mortar and pestle—which you'll whisk in just before serving for a pop of flavor and texture. Buy peeled chestnuts in specialty stores or online, or peel your own: Cut an "x" into the tip of each chestnut, then boil for 20 minutes; when cool enough to handle, use your fingers to remove the woody exterior and brown papery layer.
Ingredients
1 rack of pork ribs (about 2 lb.), cut into individual ribs
Kosher salt
Freshly ground black pepper
¼ cups olive oil or lard, divided
2 medium onions, finely chopped
5 garlic cloves, 4 finely chopped, 1 whole
2 medium tomatoes, seeded and chopped
1 lb. peeled chestnuts
15 almonds
2 small almond biscotti, coarsely ground (½ cup)
Finely chopped parsley, for garnish
Instructions
Step 1
Using paper towels, pat the ribs dry, then season generously with salt and black pepper. To a large Dutch oven set over medium-high heat, add 2 tablespoons of the oil. When it's hot and shimmering, add half of the ribs and cook, turning occasionally, until browned all over, 6–8 minutes. Transfer to a plate, then repeat with the remaining ribs; set aside.
Step 2
Turn the heat to medium. To the empty skillet, add the remaining oil and the onions and cook, stirring occasionally, until softened slightly and translucent, about 7 minutes. Add the chopped garlic and tomatoes and continue cooking, stirring occasionally, until the tomatoes have broken down and most of the liquid has evaporated, about 15 minutes more.
Step 3
Add the reserved ribs to the pot, pour over enough water to barely cover (about 5 cups), and turn the heat to high. When the liquid boils, partially cover and turn the heat to medium-low. Cook until the ribs are tender and the meat flakes when nudged with a fork, 1¼–1½ hours.
Step 4
Meanwhile, par-cook the chestnuts: To a small pot set over high heat, add the chestnuts and cover with water. When the water boils, turn the heat to medium and cook until softened slightly, about 12 minutes; drain, discarding the liquid.
Step 5
Add the chestnuts to the pot with the ribs and stir gently to combine. Cook to marry the flavors, about 5 minutes.
Step 6
Meanwhile, make a picada: Using a mortar and pestle, pound the remaining garlic to a paste, then add the almonds and biscotti and pound until finely ground. Stir the picada into the pot with the ribs, then turn off the heat, cover, and let rest for 5 minutes. Sprinkle with the parsley, and serve.