Recipes
Béchamel Sauce
Chef Hélène Darroze seasons her classic béchamel sauce with garlic, thyme, and Basque Espelette pepper.
Serves

makes 4 cups

Cook

20 minutes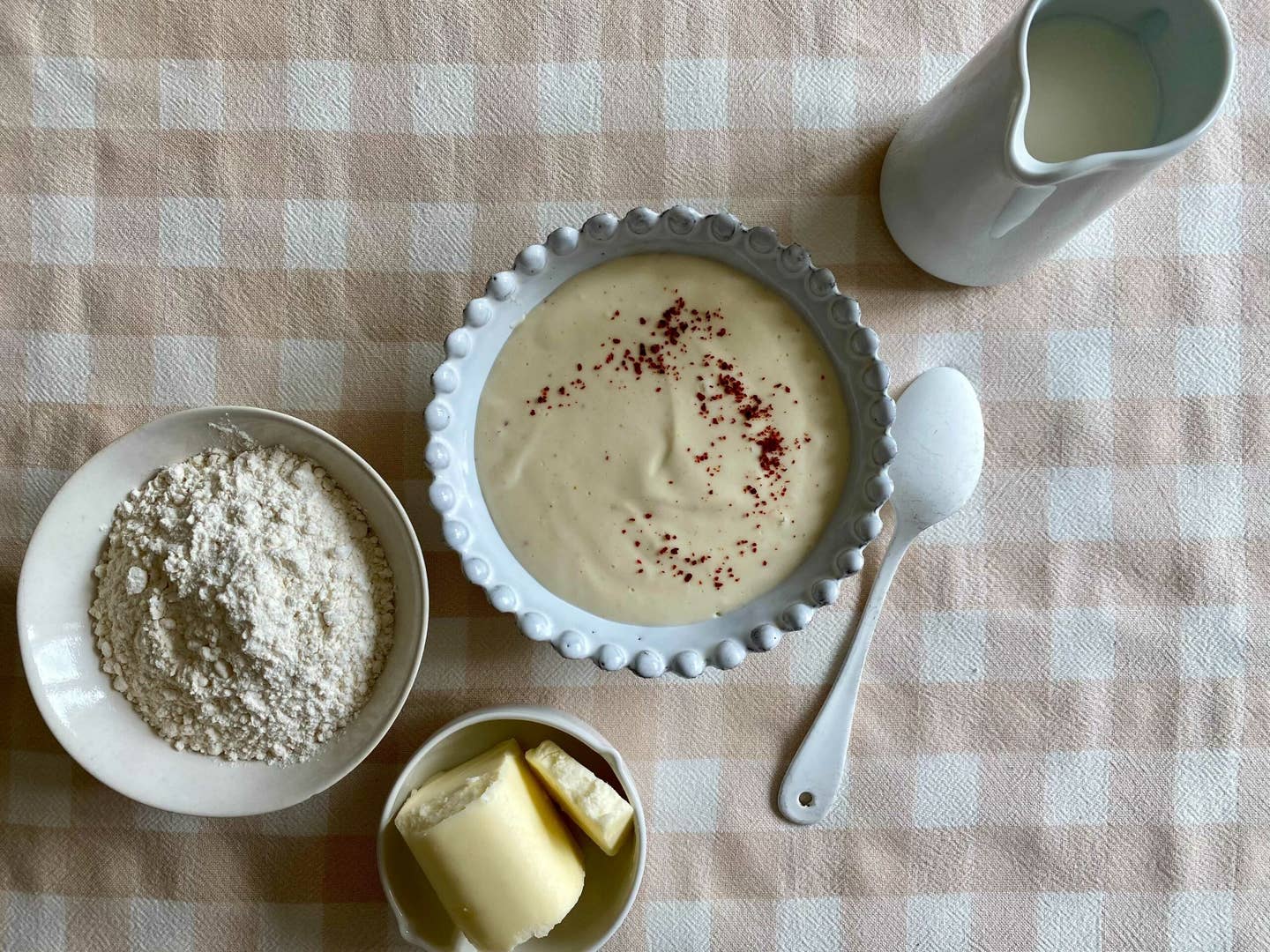 The simplest of the French mother sauces, Béchamel has several origin stories, but the first printed reference appears in Le cuisinier moderne (1733) by Vincent La Chapelle, a master cook who served various aristocratic patrons, including Madame de Pompadour. In this version, chef Hélène Darroze adds garlic, as well as the mild Espelette pepper, cultivated in the Pyrénées-Atlantiques. "This pepper is in my DNA, because I'm Basque. It has a touch of sweetness that makes it special." Find Espelette in your local spice shop, or online from Kalustyan's.
Ingredients
8 tbsp. unsalted butter
2⁄3 cup all-purpose flour
2 cups whole milk
2 cups light cream
1 clove garlic
2 bay leaves
1 sprig of thyme
Espelette pepper
Instructions
Step 1
In a medium pot over medium heat, melt the butter. When the foam begins to subside, whisk in the flour and cook, stirring frequently until the mixture begins to smell toasty but does not brown, 1½ – 2 minutes; remove from heat.
Step 2
Meanwhile, in a medium pot, combine the milk, cream, garlic, thyme, and bay leaves. Bring to a boil, remove from heat, and set aside to infuse for 5 minutes. Strain the milk-cream mixture, then slowly pour it into the butter-and-flour mixture while whisking continuously. Return to medium-high heat and bring to a boil while continuously whisking. Lower the heat to simmer and cook until the sauce thickens, about 2 minutes. Remove from heat and season to taste with salt and Espelette pepper. Use immediately, or transfer to a heatproof container, cover the surface with plastic wrap, and refrigerate for up to 3 days.