Recipes
Coniglio alla Ligure (Ligurian-Style Braised Rabbit)
Green olives and pine nuts add freshness and crunch to this simple stew from northwestern Italy.
Serves

serves 4

Cook

1 hour 45 minutes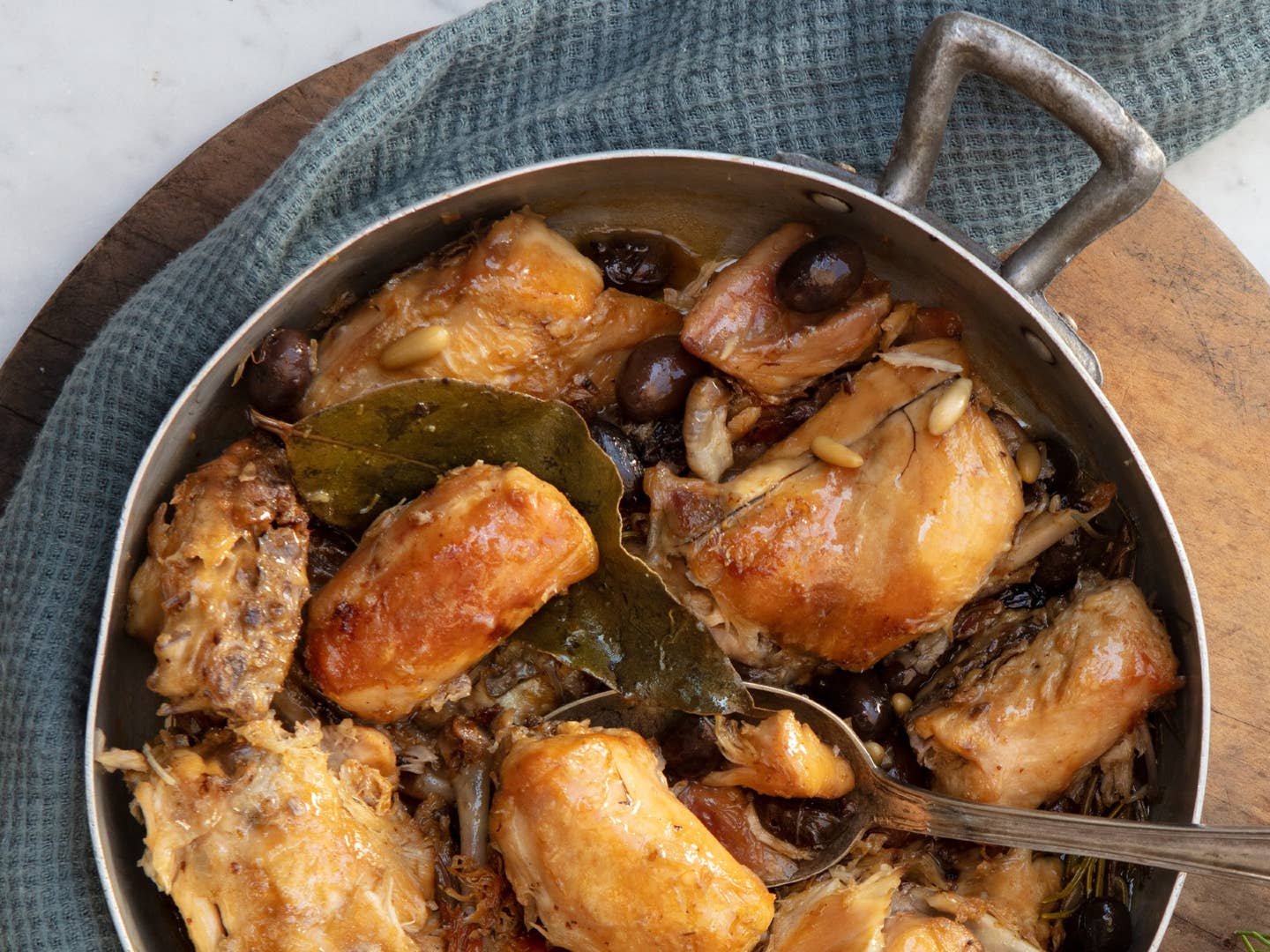 You will find this iconic Italian stew on the menu of every self-respecting, family-style, countryside trattoria in Liguria. Easy to raise, quick to reproduce, and requiring limited space to house, rabbits rapidly became the livestock of choice in the harsh Ligurian hills. When simmered slowly with white wine and the flavors of local ingredients like olives and pine nuts, the naturally lean meat becomes juicy and irresistible. If sold whole, ask your butcher to cut the rabbit into 8 pieces for you and remove the head. If you like, request the kidneys and liver, which add an extra level of flavor to the dish.
This recipe, which is adapted from Laurel Evan's cookbook, Liguria: The Cookbook: Recipes from the Italian Riviera, is easy to love and family-friendly, as the subtly flavored, tender, white meat is similar to chicken. Not a fan of rabbit? Feel free to substitute three and half pounds of chicken thighs and drumsticks, and reduce the cooking time to 40 minutes.
Ingredients
One 3-lb. rabbit, with giblets, cut into 8 pieces
¼ cups plus 2 Tbsp. extra-virgin olive oil, divided
3 medium garlic cloves, peeled
⅓ cups Taggiasche or Nicoise olives
2 tbsp. pine nuts
1 bay leaf
1 rosemary sprig
½ cups dry white wine
½ vegetable or chicken broth
Instructions
Step 1
Season the rabbit pieces all over with salt, reserving the kidneys and liver. To a large skillet over medium-high heat, add 5 tablespoons of the olive oil. When hot, add the rabbit in batches and cook, turning occasionally, until golden brown all over, about 15 minutes per batch; transfer the rabbit piece to a plate, then add the garlic and cook, stirring frequently, until fragrant, about 3 minutes. Add olives, pine nuts, bay leaf, and rosemary to the skillet. Pour in the wine and bring to a boil, allowing the alcohol to evaporate slightly, about 2 minutes. Return the rabbit to the skillet, then pour in the chicken broth. Bring to a boil, then turn the heat down to maintain a gentle simmer, cover, and cook, stirring occasionally until the meat is very tender and pulling away from the bones, 60–70 minutes. (Add a splash of water as needed to avoid sticking.)
Step 2
Meanwhile, season the liver and kidneys with salt. To a small skillet over medium heat, add the remaining olive oil. When hot, add giblets and cook, turning once until browned all over, about 1 minute per side. Transfer the giblets to the rabbit mixture for the final 10 minutes of cooking. When ready to serve, remove and discard the bay leaf and rosemary and serve the rabbit directly from the skillet.