Recipes
Hazelnut Cream Cheese Brownies
Crunchy filberts and a sweet-tart swirl offset the richness of this intensely chocolatey bar.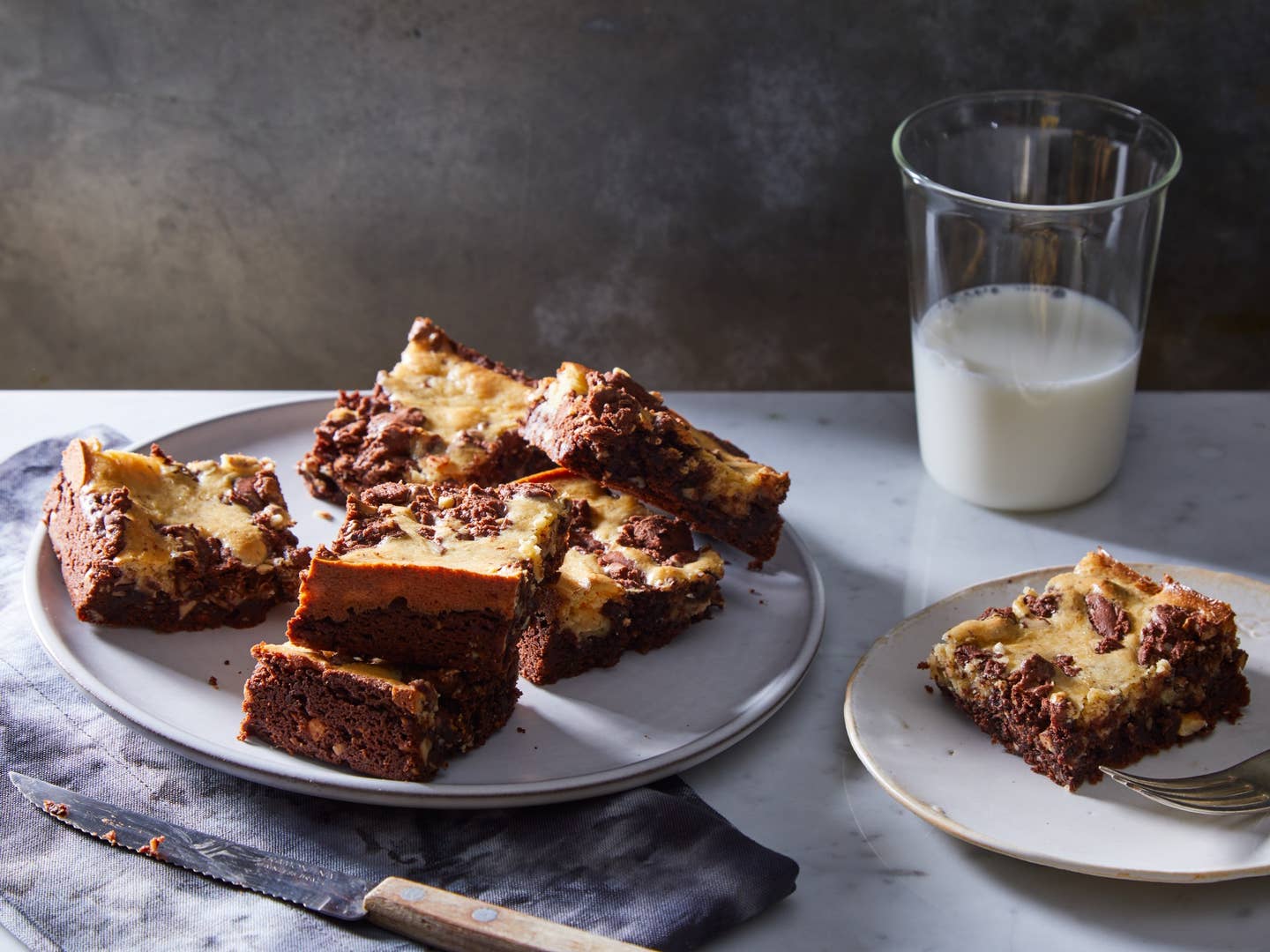 These cream cheese brownies are adapted from a recipe by Oregon's Hazelnut Marketing Board. To roast the nuts, spread in a shallow pan and bake in a 275°F oven for 20– 30 minutes, or until the skins crack. Cool, then rub the hazelnuts with a rough cloth to remove their skins. For more brownies, check out 15 of our favorite recipes for gooey, chocolatey squares of fudge.
Ingredients
For the filling:
4 oz. cream cheese, softened
1⁄4 cup sugar
1 large egg
2 tsp. fresh lemon juice
1⁄2 tsp. vanilla extract
1⁄4 cup finely ground roasted hazelnuts
For the batter:
1 cup semisweet chocolate chips
4 tbsp. unsalted butter, plus more for greasing
3⁄4 cup all-purpose flour
2 tbsp. cocoa powder
1⁄2 tsp. baking powder
1⁄4 tsp. salt
3⁄4 cup sugar
2 large eggs
1 tsp. vanilla extract
1⁄2 cup coarsely chopped roasted hazelnuts
Instructions
Step 1
Make the filling: In a large bowl, and using an electric mixer on medium speed, beat cream cheese and sugar until smooth. Add the egg, lemon juice, and vanilla and continue beating until smooth. Use a silicone spatula to fold in the hazelnuts, then cover with plastic wrap and refrigerate.
Step 2
Make the batter: In a double boiler over simmering water, combine the chocolate and butter and cook, stirring frequently, just until melted. Remove from heat and set aside.
Step 3
Into a medium bowl, sift the flour, cocoa powder, baking powder, and salt, and set aside.
Step 4
Preheat the oven to 350°F. Grease an 8-inch square cake pan with butter and set aside.
Step 5
In a large bowl, with an electric mixer on medium speed, beat the sugar, eggs, and vanilla until smooth and pale yellow, about 2 minutes. Beat in the melted-chocolate mixture, then add flour mixture and continue beating until the batter is smooth. Using a silicone spatula, fold in the hazelnuts.
Step 6
Spread half the batter into the prepared cake pan. Spread all of the reserved filling over batter. Spread the remaining batter over the filling, then drag one corner of the spatula through the layers to create a marbled effect. Bake until a toothpick inserted in the center comes out nearly clean, about 40 minutes. Allow to cool before cutting into 2-inch squares.