Recipes
Crispy Salmon Salad Bowl with Walnuts, Parmesan, and Lemon Vinaigrette
This light, bright main will snap you out of your winter cooking woes.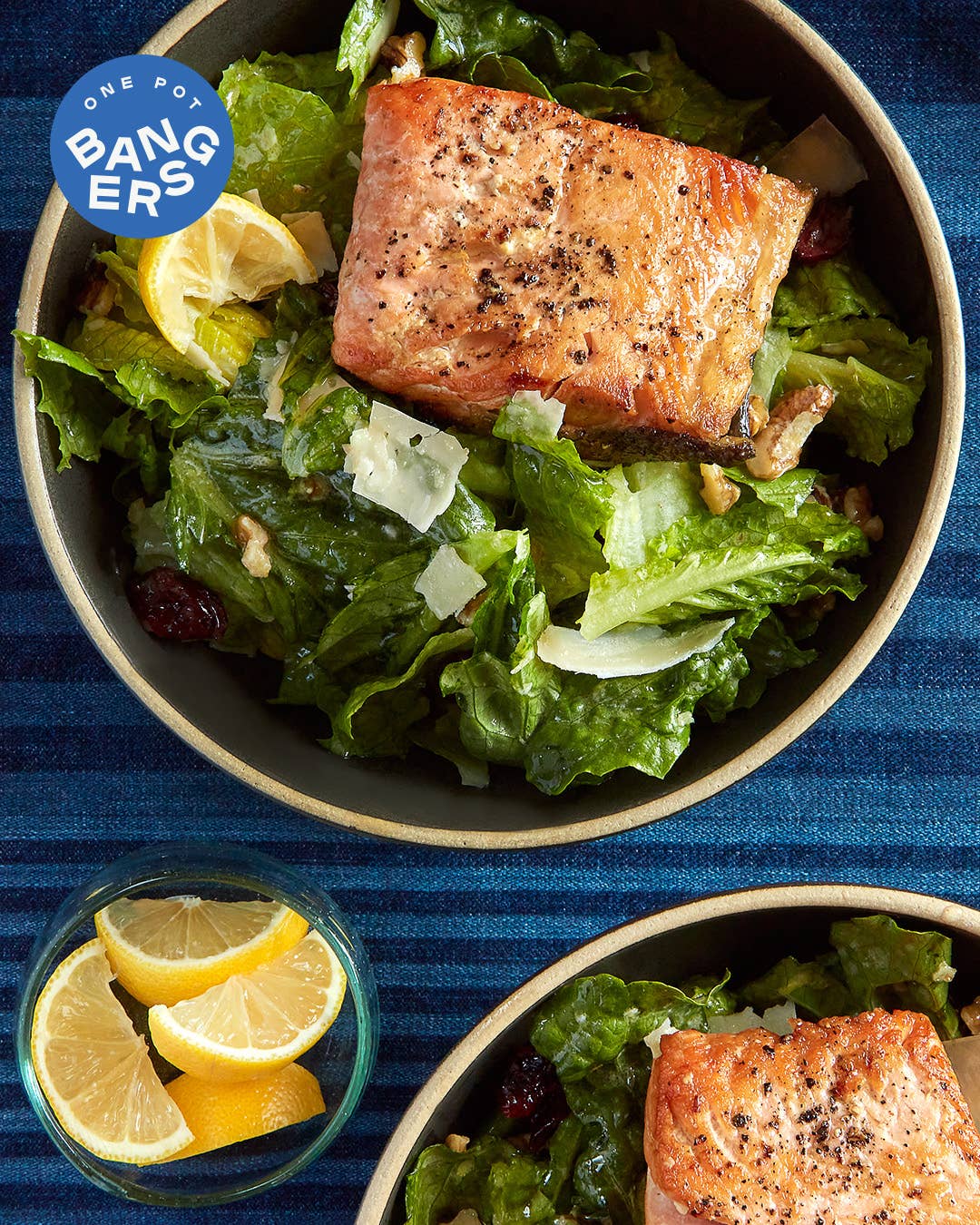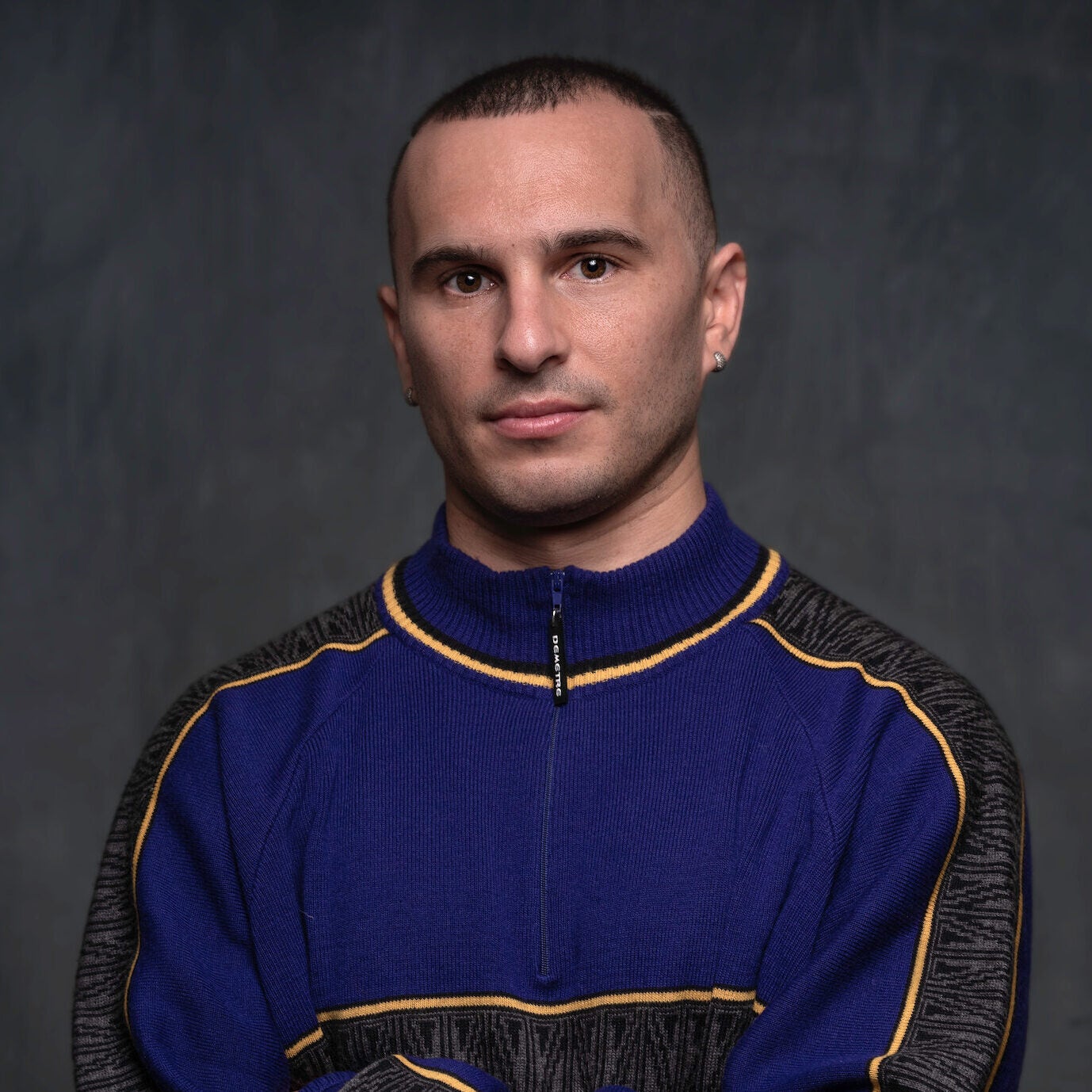 ---
Welcome to One Pot Bangers, Benjamin Kemper's weeknight cooking column, where you'll find our freshest, boldest ideas that require just one pot, skillet, or sheet pan. Busy week? We've got you covered with these low-effort, high-reward recipes from around the globe.
It's January again, which means the armchair nutritionists are back on their BS, dictating what we should and shouldn't eat. But as someone who feels decidedly unwell every time the word "wellness" appears next to a recipe, this year I'm blocking out the noise and doing what works for me: eating more salad.
The salad I can't get enough of lately is this crispy salmon salad bowl recipe with lemon vinaigrette. It's a textural wonder: you've got the crispy corners of the salmon, the creamy dressing, the chewy dried cranberries, the crunchy walnuts… And everything winds up in one big bowl, with the bronzed salmon fillets draped elegantly over the cool romaine. Call it health food or call it self-care—or just call it dinner.
Ingredients
4 skin-on center-cut salmon fillets (6–8 oz. each)
Kosher salt and freshly ground black pepper
1½ tsp. finely grated lemon zest
3 Tbsp. fresh lemon juice
1½ tsp. Dijon mustard
1½ tsp. maple syrup or honey
2 tsp. mayonnaise
1 small garlic clove, very finely chopped
½ cup extra-virgin olive oil
1½ cups coarsely chopped toasted walnuts
¾ cup shaved Parmigiano-Reggiano
½ cup dried cranberries
2 large romaine lettuce hearts, washed, dried, and torn into 1½-in. pieces (10 cups)
Lemon wedges, for serving
Instructions
Step 1
Generously salt the salmon on all sides and set aside at room temperature for 15 minutes, then use paper towels to pat dry. Season liberally with black pepper.
Step 2
Meanwhile, in a large salad bowl, whisk together the lemon zest, lemon juice, mustard, maple syrup, mayonnaise, garlic, and ¼ teaspoon of salt. (The mayonnaise helps emulsify the dressing.) Whisking continuously, very gradually dribble in the oil (do not allow the oil to pool) to make a sheeny and creamy sauce. Set aside.
Step 3
In a cold large nonstick skillet, place the salmon skin-side down and season with black pepper to taste. Turn the heat to medium-high and cook undisturbed until the fat has mostly rendered, the bottom edges are opaque, and the skin is golden brown, 6–8 minutes.
Step 4
Using tongs, rotate the fillets a quarter turn onto their sides (balancing with a spatula if needed) and cook until light golden, 1–2 minutes, then flip to brown the opposite side, about 2 minutes more. Turn the fillets skin-side up and cook until translucent in the center when pierced with a paring knife, about 4 minutes more. Remove from the heat.
Step 5
Working quickly, to the salad bowl add the walnuts, Parmigiano, cranberries, romaine, and black pepper to taste and toss to combine. Divide among four bowls, then drape with the salmon and serve with lemon wedges.