Recipes
Ukoy (Filipino Shrimp Fritters)
We can't get enough of Leah Cohen's crispy Southeast Asian starter.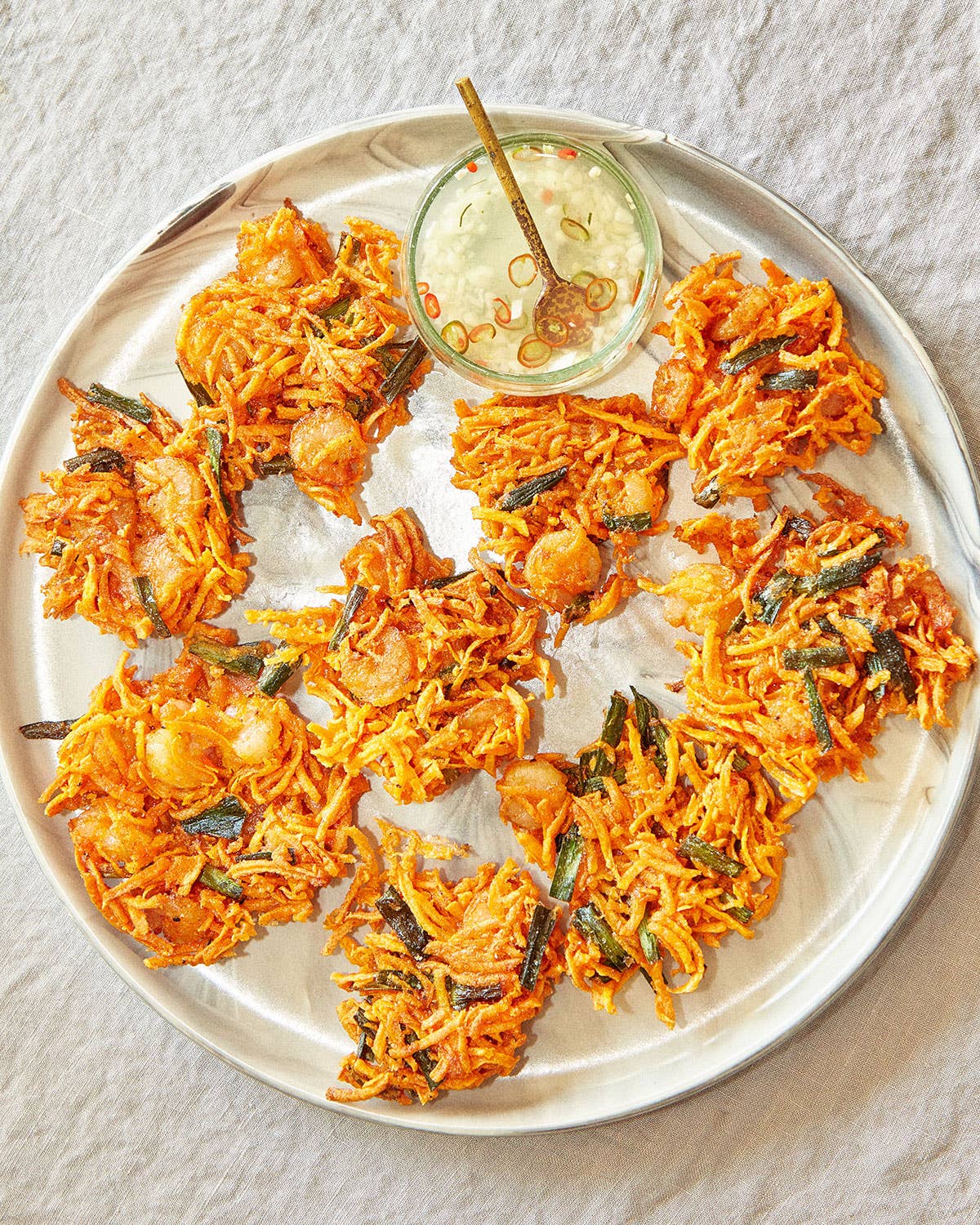 New York City chef Leah Cohen prepared this crispy, shallow-fried snack for a dinner party with Editorial Director Kat Craddock. Coarsely grating the sweet potatoes using the grater attachment of a food processor helps this quick and savory Filipino snack come together quickly and easily, making it a perfect starter to fire off "à la minute" for hungry arriving guests. Spiced sukang maasim is a Filipino cane vinegar seasoned with onion, garlic, and chiles. The brand Datu Puti is widely available in Asian grocery stores, but if you can't find it, it's also available online. Don't hesitate to buy a large bottle for this ukoy recipe; the product is inexpensive and delicious on all sorts of other fried foods, or even in a bloody Mary.
Ingredients
¼ cup all-purpose flour
1 cup cornstarch
1–2 tsp. kosher salt
¼ tsp. freshly ground black pepper
1–2 tsp. kosher salt
1 tsp. achuete (annatto seed) powder
2 cups peeled, coarsely grated sweet potatoes
1 cup small, peeled shrimp, plus more for topping
½ cup Chinese chives, sliced in 1-in. lengths
Neutral oil, for frying
Spiced sukang maasim (cane vinegar), for dipping
Instructions
Step 1
In a large bowl, stir together the cornstarch, flour, 1 teaspoon salt, and the black pepper. Whisk in 1 cup of cool water until smooth, then whisk in the achuete powder until the color is evenly distributed. Add the  grated sweet potato, shrimp, and Chinese chives, toss gently to evenly coat in the batter, then set aside.
Step 2
Line a large baking sheet with paper towels and set it by the stove. To a large deep skillet, add oil to a depth of 1 inch and turn the heat to medium-high. When the oil is hot and shimmering, fill a small saucer evenly with about 3 tablespoons of the sweet potato-shrimp mixture, then top with 2–3 more unbattered shrimp. Gently tilt the saucer to slide the mixture into the hot oil in a tidy pancake shape.  Cook until the bottom is crispy and browned, about 3 minutes , then, using a slotted spoon or spider skimmer, flip and continue cooking until evenly browned, crispy, and cooked through, 3–4 minutes more. Transfer the ukoy to the lined baking shee; sprinkle with additional salt if desired. Working in batches, continue cooking the rest of the batter. Serve hot, with sukang maasim for dipping.