Recipes
Tagliata di Manzo al Balsamico (Grilled Ribeye with Balsamic Vinegar, Parmesan, and Arugula)
A flame-kissed Italian steak, straight out of Emilia-Romagna.
Serves

serves 4

Cook

40 minutes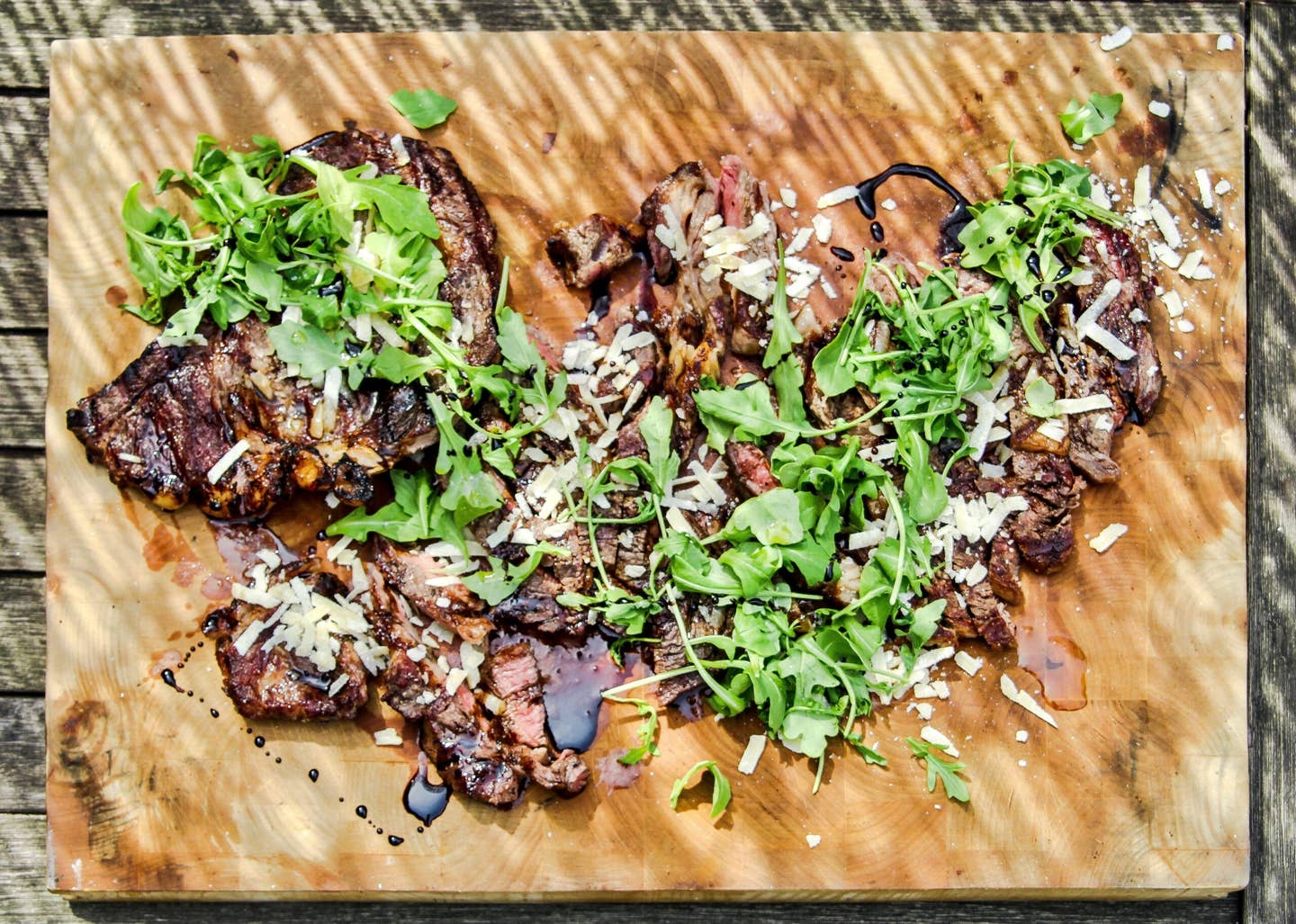 This beloved Italian steak recipe, which comes to us from journalist Agostino Petroni, is traditionally made using boneless rib steaks. Like most easy everyday dishes, when prepared using super-premium ingredients, tagliata di manzo transcends to the sublime. Petroni's father, who lives in Emilia-Romagna, marinates the meat in a robust, organic Coratina olive oil before cooking over a wood fire. He then douses the steaks with a generous pour of traditional balsamic vinegar, and tops them with a handful of shaved Parmigiano-Reggiano and a tangle of fresh arugula.
Ingredients
Three ¾-in. thick boneless ribeye steaks (about 1¾ lb.)
Extra-virgin olive oil
Flaky sea salt and coarsely ground black pepper
Good-quality balsamic vinegar (preferably DOP)
½ cups arugula
⅓ cups coarsely grated Parmigiano-Reggiano
Instructions
Step 1
To a wide baking dish or large plastic container, add the steaks and enough olive oil just to coat by a thin layer. Turn the meat a few times to distribute the oil and set aside at room temperature while you prepare the grill.
Step 2
Set up a wood or charcoal grill for direct cooking, or preheat a gas grill to cook over medium-high heat. Place the meat over the flame and cook, turning once, until the surface is browned and sizzling on both sides and the interior reaches 125°F for medium-rare (the meat will continue cooking as it rests), 2–4 minutes per side. Transfer the steaks to a cutting board, season both sides with sea salt and black pepper, and set aside to rest for 5 minutes.
Step 3
Once the meat has rested, thinly slice crosswise and on the diagonal against the grain. Transfer to a warm platter, drizzle with more olive oil and a liberal pour of balsamic vinegar, and top with Parmigiano-Reggiano and arugula. Season with additional salt and pepper and serve hot.