Recipes
Icelandic Rhubarb Bars
Sweet rhubarb compote soaks into the nooks and crannies of a buttery, crumbly oat crust in hjónabandssæla, which might be our new favorite spring dessert.
Serves

10-20

Cook

2 hours 5 minutes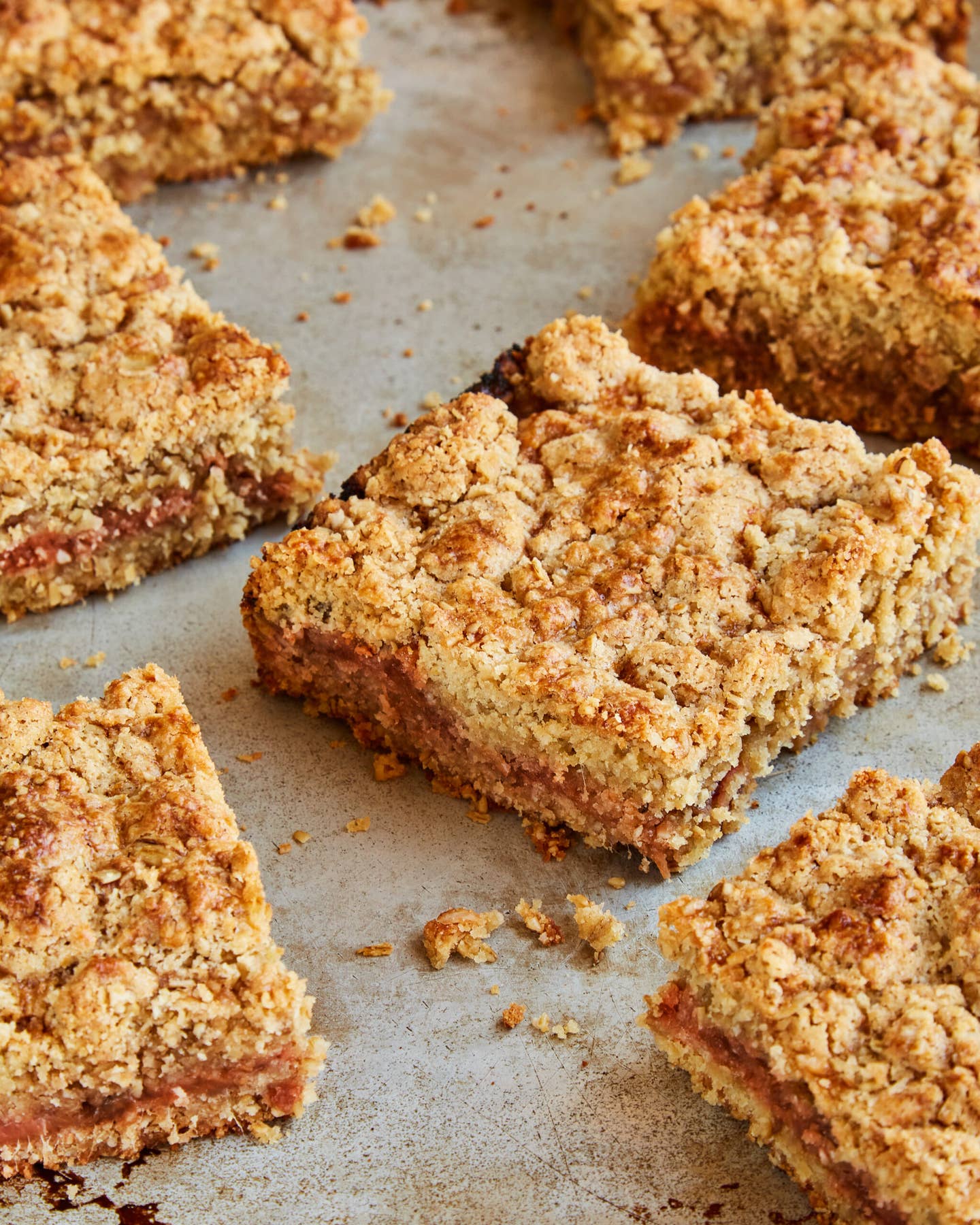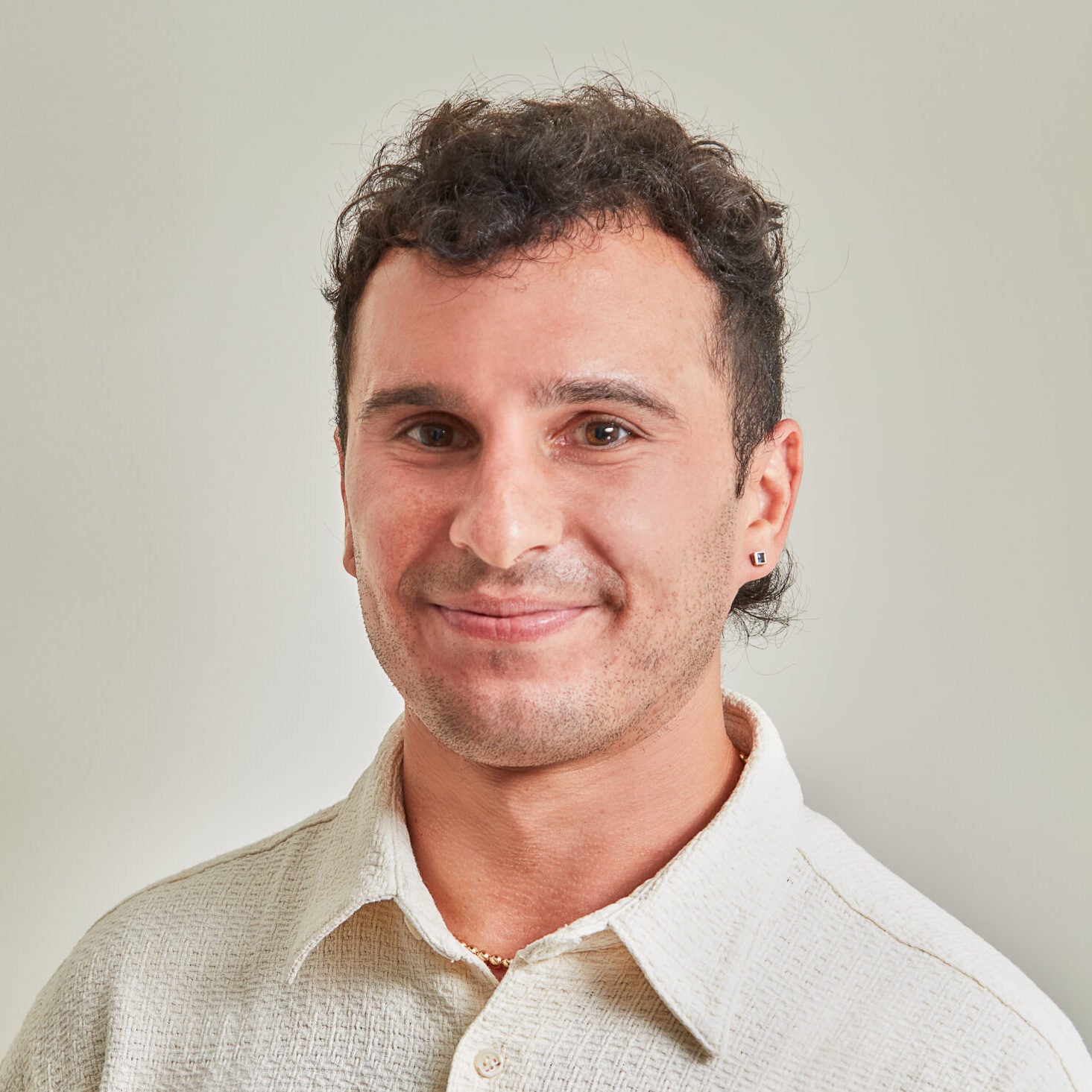 ---
People flock to Brauð & Co.—one of Reykjavik's busiest bakeries—for the crackly sourdough bread, but on a recent visit, it was a different baked wonder that (sorry, couldn't resist) took the cake. I'm talking about hjónabandssæla, or "happy marriage cake," essentially Icelandic rhubarb bars that fall somewhere between a fruit crumble and an oatmeal cookie. They have three layers: a soft, oaty crust on the bottom; a crisp streusel up top; and a middle oozing with rhubarb compote that acts as a sweet, sticky mortar, binding the pastry together. Cooked rhubarb can be rather beige; to amp up the fuchsia, add a chunk of red beet to the pan with the rhubarb (don't worry, it won't impart any flavor).
Note: The butter quantities (converted from metric, hence the odd numbers) are correct—these are some boldly buttery bars!
Ingredients
For the rhubarb:
1½ lb. rhubarb, sliced into 1-in. lengths, divided (about 2 cups)
½ cup turbinado sugar
Pinch salt
Two 2-in. pieces of red beet, optional (see headnote)
For the crust:
2¾ cups all-purpose flour
2½ cups quick oats
2 tsp. baking soda
1½ cups turbinado sugar
1¼ tsp. kosher salt
2 large eggs, at room temperature
27 Tbsp. unsalted butter, at room temperature, cubed
For the crumble:
1 Tbsp. whole milk
2 egg yolks
1½ cups all-purpose flour
1¼ cups light or dark brown sugar
18 Tbsp. unsalted butter, at room temperature, cubed
1¼ cups quick oats
1 cup rolled oats
Instructions
Step 1
Make the rhubarb: Position a rack in the center of the oven and preheat to 350°F. In a pie plate or 8-by-8-inch baking pan, toss the rhubarb, sugar, salt, and beet if using. Bake until the rhubarb is soft and spreadable, stirring halfway through baking, about 1 hour 5 minutes. Discard the beet. (Leave the oven on.)
Step 2
Meanwhile, make the crust: In a medium bowl, whisk together the flour, quick oats, and baking soda. To a food processor, add the salt, sugar, and eggs and blend until combined, about 2 minutes. Add the flour and pulse to combine, then scatter with the butter and pulse until the dough is uniform and no butter pieces are visible. Transfer three quarters of the dough to a greased 9-by-13-inch sheet pan and press into an even layer. Scrape the remaining dough into a bowl and set aside. (Do not clean the food processor.)
Step 3
Make the crumble: In a small bowl, whisk together the milk and yolks and set aside. To the empty food processor, add the flour, brown sugar, butter, quick oats, and rolled oats and pulse until a crumbly, shaggy mass forms.
Step 4
Assemble the rhubarb bars: Turn the oven to 325°F. Spoon the rhubarb and its juices in an even layer atop the dough, then sprinkle the remaining dough evenly over the top. Drop the crumble in large, irregular chunks over all, then brush evenly with the yolk mixture.
Step 5
Bake until the rhubarb bars are firm and lightly browned on top, about 40 minutes. Cool to room temperature before cutting into squares (as large or as small as you like).