Recipes
Jammy Cherry Galette
This impressive and unfussy tart lets the fruit take center stage within a buttery, flaky crust.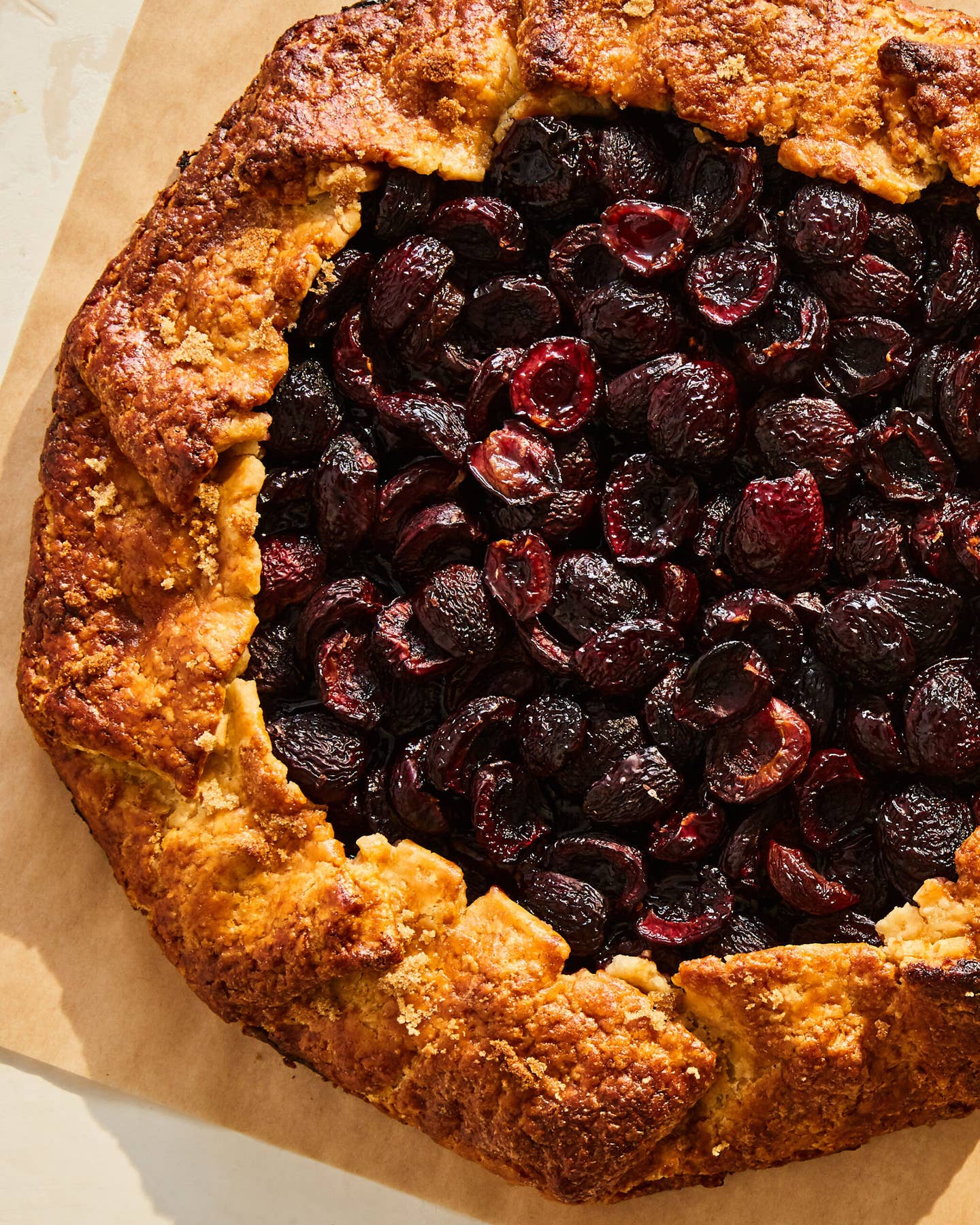 Welcome to SAVEUR's column on how to cook local produce according to our test kitchen manager, Fatima Khawaja. This is where you'll find creative, unfussy meal ideas plus plenty of cooking advice—like what to do with that bumper crop of zucchini or how to store delicate heirloom tomatoes. Every other week, Fatima hits the farmers market and chooses a peak-season ingredient to explore in depth. Follow along, and you'll learn how to turn the season's bounty into easy plant-based meals that'll be on the table in under an hour.
When cherries arrive, they come in abundance. Cardboard boxes overflow with the deep red stone fruit, all plump and juicy with their bendy stems attached. Whether I'm at the farmers market or the grocery, I often secretly taste one to gauge whether they're ripe enough to buy. Those that pass muster often wind up in a galette, a freeform tart made with pie crust. Cherries are perfect for galettes because they don't burst or make a mess during baking. Instead they bubble and thicken. What's not to like about jammy fruit surrounded by sweet, salty, buttery crust?
Cherries come in many colors and types. Sour cherries, which are best for baking, are lighter red than their sweet counterparts, which can be almost black (though some are pinkish yellow). Sweet cherries are more widely available than sour and are sublime in desserts as well—simply lower the sugar accordingly.
When cherries are in season—or on sale!—I buy them in bulk and preserve or freeze (pitted and sealed in a plastic bag) what I don't use. Thawed and simmered cherries are wonderful for topping ice cream and cakes, and in savory dishes such as this pork belly with buttered corn and cherry-jalapeño relish or this sweet and sour sauce served alongside barbecue chicken.
Galettes are great to bring to a picnic or to a friend's house. They keep well in the fridge and require minimal baking skills. Once you've mastered this recipe, I encourage you to venture into savory galettes, like this one filled with pancetta and gruyere.
Ingredients
For the crust:
2¼ cups all-purpose flour
1 Tbsp. sugar
1 tsp. kosher salt
12 Tbsp. unsalted butter, cubed and chilled
For the filling:
2 lb. cherries, stemmed, pitted, and halved (4 cups)
⅓ cup dark brown sugar, plus more for sprinkling
3 Tbsp. cornstarch
1 Tbsp. finely grated lemon zest
1 Tbsp. fresh lemon juice
½ tsp. kosher salt
½ tsp. vanilla extract, or the seeds from 1 split and scraped vanilla bean
2 Tbsp. milk
1 large egg
Instructions
Step 1
Make the crust: In a large bowl, whisk together the flour, sugar, and salt. Using a pastry blender or your fingers, work the butter into the flour mixture until pea-size crumbs form. Gradually add 6 tablespoons of ice water, mixing continuously, until you have a cohesive dough with visible flecks of butter. Flatten into a disk, wrap in plastic, and chill for at least 1 hour.
Step 2
Meanwhile, make the filling: Position a rack in the center of the oven and preheat to 400ºF. In a bowl, toss together the cherries, sugar, cornstarch, lemon zest, lemon juice, salt, and vanilla and set aside.
Step 3
In a small bowl, whisk together the milk and egg; set aside.
Step 4
On a floured work surface, use a rolling pin to roll the dough into a round measuring 12 inches in diameter and ¼ inch thick.
Step 5
Transfer to a parchment-lined rimmed baking sheet. Mound the cherries and their juices in the center of the dough, leaving a 2–3 inch border of crust. Pleat the dough in a circular fashion to surround and partially cover the fruit, leaving a 5-inch window of fruit exposed. Using a pastry brush, paint the egg wash over the top of the dough, then sprinkle with brown sugar.
Step 6
Turn the heat to 375ºF and bake, rotating halfway through cooking, until the crust is golden brown and the fruit is bubbling, about 50 minutes. Cool before cutting into wedges.