Recipes
Chocolate Castella Cake
This pillow-soft, Japanese Taiwanese Portuguese pastry is the fluffy stuff of dreams.
Serves

makes one 8 inch cake

Cook

1 hour 40 minutes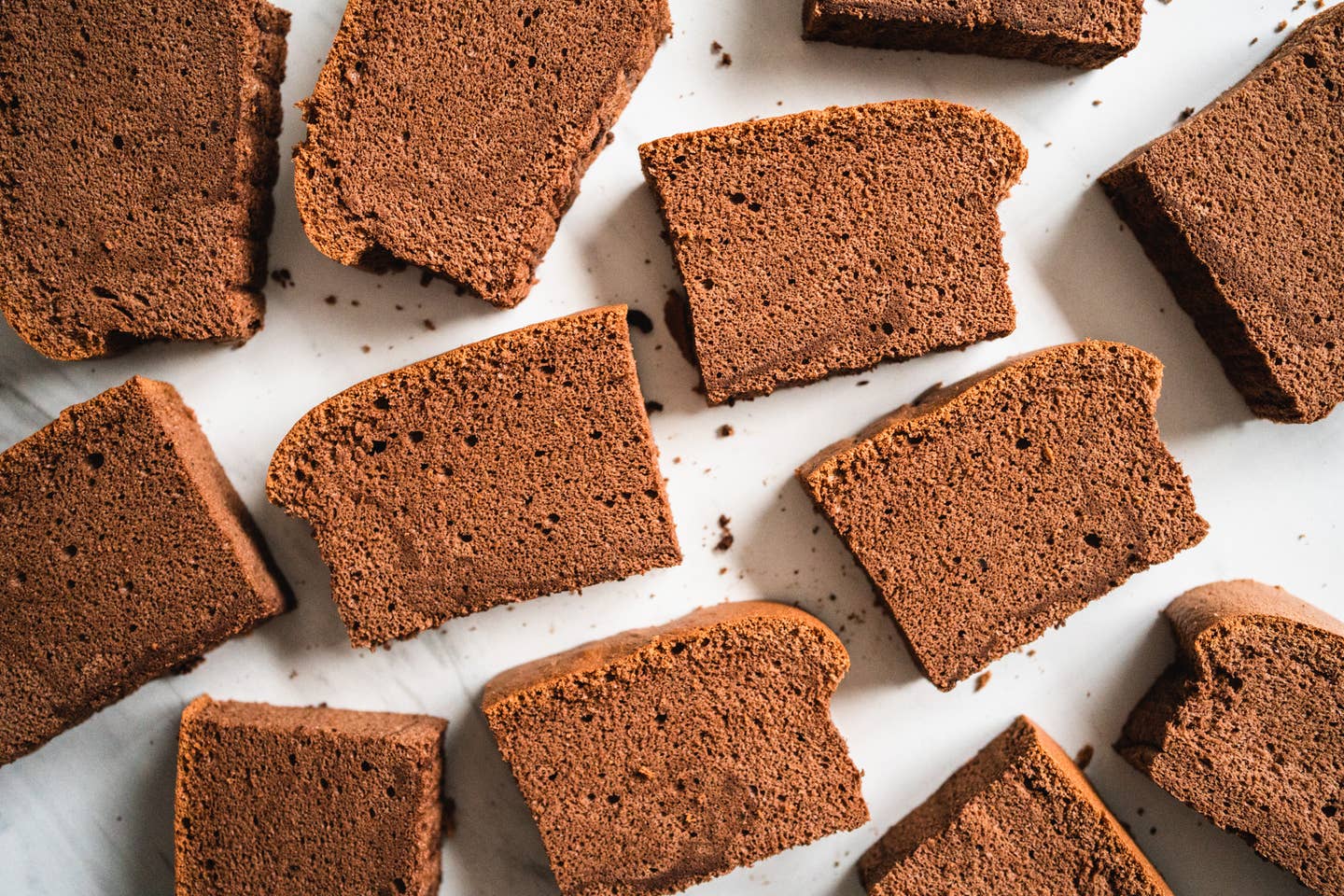 As with all delicate cakes, take care not to slam the oven door during baking, which may cause its delicate crumb to collapse before it is fully set.
Ingredients
Nonstick baking spray
3⁄4 cup plus 1 Tbsp. all-purpose flour
2 tbsp. cornstarch
1⁄4 cup plus 2 tsp. cocoa powder
2 oz. dark chocolate (½ cup, coarsely chopped)
1⁄2 cup whole milk
1⁄4 cup canola oil, or other neutral oil
8 large eggs, separated and divided
1⁄2 tsp. fine sea salt
1⁄2 tsp. fresh lemon juice
1⁄2 cup plus 2 Tbsp. sugar
Instructions
Step 1
Preheat the oven (with one of its racks positioned in the bottom third) to 325°F Grease an 8-inch square cake pan with nonstick baking spray, then line the pan on the bottom and all four sides with parchment paper; lightly grease the parchment paper with nonstick baking spray. Place the pan in a larger baking dish (at least a10-inch cake square pan.), and set aside. In a medium bowl, sift together the flour, cornstarch, and cocoa powder. To a large, heatproof bowl, add the chocolate, milk, and oil. Cover with a paper towel and microwave, stirring every 10 seconds, until completely melted and smooth, about 60 seconds.Whisk the egg yolks to the chocolate mixture until smooth, then, add the dry ingredients to the chocolate, and whisk until combined.
Step 2
To the bowl of a stand mixer fitted with the whip attachment, add the egg whites, salt, and lemon juice and whisk on high speed until the whites begin to froth, about 1 minute. Turn the mixer down to medium speed, gradually pour in the sugar, then turn the mixer back to high speed, and continue whisking until soft peaks form,1-2 minutes.Using a silicone spatula, fold a third of the whipped egg whites into the batter to lighten, then, working a third at a time, gently fold in the rest of the egg whites, making sure to scrape the sides and bottom of of the bowl to incorporate. (No streaks of egg white should remain, but take care not to overmix and deflate the batter.) Pour the batter into the lined cake tin, smoothing out the top with an offset spatula. Give the tin three light taps on the countertop to release any large air pockets, then return the pan to the larger baking dish. Fill the larger baking dish with boiling water so that it comes about 1 inch up the sides of the smaller cake pan.. Gently transfer to the oven and bake until a cake tester poked through the middle of the cake comes out clean, 60–65 minutes.
Step 3
Remove the cake from its water bath and immediately use the parchment paper to lift it from its tin.Place on a wire rack, peel off and discard the parchment paper then set aside to cool completely before slicing. Castella cake is best within 24 hours, but leftovers may be stored for up to 3 days in the fridge