Recipes
Kai Jeow
Keep it simple with this quick and crispy Thai omelette.
Serves

serves 1

Cook

10 minutes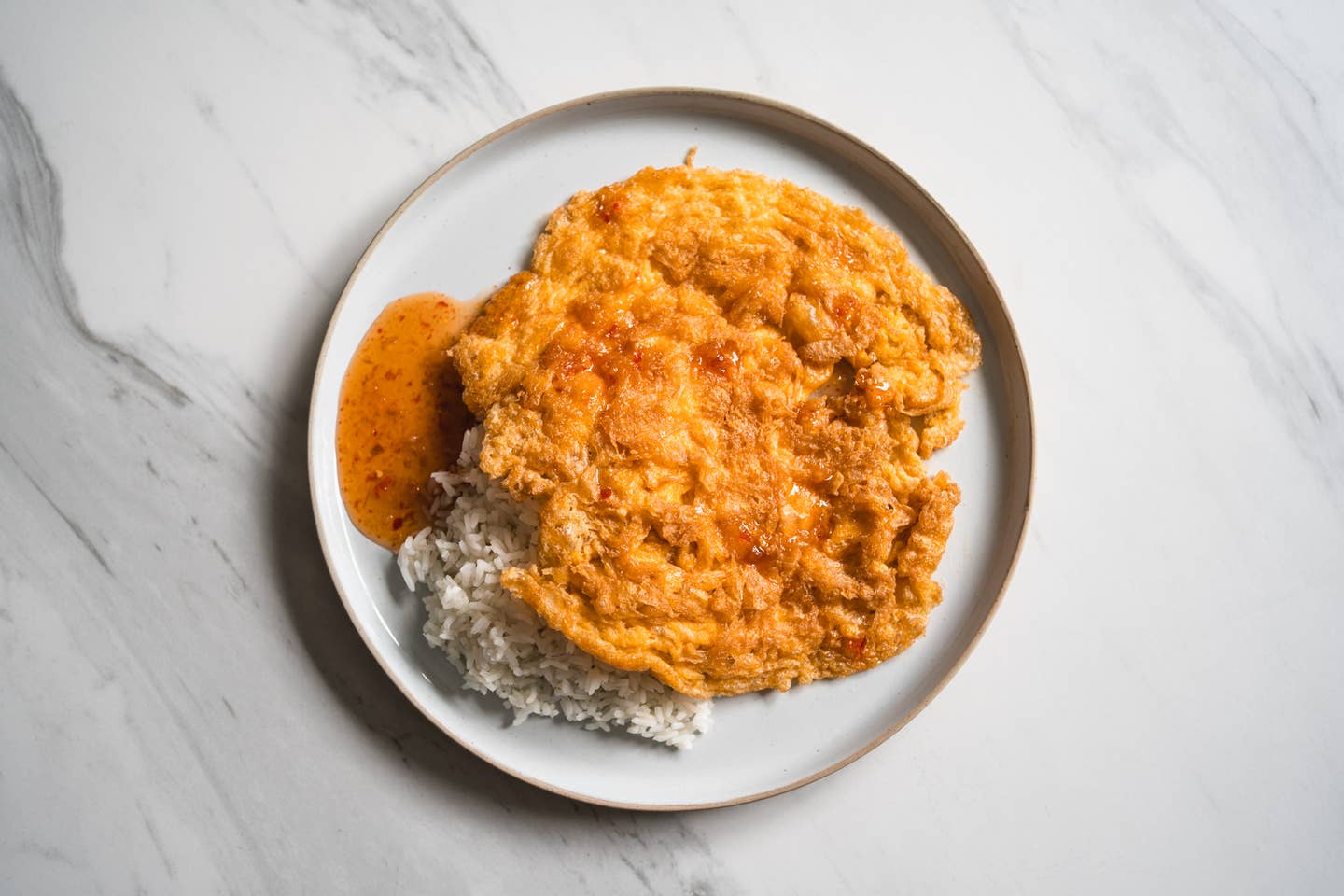 A classic, Thai fried egg dish, kai jeow should be fluffy in the middle and crispy on the outside, with just a hint of fish sauce funk. Select a Thai-style fish sauce (nam plaa), such as Squid brand. While kai jeow is frequently filled with scallions and red onions, and sometimes even shrimp or crab, this plain version is perfectly delicious on its own, or served atop a bed of rice with a splatter of sweet Thai chile sauce.
Ingredients
2 large eggs
1 tsp. nam pla (Thai fish sauce)
1⁄2 tsp. soy sauce
1 tbsp. cornstarch
1 canola oil, or any neutral oil
Steamed jasmine rice, to serve
Sweet Thai chile sauce (optional)
Instructions
Step 1
In a small bowl, whisk together the eggs, fish sauce, and soy sauce. Sift the cornstarch into the eggs, and whisk vigorously until the batter is frothy and no lumps of cornstarch remain.
Step 2
Pour the oil into a wok or medium non-stick skillet. Heat over medium-high heat until the oil is lightly smoking (410°F on a deep-fry thermometer). Carefully pour all of the egg batter into the middle of the wok, letting it sputter and spread. Using a wide metal spatula to occasionally press the kai jeow down into the oil, cook until the omelette is deep golden on one side, 30-45 seconds. Flip carefully and continue cooking until cooked in the center and browned on the opposite side, 30–45 seconds more. Remove from heat then use the spatula to lift the kai jiao of the wok, letting the oil drain before transfering to a heatproof plate. Serve immediately, with steamed jasmine rice and chile sauce, if desired.