Recipes
Kale Pesto Pasta
Sweet leafy greens are at the heart of this nutritious, nut-free riff on the classic Italian sauce.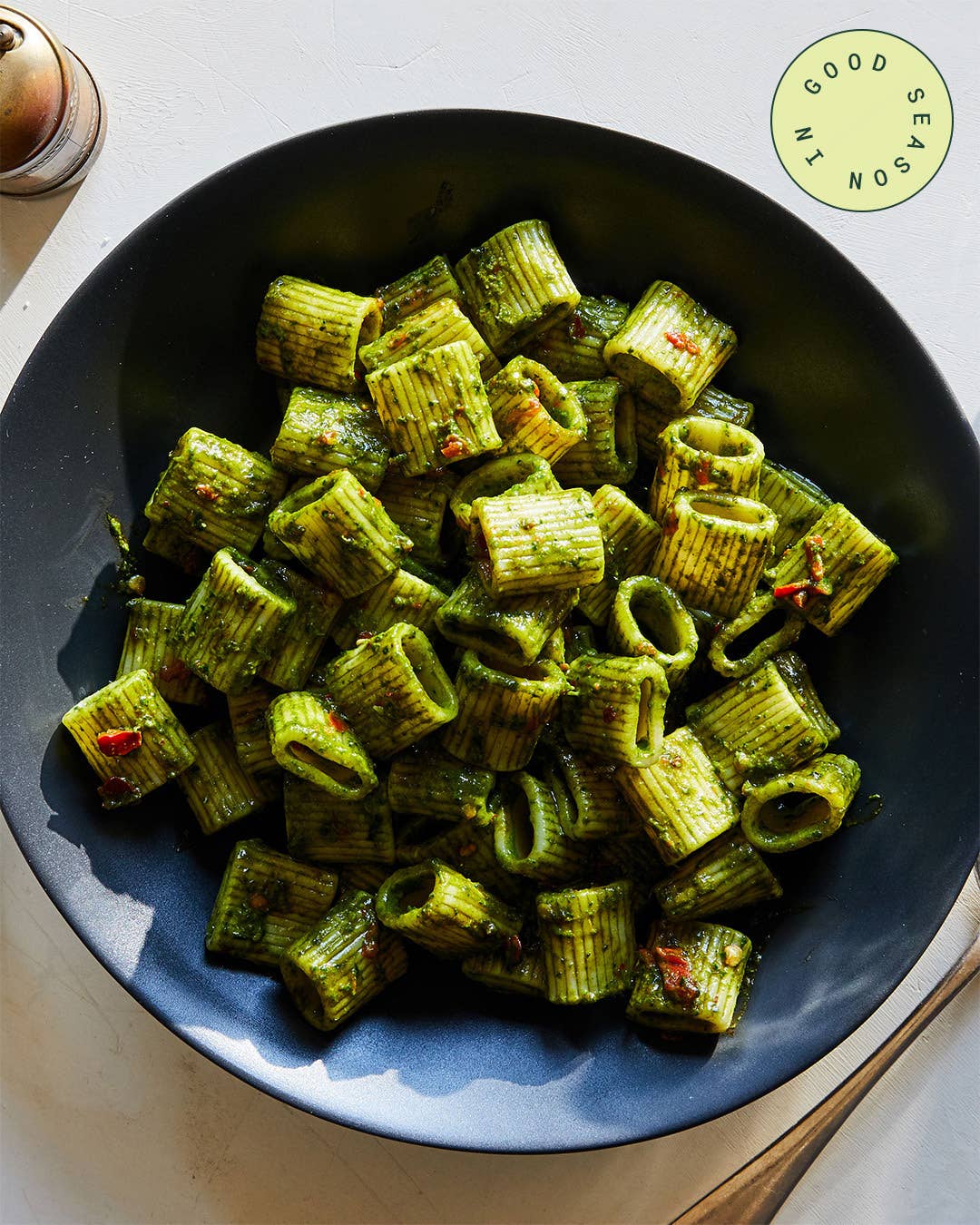 Welcome to In Good Season, SAVEUR's column on making the most of local produce according to contributing editor Fatima Khawaja. Here you'll find creative, unfussy meal ideas plus plenty of cooking advice—like what to do with that bumper crop of zucchini or how to store delicate heirloom tomatoes. Follow along, and you'll learn how to turn the season's bounty into easy plant-based meals.
Kale takes center stage in this silky, anchovy-laced sauce. Blanching the fibrous greens before blending them both softens their texture and preserves their vibrant color. This kale pesto recipe leans on all-season pantry basics and a little bit of time. It's one of the ways I make sure my young daughter gets plenty of green vegetables and her favorite pasta in one go.
Ingredients
1 bunch lacinato kale, stems removed, leaves washed
½ cup grated Parmigiano-Reggiano, divided
⅓ cup extra-virgin olive oil, plus more as needed
¼ cup packed basil leaves
3 anchovy fillets
1 Tbsp. fresh lemon juice
1 garlic clove, peeled
Kosher salt and freshly ground black pepper
2 Tbsp. Calabrian chile paste (optional)
1 lb. dried rigatoni or other short pasta
Instructions
Step 1
Fill a medium bowl halfway with ice water and set aside. Set a colander in the sink.
Step 2
Fill a medium pot halfway with water and bring to a boil. Add the kale leaves and cook, stirring occasionally, until wilted and tender, about 2 minutes. Using tongs, transfer the kale to the ice water bath, reserving the cooking liquid in the pot. Once completely cold, strain the kale through the colander, then transfer the leaves to a blender. Add the Parmesan, olive oil, basil, anchovies, lemon juice, and garlic. Blend on high until the sauce is smooth and silky, adding more olive oil, a tablespoon at a time, if needed. Stir in the chile paste (if using), season with salt and black pepper to taste, then set aside.
Step 3
Season the kale-cooking liquid generously with salt, then bring to a boil over high heat. Add the pasta and cook, stirring occasionally, until al dente, about 8 minutes. Drain the pasta, discarding the cooking liquid, then return the pasta to the pot. Scrape the reserved kale pesto into the pasta and toss well to coat. Serve warm or at room temperature.