Recipes
Mussels Rockefeller
Add a splash of Pastis to this quick riff on a classic shellfish recipe.
Serves

serves 4

Cook

35 minutes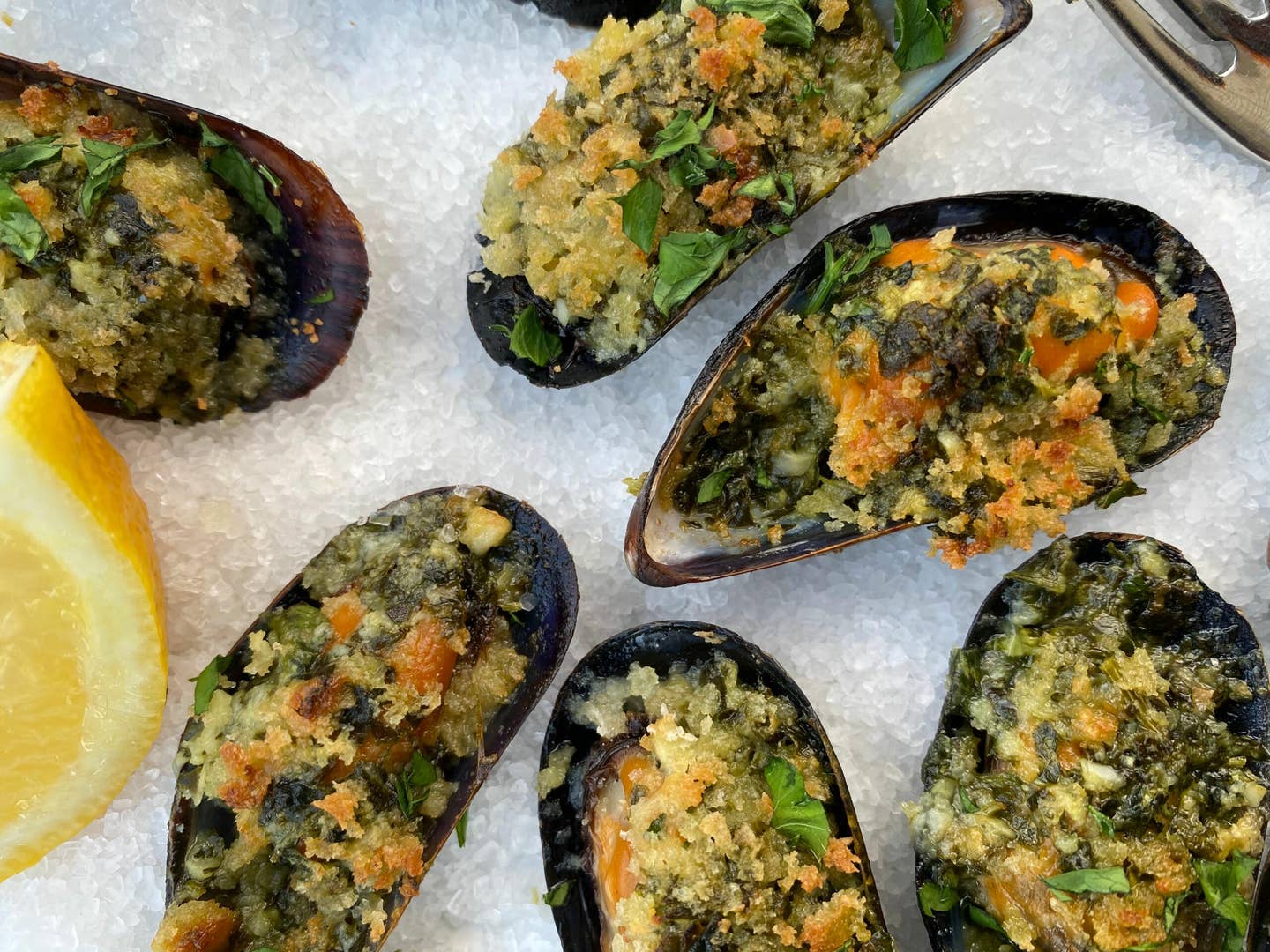 Pastis adds a fragrant dimension to the classic garlic-butter-lemon seafood paradigm, harmonizing anise with a touch of sweetness to enhance the natural flavor of shellfish. Though the Rockefeller treatment is most famously given to oysters, mussels are a sustainable and less expensive option, though they feel just as fancy.
Ingredients
For the mussels:
2 tbsp. extra-virgin olive oil
2 garlic cloves, finely chopped (2 tsp.)
1 cup dry white wine
2 lb. mussels, scrubbed and debearded
For the Rockefeller butter and topping:
3 cups spinach leaves, finely chopped
1 cup Italian parsley leaves, finely chopped
16 tbsp. unsalted butter, softened
1⁄2 cup grated pecorino Romano cheese, finely grated
1⁄4 cup plus 2 Tbsp. pastis, divided
2 garlic cloves, finely chopped (2 tsp.)
2 tbsp. fresh lemon juice
1 tbsp. kosher salt
1⁄4 cup panko bread crumbs
Crusty bread, for serving
Instructions
Step 1
Make the mussels: In a large Dutch oven over medium heat, add the olive oil and garlic and cook until fragrant but not browned, about 1 minute. Add the wine, bring to a boil, and cook until the alcohol dissipates, about 2 minutes. Add the mussels to the pot, let the wine come back to a boil, then cover and cook just until the shells open, about 4 minutes. Remove from heat, use a slotted spoon to transfer the mussels to a large bowl, and set aside to cool slightly.
Step 2
Meanwhile, make the butter: In a medium bowl, stir together the spinach, parsley, butter, cheese, ¼ cup of the pastis, the garlic, lemon juice, and salt; the liquid may not be fully incorporated, but that's okay. Set aside.
Step 3
Preheat the broiler to low and move your oven rack to the top half. Open the cooled mussels, discarding the empty shells and keeping the meat attached on the half-shell; arrange, open-side up, on a large, rimmed baking sheet. Top each mussel with a teaspoon of the reserved butter-and-herb mixture; use the back of a spoon to smooth the mixture into an even layer, completely covering the meat. Once all the mussels have been filled, sprinkle the remaining pastis over each mussel, followed by the panko.
Step 4
Transfer to the oven and broil until the panko is golden, rotating halfway, about 10 minutes. Serve immediately, with crusty bread on the side.