Recipes
Creole Red Beans
Pair these easy Louisiana-style beans with white rice for a simple weeknight supper.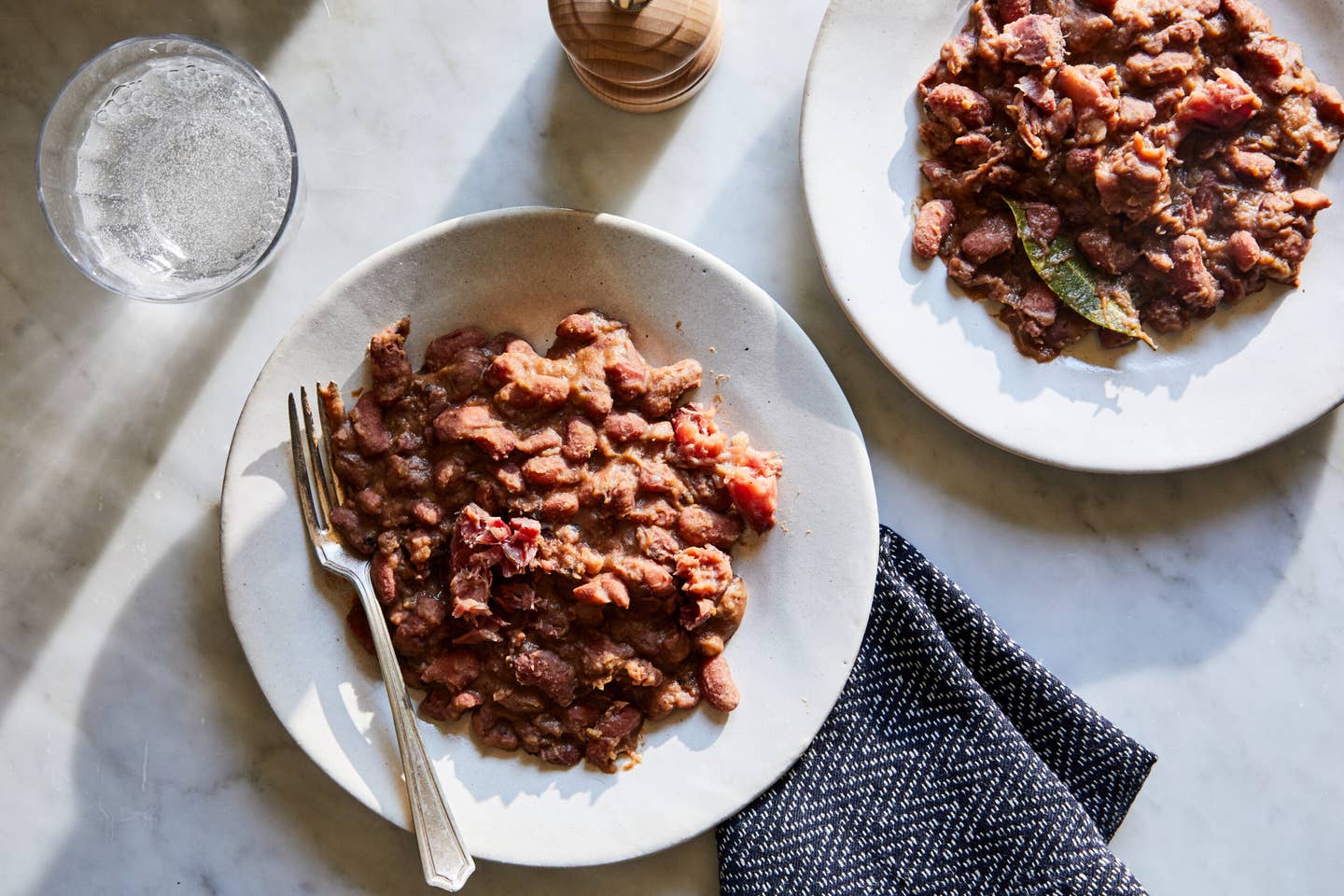 This fool-proof recipe is called "60 Second Red Beans" in the Hayward household because it takes just a minute to combine the necessary ingredients in a Crock-Pot and head out the door. Follow their lead and, at the end of the day, you'll come home to a savory-smoky aroma and dinner just about done. Vince Hayward use his own family's Camellia brand red kidney beans in the dish, along with smoked ham hock sourced from Jacob's in La Place, Louisiana. He also uses the "Holy Trinity"—that Creole and Cajun mirepoix of onion, celery and bell pepper—and his own personal Creole seasoning blend to lend the dish its signature perfume, elevating simple red beans and rice to the sublime.
Ingredients
1 6- to 8-oz. smoked ham hock
1 lb. dried red kidney beans
4 large celery stalks, finely chopped (1⅓ cups)
1 large green bell pepper, finely chopped (1⅓ cups)
1 large yellow onion, finely chopped (1⅓ cups)
2 bay leaves
2 tbsp. Creole seasoning blend (storebought or homemade)
Steamed white rice, for serving
Instructions
Step 1
To a slow cooker, add the ham hock, beans, celery, bell pepper, onion, bay leaves, Creole seasoning, and 6½ cups of water. Cook on low until the beans are nearly tender and just slightly firm in the center, 6–7 hours.
Step 2
Turn the heat up to high and continue cooking until the beans are completely tender, about 1 hour more.
Step 3
Using a potato masher or the back of a large spoon, slightly mash the beans right in the cooker to your desired consistency to add texture and slightly thicken. Stir well, then ladle into wide bowls and serve with steamed white rice.