Recipes
Sweet and Sour Eggplant Satay
A crispy, plant-based riff on the iconic Indonesian street snack.
Serves

makes 10 Skewers

Cook

45 minutes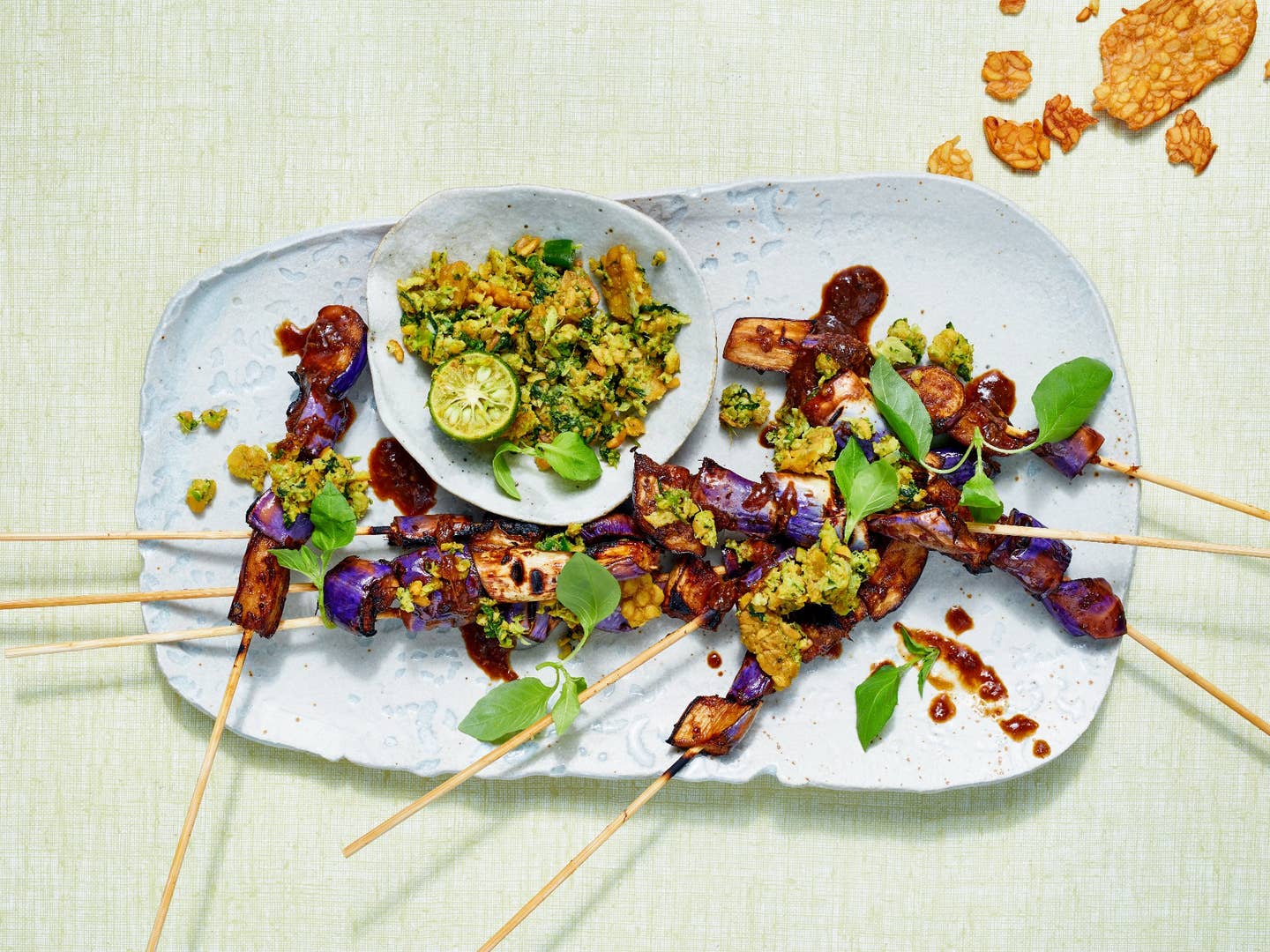 This recipe is adapted from Van der Leeden's cookbook INDOSTOK.
Ingredients
Ten 10-in. bamboo skewers
1 lb. Asian eggplants
Kosher salt
One 1½-in. piece of ginger, peeled and sliced
4 medium garlic cloves, peeled
3 tbsp. kecap manis (Indonesian sweet soy sauce)
2 tbsp. hoisin sauce
2 tbsp. (1½ oz.) seedless tamarind paste
4 tbsp. vegetable oil, divided, plus extra for brushing
Sambal or peanut sauce, for serving
Instructions
Step 1
To a wide container, add the skewers and enough hot water to cover. Set aside for at least half an hour while you prepare the eggplant.
Step 2
Cut the eggplant into ¾-inch by ¾-inch cubes and add to a large bowl. Salt generously, toss to coat, and set aside for 10 minutes.
Step 3
Meanwhile, in a blender, add the ginger, garlic, kecap manis, hoisin sauce, tamarind paste, and 2 tablespoons of the oil; blend until smooth. Pat the eggplant pieces dry with paper towels, then pour the mixture over it, toss to coat, and set aside to marinate slightly.
Step 4
In a large skillet over medium-low heat, heat the remaining 2 tablespoons oil. When hot, add the eggplant and cook, stirring frequently, until the pieces begin to soften, 5–7 minutes. Remove from heat and set aside until cool enough to handle.
Step 5
Drain the skewers and assemble the satay: Skewer the eggplant all the way to the tip of the skewers, keeping the pieces compact on one end and leaving several inches exposed on the other end.
Step 6
Build a medium-hot fire in a charcoal grill or preheat a gas or electric grill to medium-high heat.
Step 7
Lightly brush the eggplant with oil, then position the satay over the heat, allowing the exposed ends of the skewers to extend outside the grill, away from the flame. Cook the satay, rotating every 2 minutes, until the eggplant is lightly charred on the outside and soft in the center, 6–8 minutes. Serve hot, with sambal or peanut sauce on the side.