Recipes
Tex-Mex Chocolate Icebox Cookies
Cinnamon and red chile lend these sweet treats their spicy heat.
Serves

Makes about 4 Dozen Cookies

Cook

9 hours 10 minutes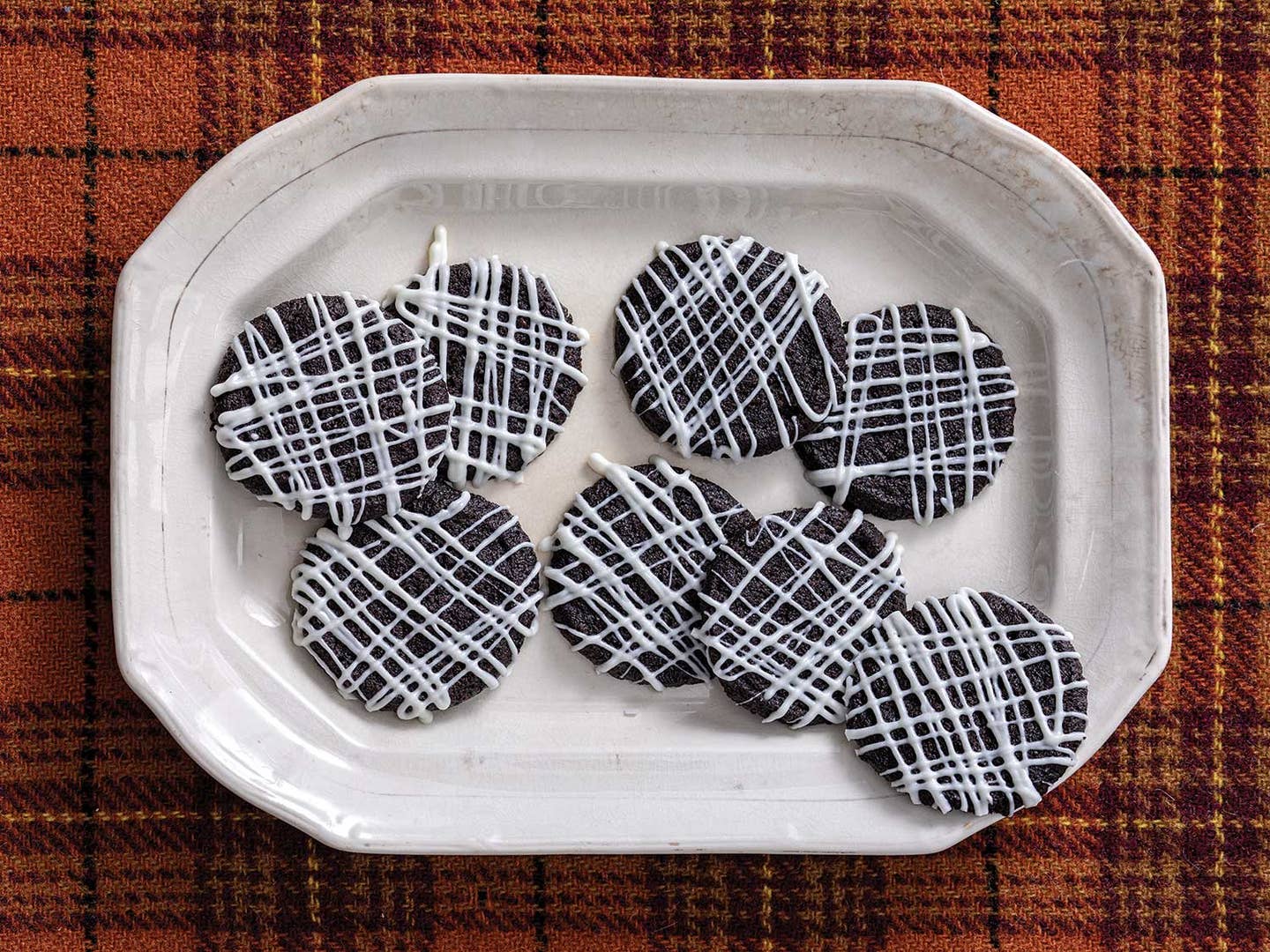 In 2005, these spicy chocolate icebox cookies from San Antonio's legendary Liberty Bar took the No. 7 slot in the Saveur 100. The Texas institution still serves them at Sunday brunch, in lieu of a breadbasket and completely unadorned. That festive drizzle of white chocolate is all us. These were featured in our book Best Cookies. Check out all our favorite cookies to bake for the holidays here.
Ingredients
3⁄4 cup Dutch-processed cocoa powder, sifted
1⁄2 cup all-purpose flour
3⁄4 tsp. ground cinnamon
1⁄2 tsp. cayenne pepper
1⁄4 tsp. freshly ground black pepper
1⁄4 tsp. kosher salt
1 cup sugar
1 large egg
1 1⁄2 tsp. vanilla extract
12 Tbsp. cold unsalted butter (1½ sticks), cut into small pieces
Melted white chocolate, for drizzling
Instructions
Step 1
In a medium bowl, whisk together the first 6 ingredients and set aside. In the bowl of a stand mixer fitted with the whip attachment, beat together the sugar, egg, and vanilla on high speed until thick and pale, about 3 minutes. Add the butter and continue beating until smooth, about 3 minutes more. Use your fingers to work the reserved dry ingredients into the butter mixture until just combined.
Step 2
Using a plastic bowl scraper, divide the dough in half and transfer each half to a large sheet of parchment paper. Use the paper to squeeze and roll the dough into 2 compact 9-inch logs, twisting the ends tightly to make uniform cylinders. Freeze for at least 8 hours and up to 30 days. (If freezing longer than 24 hours, wrap the paper-wrapped cylinders tightly in plastic.)
Step 3
Preheat the oven to 350°F.
Step 4
Meanwhile, unwrap and slice each log into ⅓-inch-thick rounds. Space the cookies ½ inch apart on parchment-paper-lined baking sheets, and bake until slightly puffed with tiny cracks on the surface, 7-9 minutes. Transfer to a wire rack to cool completely.
Step 5
Place the rack of cooled cookies over a cool baking sheet. Using the tines of a small fork or a pastry bag fitted with a very fine tip, drizzle generously with melted white chocolate. Set the rack of cookies aside until the chocolate is firm. Stored in an airtight container, the cookies will keep for up to 7 days.