Chinese Salt-Baked Chicken With Congee and Pickled Mustard Greens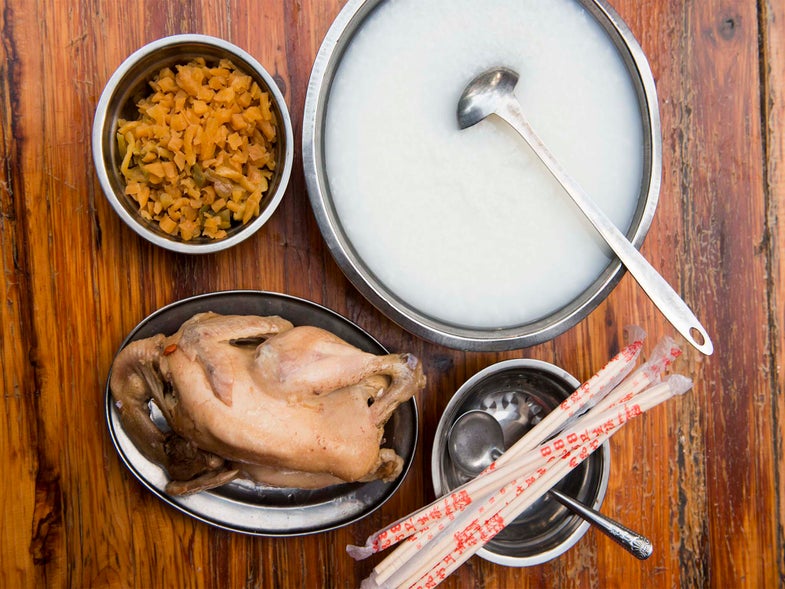 Encasing a whole chicken in salt before cooking insulates the bird, allowing for gentle, even cooking and resulting in extra moist meat. In Hainan, the bird is typically prepared in a wok set over low heat, but it can also be baked in the oven, as we do here. You can reuse the salt up to three times for other salt-baked birds; otherwise discard it.
Featured in: The World's Best Chicken Comes From Hainan
Chinese Salt-Baked Chicken With Congee and Pickled Mustard Greens
One of the best ways to get the most of chicken is also the simplest: bake it whole in salt.
Time: 4 hours, 30 minutes
Ingredients
1 3-lb. organic, free-range whole chicken
1 scallion, cut into 2-inch pieces
1 1-inch piece ginger, thinly sliced
1⁄4 cup plus 2 Tbsp. shaoxing wine
2 tbsp. soy sauce
4 1⁄2 lb. (about 8 cups) coarse salt (see note above)
1⁄2 cup long-grain white rice
1 tsp. kosher salt
Roughly chopped pickled mustard greens, for serving
Instructions
Place the chicken on a rimmed baking sheet, stuff the cavity with the scallion and ginger, and tie the legs together with kitchen twine. Using a brush, baste the chicken all over with the shaoxing wine and soy sauce and let stand until dry. Wrap the chicken completely in parchment paper and use kitchen twine to secure it, as if tying ribbon on a gift box.
Heat the oven to 425°. Pour the coarse salt and 1 cup water into a roasting pan or deep 9-by-13-inch baking dish, toss until the salt is the consistency of wet sand, then bake until hot, about 15 minutes. Remove the pan from the oven, scoop out three-quarters of the salt to a bowl, and form a slightly raised bed of salt in the center of the pan. Place the chicken on the bed, return the salt to the pan, mounding it over the chicken so it's completely covered, and cover the pan in foil. Reduce the oven temperature to 375° and bake until the chicken is cooked through, 1 hour and 15 minutes.
Meanwhile, combine the rice, kosher salt, and 6 cups water in a medium saucepan and bring to a boil. Reduce the heat to maintain a simmer and cook, stirring, until the rice breaks down, giving it a consistency of porridge, about 1 1⁄2 hours. Remove the pan from the heat and keep the congee warm.
Remove the roasting pan from the oven and let the chicken rest for 15 minutes. Uncover the pan, break away the salt, and unwrap the chicken from the parchment paper. Cut the chicken into serving pieces and serve with the congee and pickled mustard greens.