Recipes
Sautéed Squash and Shrimp with Coconut Milk and Chiles
Serves

serves 4

Cook

40 minutes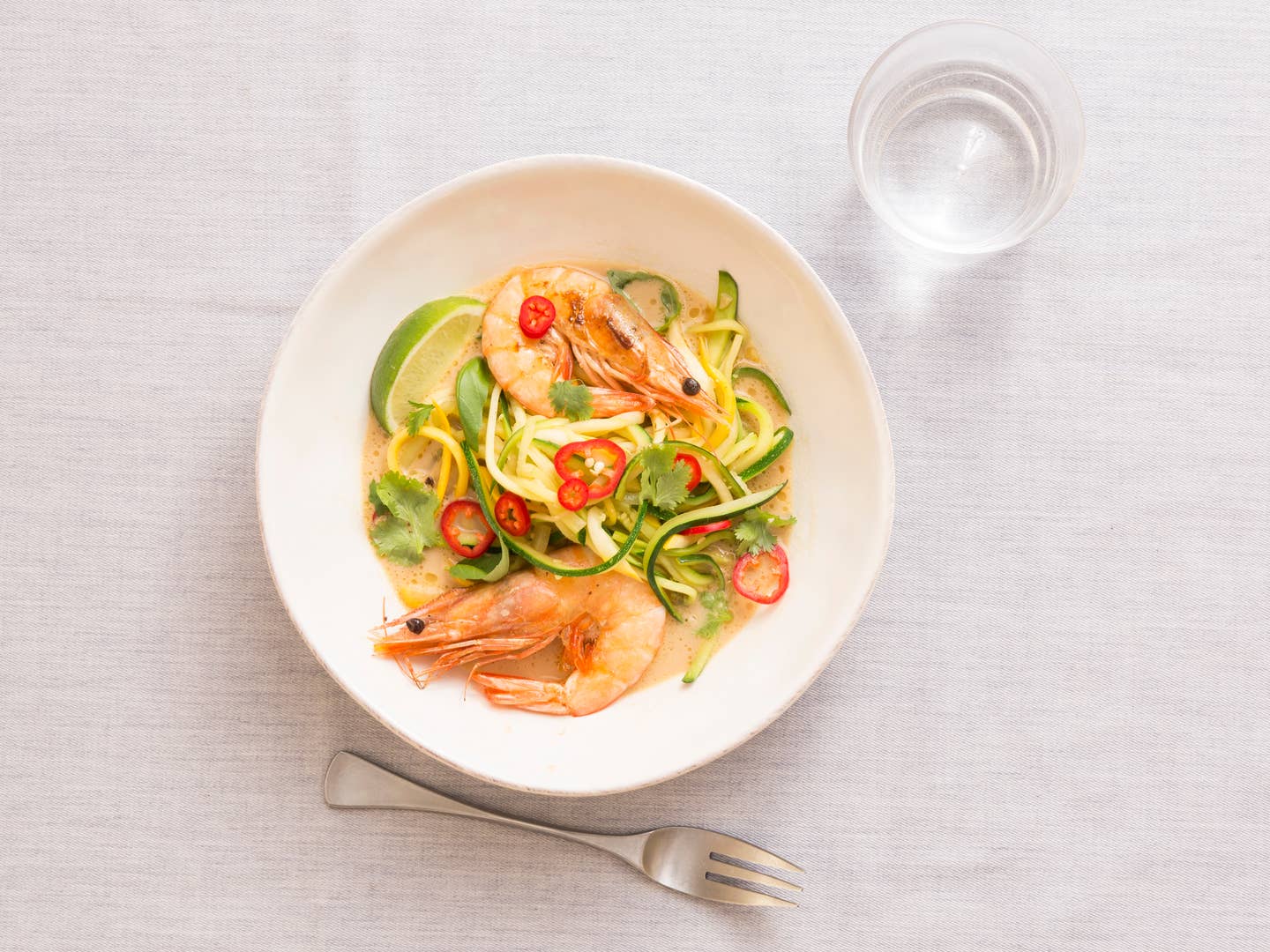 Similar to an unripe mango or green papaya, julienned squash has a slightly "green" flavor that pairs well with the classic Thai flavors in this quick, brothy dish.
Ingredients
3 tbsp. coconut or vegetable oil
2 garlic cloves, minced
1 (2-inch) piece ginger, peeled and minced
1 cup coconut milk
1 cup vegetable or shrimp stock
1 tbsp. cane syrup (optional)
Kosher salt and freshly ground black pepper
8 jumbo shrimp, head and shell on
2 1⁄2 lb. summer squash or zucchini, or a mix of both, trimmed and julienned
1 red Fresno chile, stemmed and thinly sliced
Basil and cilantro leaves, to garnish
Lime wedges, for serving
Instructions
Step 1
In a small saucepan, heat 1 tablespoon of the coconut oil over medium. Add the garlic and ginger and cook, stirring, until soft, 2 minutes. Stir in the coconut milk, stock, and syrup, and bring to a boil. Reduce heat to medium-low and simmer for 10 minutes. Season the broth with salt and pepper and keep warm.
Step 2
In a large skillet, heat the remaining 2 tablespoons coconut oil over high. Season the shrimp with salt and pepper, then add to the skillet and cook, flipping once, until just cooked through, 3 minutes. Transfer the shrimp to a plate and then return the skillet to the heat. Add the squash and cook, tossing frequently, until just tender, 3 to 4 minutes. Remove the squash from the heat and season with salt and pepper.
Step 3
Spoon the broth into 4 serving bowls along with the squash and shrimp. Garnish with the chile, basil, and cilantro, and serve with lime wedges.