Recipes
Shrimp Cocktail
Host like a pro at your next party by mastering this elegant entertaining staple.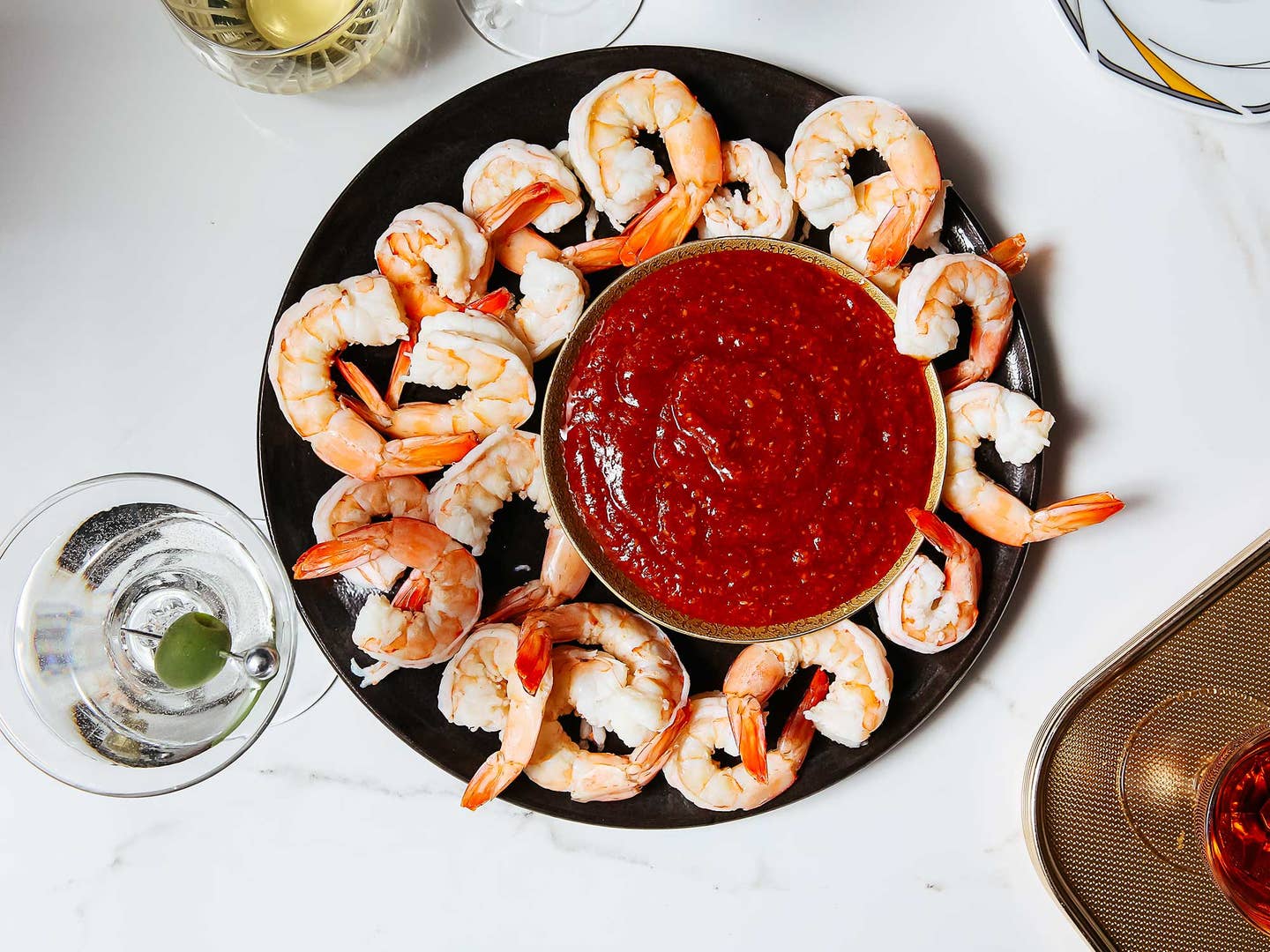 Delicate, briny, and sweet, it's no surprise shrimp are the most popular seafood in the United States. This classic elegant dish pairs jumbo shrimp with a cocktail sauce inspired by the tangy condiment served at the Manhattan Club in New York during the late 19th century.
Ingredients
¾ cups ketchup
3 tbsp. drained prepared horseradish
2 tbsp. fresh lemon juice
2 tsp. Worcestershire sauce
8-10 drops Tabasco
Pinch kosher salt
2 cups dry white wine
1 tbsp. whole black peppercorns
6 sprigs fresh thyme
1 small bunch parsley
1 sliced yellow onion
1 chopped celery stalk
1 bay leaf
16 jumbo shell-on shrimp (1 lb.)
Instructions
Step 1
Make the sauce: In a medium bowl, stir together the ketchup, horseradish, lemon juice, Worcestershire, Tabasco, and a pinch of salt. Cover and refrigerate.
Step 2
In a large pot, combine the wine, peppercorns, thyme, parsley, onion, celery, bay leaf, and 2 quarts of water into a large pot. Season the liquid generously with salt and bring to a boil. Turn the heat down to medium-low and simmer for 30 minutes.
Step 3
Add the shrimp and cook, stirring occasionally, until just cooked through, 2–3 minutes. Drain the shrimp, transfer to a baking sheet, and spread into a single layer; let cool to room temperature.
Step 4
Refrigerate the shrimp until completely chilled, then peel them. Pour the cocktail sauce into a small ramekin, place on a serving platter, and surround with the peeled shrimp. Serve immediately.
The essential ways to cook the U.S.'s most popular seafood.