Spicy Beef Pan-Fried Dumplings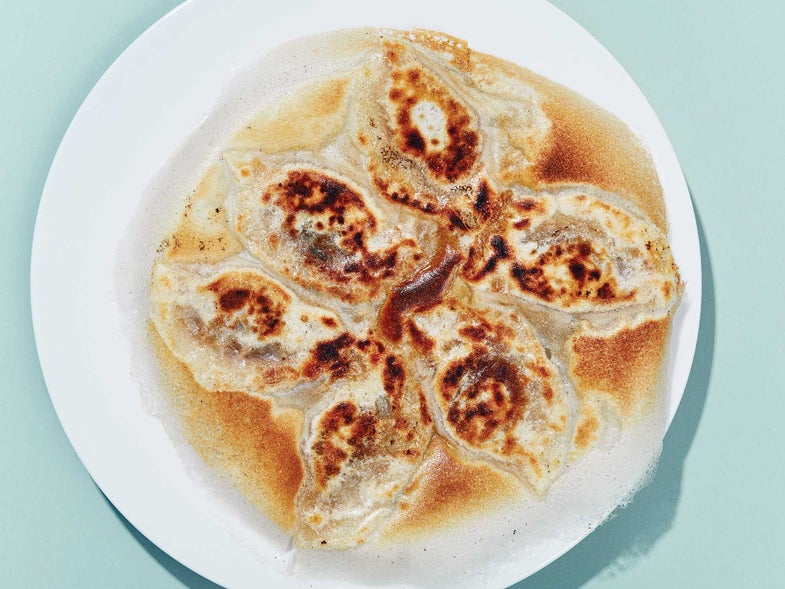 WATCH: How to Make Spicy Beef Dumplings
In these delightfully rich dumplings, homemade or store-bought chile oil is balanced by freshness from scallions and ginger and sweetness from oyster sauce. To maximize the crispy surface area, stretch and arc the shape of the raw dumpling slightly. This recipe is adapted from The Dumpling Galaxy Cookbook.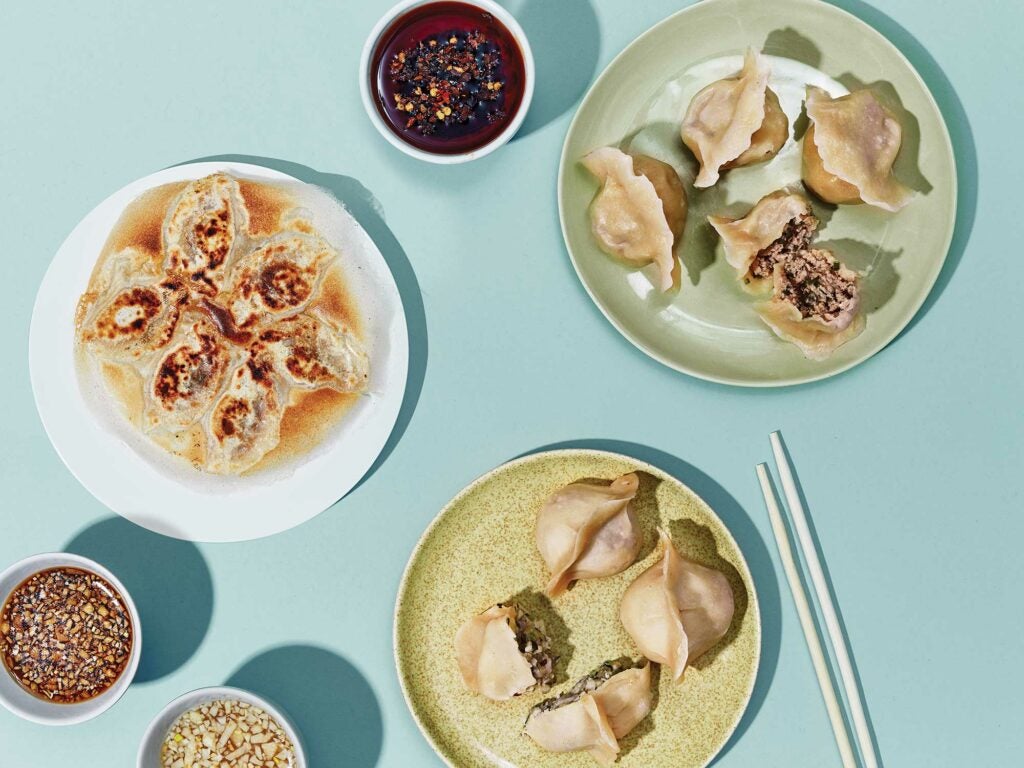 The recipes, tools, and tips you need for the endlessly adaptable one-bite marvel
Featured in: The Complete Guide to Mastering Chinese Dumplings at Home
Pan-Fried Spicy Beef Dumplings
Crisp layers of batter attach themselves to the dumplings to create a hybrid dumpling-pancake dish that's fun for sharing
Time: 2 hours, 10 minutes
For the dough
4 cups all-purpose flour, plus more for dusting
1⁄4 tsp. kosher salt
2 large egg whites
For the filling and cooking
2 tbsp. vegetable oil, plus more for frying
1 medium onion, minced (1 1/3 cups)
1 tsp. chile oil or more, to taste
1 lb. fatty ground beef
3 scallions, white and green parts minced (scant 1/2 cup)
2 tbsp. oyster sauce
2 tbsp. soy sauce
1 tbsp. freshly grated ginger
1 tbsp. toasted sesame oil
1 tsp. freshly ground black pepper
1⁄2 tsp. kosher salt
1⁄4 cup all-purpose flour
1⁄4 cup white vinegar
Instructions
Make the dough: In a large bowl, combine the flour and salt. Add 1 1⁄2 cups lukewarm water and the egg whites and stir with fingers. (Dough should be shaggy with dry pockets of flour, like biscuit dough.)
On a well-floured work surface using floured hands, knead the dough, dusting with more flour as needed, until smooth, about 4 minutes. Transfer to a lightly floured bowl and cover the bowl with plastic wrap. Let rest 30 minutes or up to 1 hour.
Make the filling: In a medium skillet, heat 2 tablespoons oil over medium-high heat. Add the onion and cook, stirring occasionally, until softened, 7–9 minutes. Stir in the chile oil. Let cool.
In a large bowl, combine the beef, scallions, oyster sauce, soy sauce, ginger, sesame oil, pepper, and salt and mix with hands. Fold in the cooled onions.
On a floured surface, knead the dough briefly until satin smooth. Cut into 4 equal pieces. Roll each piece into a 3⁄4-inch-thick log and cut with a cleaver or a sharp knife into 12 equal pieces about the size of an egg yolk. On a rimmed baking sheet, toss the balls generously with flour and drape with a damp paper towel to hold.
Flatten each ball slightly with the palm of your hand. Using an Asian-style rolling pin, flatten the dough a bit more. Roll from the edge of each dough disk to its center, rotating the disk between rolls. Repeat until the wrapper is 3 inches in diameter and the edges are half as thick as the center. Transfer back to the well-floured work surface and tent with a damp paper towel. Repeat with the remaining wrappers.
Holding a wrapper in your palm, fill the center with a tablespoon of filling. Pinch the edges of the wrapper shut to form a half moon, squeezing out any air bubbles. Tug the ends of the dumpling slightly to elongate, then curve into a slight crescent shape. Repeat with the remaining filling and wrappers (you may have a few extra wrappers).
In a medium bowl, whisk the flour, vinegar, and 2 cups water to make a slurry.
Brush one or two 10-inch nonstick or cast-iron skillets lightly with oil and heat over medium-high heat. Add 8 dumplings to each pan with the flat sides down, at least 1⁄2 inch apart. Pour in cup plus 1 tablespoon of the slurry, then partially cover the pan. Increase to high heat and cook 1 minute for nonstick or 2 minutes for cast iron. Lower the heat to medium and cook 3 minutes for nonstick or 2 minutes for cast iron. Lower the heat to low, and cook 3 minutes for nonstick or 2 minutes for cast iron. Remove the lid and cook until water has evaporated and a golden brown starch disk remains, 3–4 minutes more. Using a flexible spatula, loosen the disk from the pan. Place a large plate over the top of the pan and flip the disk onto the plate in one motion, crispy side up. Serve immediately.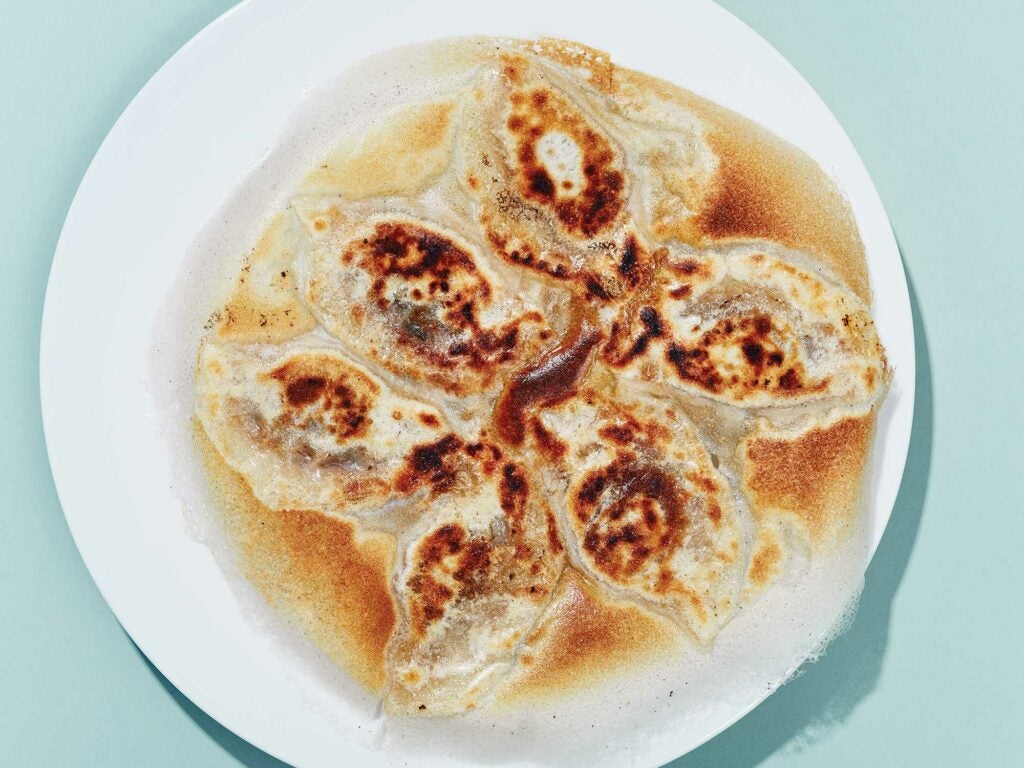 Pan-Fried Spicy Beef Dumplings
In these delightfully rich dumplings, homemade or store-bought chile oil is balanced by freshness from scallions and ginger and sweetness from oyster sauce. To maximize the crispy surface area, stretch and arc the shape of the raw dumpling slightly. Get the recipe for Pan-Fried Spicy Beef Dumplings »