Recipes
Amy Thielen's Old-Fashioned Pounded Cheese with Walnuts and Port Syrup
Midwestern Port Wine Cheese: Cheese You Can Eat With a Spoon
Serves

makes 1 1/2 cups

Cook

15 minutes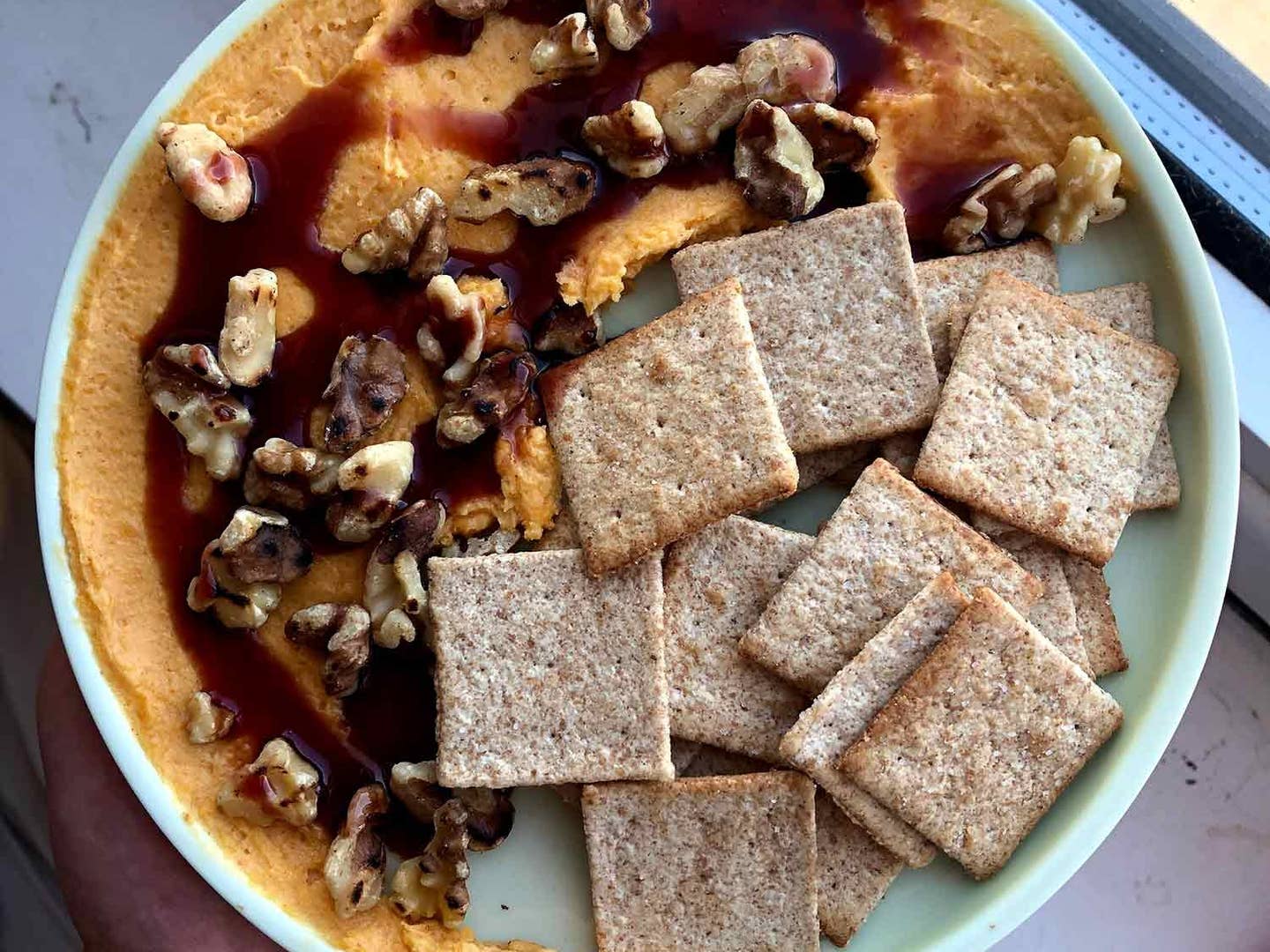 Pounded cheese can be found in books of early American cookery from all areas of this country, but when made with aged Wisconsin cheddar, it's really a treat. This recipe is basically a deconstructed cheese ball: Whip softened chunks of aged cheddar with butter until smooth, top with toasted walnuts, and drizzle with port syrup. Not much more difficult than unwrapping a square of cheddar, the success of this simple spread depends almost entirely on the quality of the cheese used—the older and more velvety it is, the more distinctive the spread will be.
Old recipes for this dish call for beating the cheese with a wooden spoon or mortar and pestle until soft, but cookbook author Amy Thielen prefers a food processor because it creates a luscious, whipped texture. Before beginning, make sure that the cheese is at room temperature and the butter is just a touch colder. Says Thielen, "[the butter] should have the malleable consistency of putty; not rock-hard but firmer than mayonnaise—what a French chef would call 'beurre pommade.'"
Ingredients
1⁄2 cup ruby port
1 Tbsp. packed light brown sugar
7 oz. aged cheddar cheese (3 years old or more), at room temperature
6 Tbsp. (3 oz.) salted butter, softened
1 tsp. Dijon mustard
1⁄4 tsp. freshly ground black pepper
Pinch of cayenne pepper
1⁄3 cup walnut halves, toasted* and broken into pieces
Bread or crackers, for serving
Instructions
Step 1
Make the port syrup: To a small pot over medium-high heat, add the port and brown sugar. Bring to a gentle simmer, stirring occasionally to dissolve the sugar, then cook until the liquid has reduced to a light syrup, 7–9 minutes. Remove from the heat and set aside to cool to room temperature (it will thicken further as it sits).
Step 2
Break the cheese into chunks and transfer to the bowl of a food processor. Process the cheese until pureed, then add the butter, mustard, black pepper, and cayenne and continue processing, stopping often to scrape down the sides and bottom of the bowl with a silicone spatula, until the paste is whipped and very smooth. Transfer the cheese to a shallow serving dish, then sprinkle with walnut pieces, and drizzle with the port syrup. Serve at room temperature, with bread or crackers.
Note: Pounded cheese can be made a few hours ahead and kept at room temperature; or it can be made the day before and stored in an airtight container in the fridge. Just be sure to bring it back to room temperature before serving.