Recipes
Spinach and Cheese Breadcrumb Dumplings (Strangolapreti)
Serves

serves 3 to 4

Cook

1 hour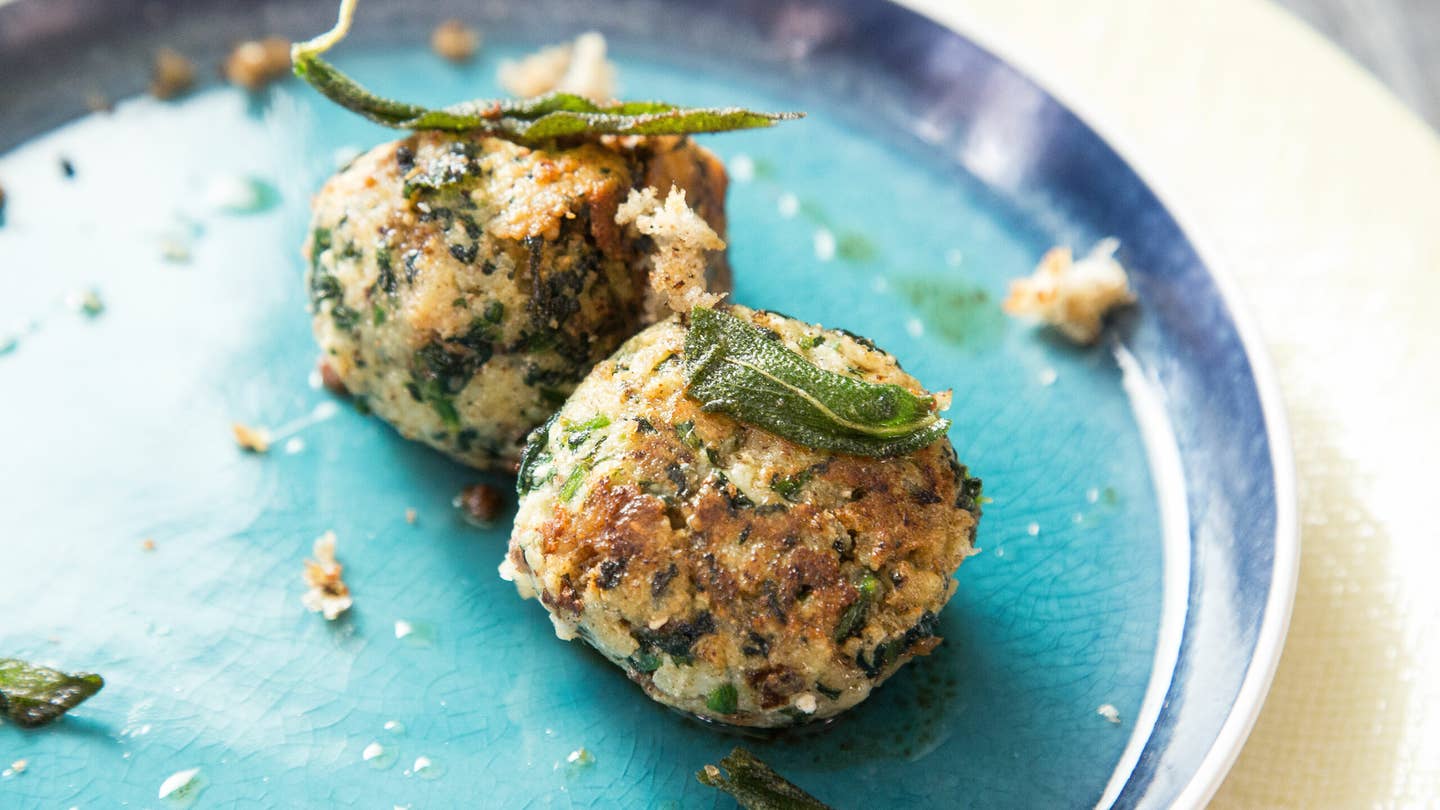 Strangolapreti is a Trentan party food, a luxurious, cheesy dish made with frugal ingredients. Jonathon Sawyer of Cleveland's Trentina days day-old bread, blanched spinach, ricotta, and egg to make a dumpling filled with ooey-gooey cheese.
Ingredients
1 tsp. kosher salt, plus more
8 oz. baby spinach
1 1⁄2 cups breadcrumbs
1 cup grated parmesan cheese, plus more to garnish
1⁄2 cup ricotta cheese
1⁄4 cup olive oil
1 egg, lightly beaten
All-purpose flour, for dusting
6 oz. taleggio cheese
3 tbsp. unsalted butter
12 fresh sage leaves
1 1⁄2 tbsp. balsamic vinegar
Instructions
Step 1
Bring a large pot of salted water to a boil. Add spinach and cook until just wilted, 1 to 2 minutes. Drain spinach, then plunge into a bowl of ice water. Drain spinach, squeezing out any water, and finely chop.
Step 2
In a large bowl, mix the spinach with the 1 teaspoon of salt, the bread crumbs, parmesan, ricotta, 1 tablespoon of olive oil, and the egg until evenly combined. Divide the dough into 14 balls. Working with 1 ball of dough at a time, flatten the ball in the palm of your hand. Add 2 teaspoons of taleggio and wrap the dough around the cheese. Dust each ball with flour and place on a parchment paper-lined baking sheet. Freeze dough for 45 minutes.
Step 3
Bring a large pot of water to a boil. Working in 2 batches, add the dumplings to the water and cook until they float, about 5 to 7 minutes. Using a slotted spoon, transfer dumplings to a plate. Save 1⁄3 cup pasta water.
Step 4
Meanwhile, heat remaining 3 tablespoons oil in a 12-inch skillet over medium-high. Add dumplings and cook, turning as needed, until golden, about 6 minutes. Add the butter and sage and cook, basting the dumplings, 2 minutes longer. Transfer the dumplings to a serving platter and add the reserved pasta water and the vinegar to the skillet. Bring it to a boil and reduce the sauce by half, about 8 minutes. Spoon the sauce over the dumplings and garnish with more parmesan.