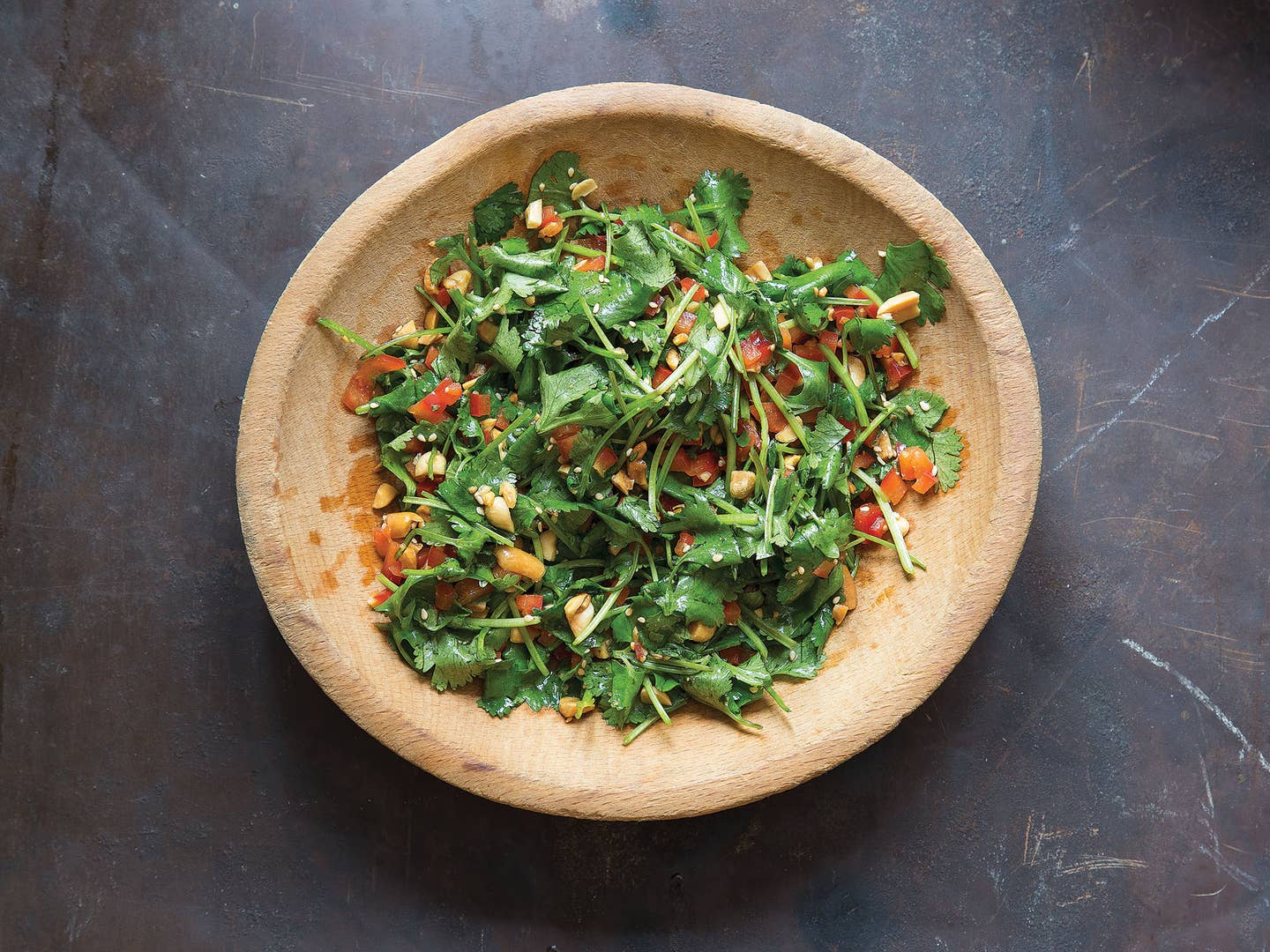 Recipes
What to Cook This Weekend: Recipes From the Greenest Corner of China
31 hours, three flights, two trains, and one pickup truck later, I arrived in Menghai to a plate of eggs. There's this restaurant in the wee Chinese city that does truly wonderful things with eggs—cooked so they're just crisp on the edges but yielding within, roughly scrambled with chunks of ripe, drippy tomato and the allium perfume of garlic chive. The dish is a home-cooking classic—go read Francis Lam's resplendent paean to it in the New York Times—nothing you'd ever travel for. But with the right eggs and the right produce and the right cooks, it's beautiful food.
I was in Yunnan Province on assignment for a story on pu-erh, the obsessed-about tea grown only in this one corner of China that has ardent fans all over the world. So I was prepared for sights of verdant plantations and ancient forests as we'd drive up the nearby mountains. But no one told me just how green Yunnan is, all over, mountains and lowlands, even on city streets. How lush and dense the flora grows here, and how there are so many plants that look so different you wonder if you ever see the same species more than twice. It's no wonder people in China and elsewhere are now flocking to Yunnan as a treasure box of natural wonders.
You taste the lushness everywhere you go. Garlic tickles your nose but tastes as sweet as candy. Sprigs of mint haunt your throat. Potatoes are more flavorful than most supermarket vegetables back in the States. When your produce is this fresh and this abundant, it takes next to nothing to turn it into dinner. Yet folks in Yunnan are genius cooks, steaming and stir-frying their way to simple dinners but also pickling, fermenting, and preserving everything along the way.
Spring's coming early this year—alarmingly so, but that's another story—and I find myself craving the tropical produce I gobbled up every day back in China. It's still frigid here by southern China standards, but not so cold that I can't whip up some frizzled maitake mushrooms with cilantro and chile, a Maine chef's spin on a Shanghainese dish that wouldn't be out of place in Yunnan. Or a simple salad made of cilantro, chile, and peanuts, dressed with a little soy and sesame oil, a recipe from up in Xinjiang but, in my New York kitchen, close enough to get me back to green country.
Pu-erh is the Helen of Troy of tea that gets aged like whiskey, dosed like drugs, and coveted by millionaires. And it only comes from this one mountainous corner of China