Recipes
Almond Frangipane Tart with Cranberries and Honeyed Pistachios
Almond tart.
Serves

serves 8

Cook

1 hour 25 minutes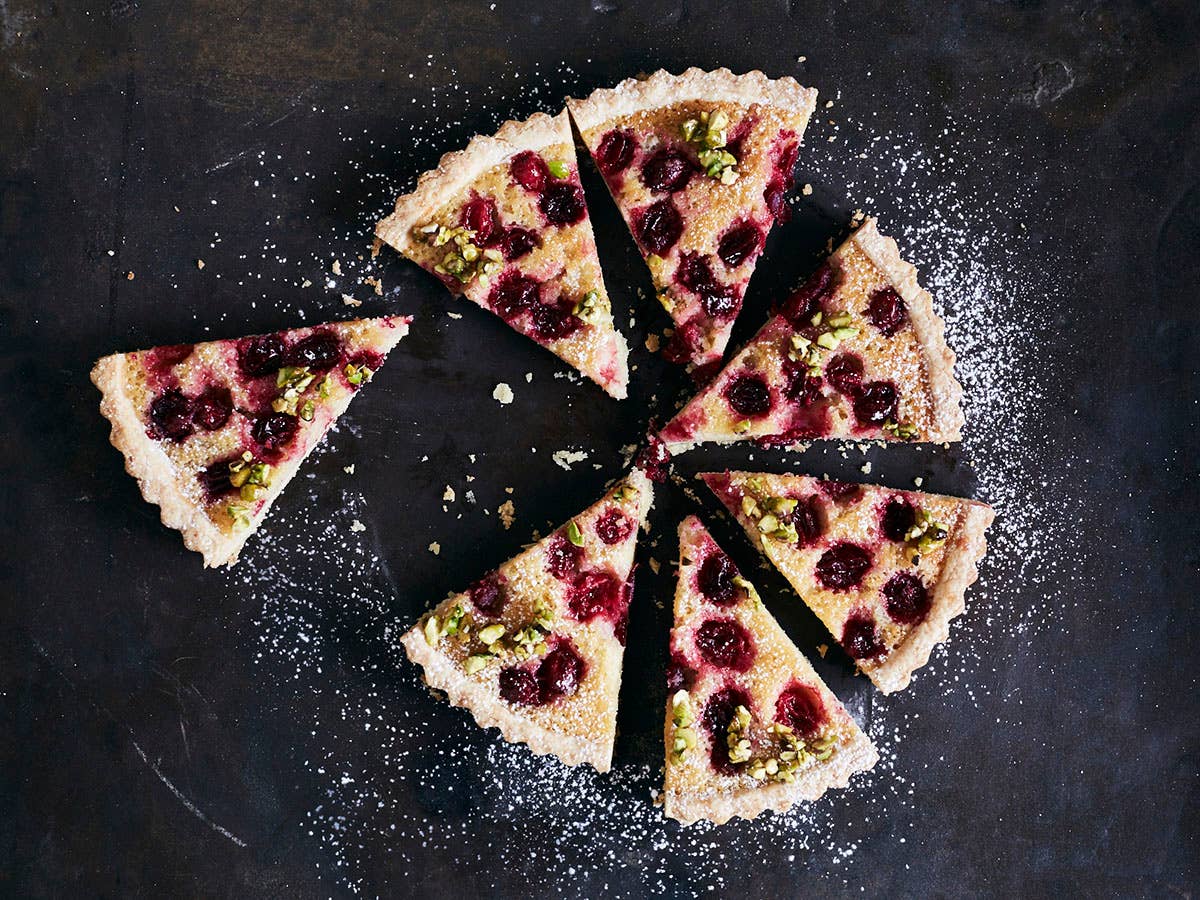 Frangipane, an almond-based pastry filling, has a nutty fragrance and a consistency between buttery pound cake and airy sponge cake. In French-style fruit tarts, this classic filling is often studded with poached or fresh fruits. In summer, you can swap out the cranberries in this tart for halved pitted apricots, fresh pitted cherries, or sliced plums. Syrup-poached apples or pears, halved ripe figs, or quince would be delicious in cooler months.
Ingredients
For the crust
1 stick (4 oz.) unsalted butter, softened
1⁄4 cup cup plus 1 Tbsp. granulated sugar
1 large egg yolk
1 1⁄4 cups all-purpose flour
1⁄4 tsp. kosher salt
Almond frangipane, for filling
For the fruit and topping
Scant 3/4 cup frozen cranberries, fully thawed in a strainer
3 tbsp. sugar
1⁄4 cup raw unsalted pistachios, finely chopped
1 tsp. honey
Confectioners' sugar, for dusting (optional)
Instructions
Step 1
Add the butter and sugar to the clean bowl of a stand mixer and beat until light and fluffy. Scrape down the bowl, then beat in the egg yolk. Combine the flour and salt, then add to the bowl, beating on low speed until just incorporated.
Step 2
Place dough in a 9-inch round fluted tart pan. Using fingertips, press the dough evenly across the bottom and up the sides of the pan to cover in a very thin (1⁄8-inch) layer; trim and reserve any remaining dough. Dock the dough every 2 inches with a fork. Place the tart pan on a baking sheet; freeze for 10 minutes or until firm.
Step 3
Meanwhile, set a rack in the top third of the oven and preheat to 350°. Mix the thawed cranberries with the sugar; toss well.
Step 4
Retrieve the baking sheet and the frangipane. Add the frangipane to the center of the tart crust, and using an offset spatula, spread to evenly fill all the way to the edges. Individually place the cranberries on the frangipane in a pattern you like, leaving room between the berries. Discard excess sugar or juices from the bowl.
Step 5
Bake until the top is lightly browned, about 40 minutes. (If frangipane looks puffy in patches, don't worry, it will settle.) Remove the tart and let cool 5 minutes, then carefully transfer the tart pan to a rack to cool completely.
Step 6
In a small bowl, mix the pistachios with the honey using fingers. Top the tart with small clusters of the honeyed nuts. Just before slicing, unmold the tart and dust with confectioners' sugar if desired.