Caramel Recipes
Caramel is a staple of the dessert world for good reason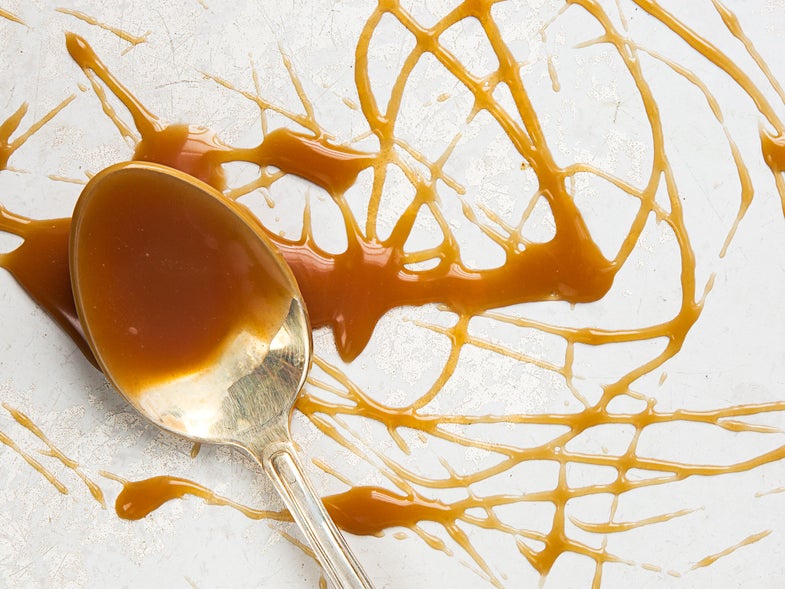 Caramel is a staple of the dessert world for good reason. It adds not just sweetness, but richness and depth, to whatever it's cooked into, mixed with, or drizzled on. From nutty brittles to decadent cakes to fruity pies, we've rounded up our favorite caramel recipes.
The most basic way to enjoy caramel is as a sauce that you can serve on ice cream, pie, or anything else you want. Making your own caramel sauce is incredibly easy—in just 20 minutes you can whip up a batch of our salted caramel sauce. The salt intensifies the sweetness of the caramel. If you want something more adventurous try our fried chicken caramel—yes, it's really made with chicken skin, fat, and stock. It might sound weird, but the sweet-savory combo is totally delicious.
Mix buttery caramel with nuts, let it cool, and you have brittle. This crunchy dessert is a great gift, though you might want to keep it around to snack on yourself. Our pecan pie brittle uses broken peanuts and vanilla to evoke the Southern classic. A little more savory is our pine nut brittle scented with rosemary.
We love the combination of bananas and caramel. In our banana tarte tatin, tart Manzano bananas are set on a layer of rich caramel, covered in puff pastry, and baked. Glacéed bananas are an addictive treat. To make them, bananas are quartered, deep-fried, and dipped in caramel. Shocking them in ice water hardens the caramel into a crispy shell.
Find all of these dishes and more in our collection of caramel recipes.