Building Flavor From the Bottom Up
Harissa, sofrito, and Thai red curry paste can be used in all sorts of creative ways.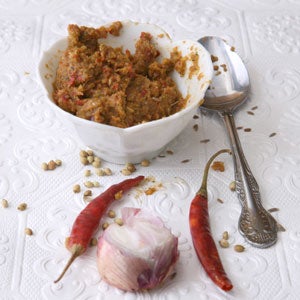 We may earn revenue from the products available on this page and participate in affiliate programs.
The three foundations listed in this year's SAVEUR 100—sofrito, harissa, and gaeng pet, or Thai red curry paste—are powerhouses of spice and flavor. When used creatively, they smarten up all kinds of dishes and can make a home cook look like a genius, too. They're able to stand up to any amount of cooking, and in some cases they're delicious in their uncooked states when mixed into other ingredients. And each is easily made in a food processor and can be stored in the refrigerator or freezer, so they're ideal for last-minute meals.
This North African condiment is most commonly used as a topping for falafel or other pita sandwiches or as a side with various couscous preparations. For a party snack, mix harissa with drained yogurt and serve with chips or vegetables, or mix or layer it with hummus for an impressive dip. With chiles, caraway, cumin, and coriander, harissa is a worthy substitute for Indian pickles for serving alongside rich, meaty curries with beef, lamb, or goat, and frying up a tablespoon with onions, ginger, and garlic is a great way to start a curry. At home, I love to make carnitas in my slow cooker, and tossing in a couple of dollops of harissa adds an unexpected boost; even a drizzle on top of a freshly assembled taco is a welcome surprise. And if you're looking for a really quick trick, mix some harissa with mayonnaise or goat cheese for a spread that goes well with a sandwich made with leftover chicken from stock making.
Any of the foundations is a neat toss-in for fried rice, but sofrito works especially well with quick sauteed dishes, as the onions, peppers, and chiles in the paste add an aromatic backdrop without dominating a dish—even if it's a kitchen sink fried rice that's dressed up with an egg and leftover meats or vegetables. Sofrito adds bite to a side of plain rice to serve with tangy, meaty dishes like Korean pork or beef stews. It can also lend a spicy lift to pasta sauces and marinades such as mojo, as well as to canned or pickled vegetables that could use a little freshness before or after jarring. Used raw, sofrito gives a surprising edge to oil-and-vinegar salad dressings or even a whole salad of a strongly flavored green or herb like parsley.
Because of the sheer number of ingredients in our version of Thai red curry paste, it's a fine choice for enlivening a broad range of dishes. If you're thinking inside the box, though, one of the first dishes you might want to try is, well, a Thai curry; roasted duck is a meat option, but leftover chicken, steak, or fish would all work well. One of my favorite dishes of all time is Malaysian char kueh teow, a noodle dish with dark soy sauce, shrimp paste, bean sprouts, and shellfish. It's not quite the same thing, but some egg noodles fried with curry paste is a superlative approximation, and throwing in an egg and topping the noodles with sriracha chile sauce sends the dish into the late-night-snack stratosphere. Creamy soups made with squash or lentils easily take on the spice of curry paste, especially when the paste is fried at the start with diced onions (and mix a dab of curry paste with sour cream or Greek yogurt for a gorgeous topping). For a star side dish, saute cubed butternut squash, sweet potatoes, or yellow potatoes (or all three) with curry paste and finish with a squeeze of lime juice. Onions caramelized in curry paste are well paired with chicken or turkey salad and all types of sandwiches; this could change for good the way you eat cheese steaks. And if you're trying to prepare a mole with as many secret ingredients as possible, a spoonful of curry paste might make you a winner.