One Ingredient, Many Ways: Cucumbers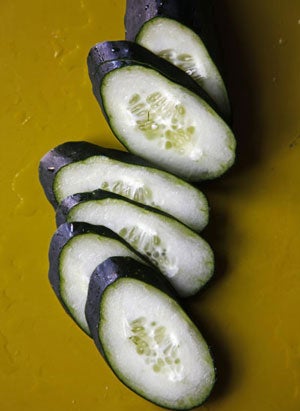 The cucumber must be one of the bartender's favorite vegetables — at least that's the case here at Saveur headquarters, where nearly a half-dozen of the drinks in our recipe archive feature the crisp, lightly flavored green gourd. It makes sense: cucumbers are made up of nearly 95 percent water, making them the ideal botanical ingredient to muddle, mash, or mix into a drink. They're used to equally lovely effect beyond the bar, in dishes ranging from tzatziki to sushi.
In the 1980s, there was just one meaning of cucumber: waxy, dark-green garden gourds filled with a row of chewy, watery seeds, which needed to be peeled and de-seeded before eating. But today, farmers' markets and grocery stores offer increasing access to the dozens of cucumber varieties grown throughout the world: the knobbly Kirby; the long and super-crunchy Persian; the round, yellow lemon cucumber that, despite its name, tastes mild and sweet. Late July, when summer produce season typically enters its high point, is the perfect time to enjoy cucumbers in as many was as possible. Here are a few ideas to get you started:
Cucumber Recipes
Fried Cucumbers with Sour Cream Dipping Sauce
This appetizer plays with cucumber's crunchy appeal by coating slices with a spiced cornmeal crust and frying them up until piping hot; a cool green goddess-style dip squelches the heat.
Smashed Cucumbers with Ginger
Cucumbers are mixed with rice wine vinegar and ginger in this refreshing Asian side dish.
Cucumber with Black Eyed Peas
Black eyed peas, coconut milk, and cucumber make for a surprisingly satisfying combination.
Cucumber Salad
Toss thinly sliced cucumbers with onion, apple cider vinegar, and sugar for a quick and refreshing salad.
Grape Leaves Dolmades
These traditional stuffed grape leaves are served with a yogurt-cucumber sauce.
Cucumber Pickles
An enduring classic: briny cucumber pickles flavored with dill and garlic.
Stuffed Cucumber Kimchi
Cucumbers are stuffed with kimchi and allowed to ferment before serving in this flavorful Korean dish.
Japanese Pickled Cucumbers (Kyuri Zuke)
Seaweed, soy sauce, and rice vinegar add a distinctly Asian flavor to these pickles.
Eggplant and Cucumber Salad Sandwich
Fried eggplant and hardboiled egg provide the substance for a hearty sandwich; a lemony cucumber salad adds extra flavor.
Cucumber and Salmon Rolls
These retro appetizer rolls combine cream cheese, thinly sliced cucumber, and salmon.
Flatiron Steak with Cucumber and Ginger Salad
There are plenty of layers lots of flavor stuffed onto this roll, with a bit of a kick from the cucumber and ginger salad.
Cold Cucumber Yogurt Soup
Greek yogurt, cucumbers, and mint flavor a simple, refreshingly cool summer soup.
Cucumber and Egg Salad
This Indonesian salad combines many flavors (including potatoes, shallots, and more) into one harmonious whole.
Cucumber Drink Recipes
Cucumber Gin Cooler
Gin, tonic water, lime juice, and cucumber come together to make a perfectly summery drink.
Spicy Shiso Smash
Red Thai chilies are cooled by cucumber in this summery, colorful cocktail.
The New Airline
A combination of apple, cucumber, and elderflower lend a spa-like smoothness to a gin cocktail.
Cucumber Limeade
Add mint and cucumber to a traditional limeade for a refreshing, non-alcoholic drink.
Cucumber Fresca
Fresh ginger adds a bit of heat to this tasty drink.
Leah Koenig is a freelance writer and author of The Hadassah Everyday Cookbook: Daily Meals for the Contemporary Jewish Kitchen.