One Ingredient, Many Ways: Radishes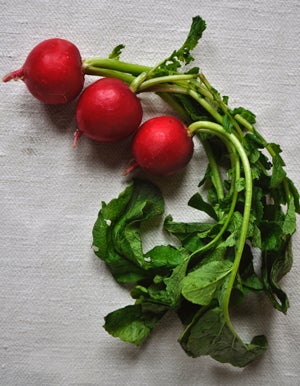 Until recently, I had only ever eaten radishes raw in salads or sliced and layered on a sandwich, and had never even considered what they might taste like cooked. But then an enlightened friend offered me some radishes that she had sauteed in unsalted butter and topped with coarse sea salt and a sprinkle of paprika. Under the heat of the pan, the radishes' trademark crispness and spicy bite had softened considerably, and they'd soaked in the butter's rich, grassy essence. The result was utterly delicious — and a total surprise.
Then again, radishes can be surprising like that. Their botanical diversity is remarkable, and a trip to the farmers' market reveals their rainbow potential. In the spring and summer growing season, the spicy bulb can be found in shades of white, purple, pink, black, and green (the watermelon radish is pale green on the outside and a deep magenta within), and in shapes that range from stout and bulbous to long and thin like a delicate icicle. They also vary widely in heat, from mild and slightly sweet to almost painfully peppery.
Since my first taste, I admit I have been overdosing on butter-sauteed radishes. But the vegetable works equally well in a myriad of raw or cooked dishes. Try them grated and tossed into a cabbage and radish slaw, added to potato salad for extra crunch, fermented into a spicy kimchi or carrot and daikon pickles, or roasted in the oven as a contender for the world's most beautiful side dish.
RAW
Pickled Radishes and Green Onion
Crisp, spicy radishes get a dose of toasty warmth from sesame oil in this quick pickle, brightened with scallions and sesame seeds.
Orange and Radish Salad
Delicate julienned radish tops a simple orange blossom water perfumed salad.
Radish Kimchi
Daikon radish serves as the base for this traditional Korean condiment.
Cabbage and Radish Slaw
Try adding thinly sliced radish to cabbage slaw for an extra hint of peppery heat.
Cape Breton Potato Salad
Canadian potato salad gets its crunch from celery and radishes.
Carrot and Daikon Pickle
Quick and simple, this vegetable pickle is made with vinegar and sugar.
Romaine Salad with Plum and Ginger Dressing
Radish slices add texture to a tangy-sweet summer salad.
Shrimp and Herb Canapes
Radishes make a beautiful garnish, like they do on these retro canapes.
Fiambre (Guatemalan Composed Salad)
This elaborate composed salad includes radishes among a long list of ingredients.
Torta Ahogada
Sliced onion and radish offsets meat drenched in chile de arbol sauce in a Mexican "drowned sandwich."
Food 52:Radish and Pecan Grain Salad
Use any type of grains you like in this summery salad — just be sure to top it with nutty pecans and thinly sliced radish.
COOKED
Roasted Radishes
Roast whole radishes in the oven for a gorgeous side dish.
Daikon Radish with White Miso Sauce
This traditional Japanese dish combines daikon radish with miso, sake, and mirin.
Green Bean and Radish Salad
Quick-cooked green beans, radishes, and garlic are caramelized with honey for an elegant side dish.
[Duck Foie Gras in Classic Apicius Style in Sweet-and Sour Sauce with Black Radish Confit](https://www.saveur.com/article/Recipes/Duck-Foie-Gras-in-Classic-Apicius-Style-in/- Sweet-and-Sour-Sauce-with-Black-Radish-Confit)
Radishes take a turn for the indulgent and upscale in this sweet and sour dish.
Epicurious:Sauteed Radishes
Peppery radishes soften and soak in a rich buttery flavor for a quick-to-prepare side.
In Erika's Kitchen:Watermelon Radish Chips
Slice watermelon radishes extra thin, then fry them in oil for a uniquely beautiful chip.
Leah Koenig is a freelance writer and author of The Hadassah Everyday Cookbook: Daily Meals for the Contemporary Jewish Kitchen