Fritto Misto (Fried Squid, Fish, and Shrimp)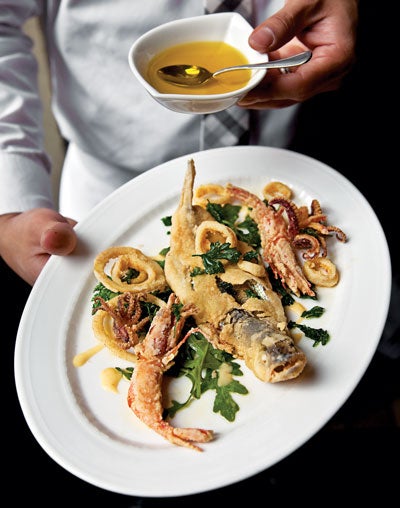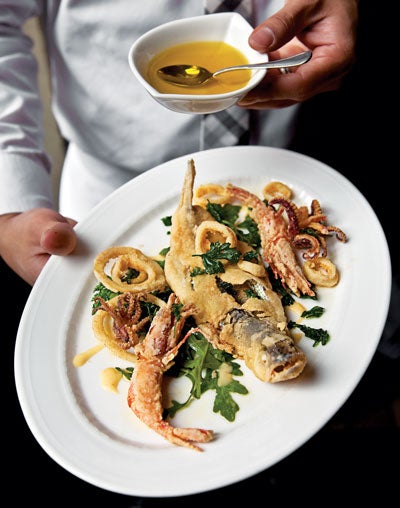 David Pasternack, the chef at the New York City restaurant Esca, uses a combination of olive oil and canola oil to make this classic Italian dish. See more on frying with olive oil »
Fritto Misto (Fried Squid, Fish, and Shrimp)
David Pasternack, the chef at the New York City restaurant Esca, uses a combination of olive oil and canola oil to make this classic Italian dish.
Ingredients
5 cups plus 1 tsp. extra-virgin olive oil
1 cup canola oil
1 cup Wondra flour
1⁄2 cup cornstarch
2 tbsp. semolina
1⁄8 tsp. cayenne pepper
1⁄8 tsp. sugar
Kosher salt and freshly ground black pepper, to taste
1⁄2 lb. large tail-on shrimp, peeled
1⁄2 lb. small fish, such as smelt or sardines, cleaned, butterflied, and deboned
1⁄2 lb. squid, cut into 1/2″ rings
3 cups salad greens, such as arugula
Lemon wedges, for serving
Aïoli, for serving (optional)
Instructions
Pour 5 cups olive oil and the canola oil into a 4-qt. saucepan and heat over medium-high heat until a deep-fry thermometer reads 330°.
Meanwhile, combine the flour, cornstarch, semolina, cayenne, sugar, and salt and pepper in a medium bowl. Working in 4 batches, add a fourth of the shrimp, fish, and squid. Toss to coat. Shake off excess flour, transfer seafood to oil, and fry, stirring, until crunchy, 2 to 3 minutes. Using a slotted spoon, transfer seafood to a rack set over a baking sheet and season with salt.
Allow oil to return to 330°; repeat in batches with remaining seafood. To serve, put greens into a bowl, drizzle with remaining olive oil, and squeeze a lemon wedge over greens. Toss to combine. Transfer greens to a platter and arrange fried seafood on top. Serve with aïoli, if you like.
Pairing Note: A dry prosecco is a natural partner for fried seafood.