Recipes
Taiwanese Beef Noodle Soup (Hong Shao Niu Rou Mian)
Serves

serves 6-10

Cook

3 hours 45 minutes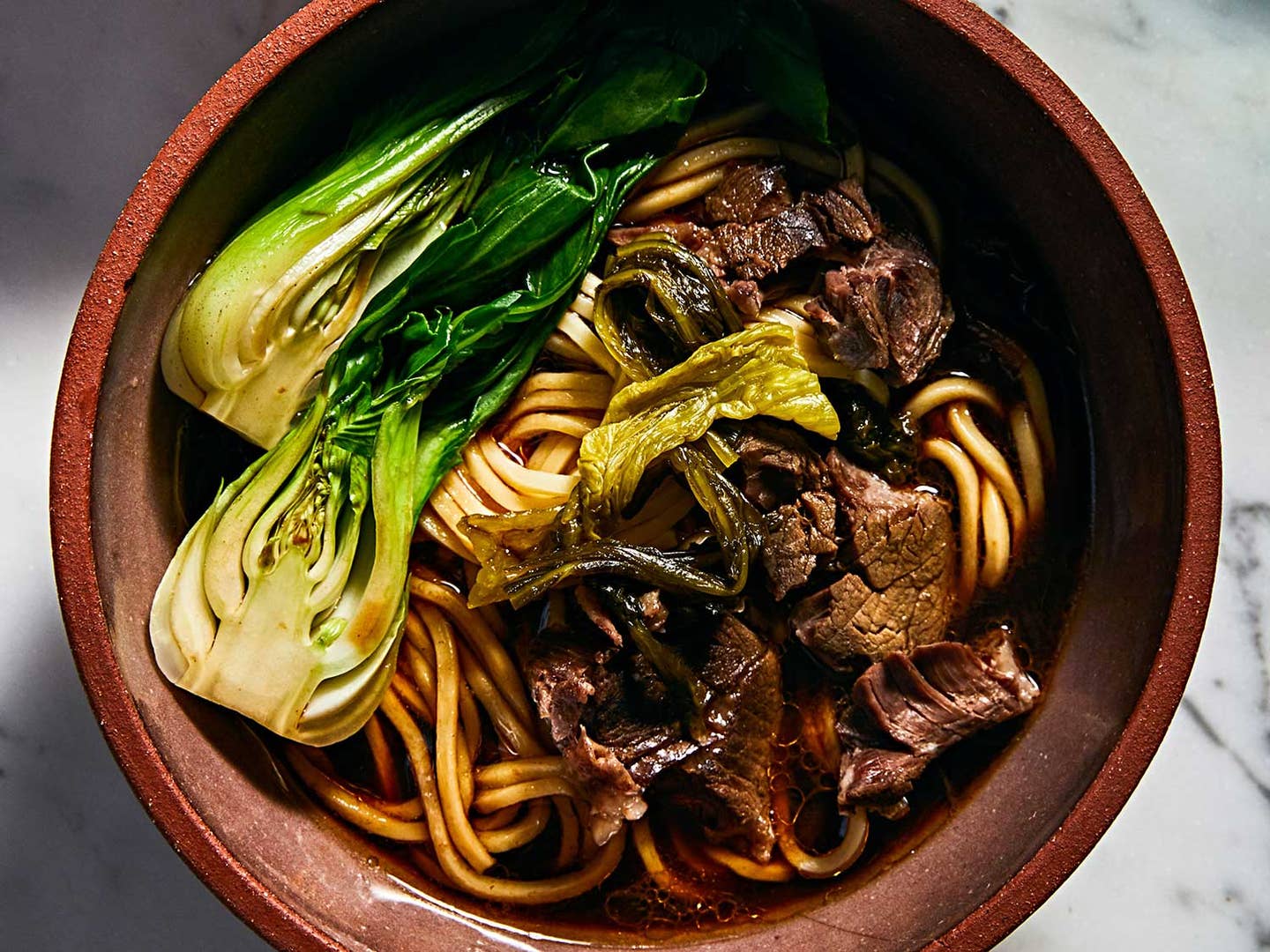 There are many different types of niu rou mian (牛肉麵), or beef noodle soup, in Taiwan. One of the most common types, hong shao (紅燒) is often translated as red-braised because of the cooking method, which involves frying the meat with aromatics like ginger, scallions, or spices, as well as soy sauce and sugar, to add flavor and color to the dish. This recipe is based on one from Taipei's Yong Kang Beef Noodle shop.
For extra-tender beef, simmer for 2–3 hours before setting it aside to cool with the lid on. For a more flavorful finished dish, refrigerate the pot of beef and broth overnight, then reheat when you're ready to serve. You can find pickled mustard greens at Chinese and Asian markets.
Ingredients
2 lb. 14 oz. long-cut boneless beef shanks (about 3)
2 Tbsp. canola oil
One 2-inch piece ginger, unpeeled, cut into ¼-inch slices
10 cloves garlic, crushed
3 dried chiles de árbol
¼ cup Taiwanese rice wine
2 Tbsp. dark soy sauce
1 Tbsp. black vinegar
1 tsp. sugar
2 medium yellow onions, quartered
3 plum tomatoes, quartered
4 star anise pods
1 Tbsp. whole black peppercorns
Kosher salt
6 baby bok choy
2 lb. thin egg noodles
Pickled mustard greens, chopped, for garnish
Instructions
Step 1
In a large pot, add the beef shanks and enough cold water to cover. Bring to a boil and cook for 10 minutes; drain. Let cool for about 30 minutes, then cut the beef into ½-inch slices.
Step 2
In the same large pot, heat the oil over medium-high. Add the beef slices and cook until both sides are lightly browned, about 8 minutes. Push the beef to the sides of the pot, then add the ginger, garlic, and chiles to the empty center; cook until fragrant, about 2 minutes. Stir in the rice wine, soy sauce, black vinegar and sugar; cook for 1 minute. Add the onions, tomatoes, star anise, peppercorns, 2 tablespoons salt, and 8 cups water. Bring to a boil, then reduce the heat to maintain a simmer and cook, covered, for 1 hour. Turn off the heat and let stand, still covered, 1 hour more.
Step 3
Uncover the pot and transfer the beef to a medium bowl. Strain the broth and set aside, discarding the other solids. Return the beef and broth to the pot and reheat over medium.
Step 4
When ready to serve, bring a large pot of salted water to a boil. Add the bok choy and cook until just tender, about 2 minutes. Transfer to a bowl. Add the noodles and cook until softened, about 4 minutes; drain. Divide the noodles, bok choy, beef, and broth among bowls, garnish with pickled mustard greens, and serve.