Vanilla Custard with Strawberries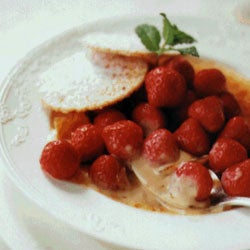 The Irish love their pudding—especially simple egg custard. If fresh strawberries aren't available, use any seasonal berries.
Yield: serves 6
Ingredients
1 vanilla bean
3 cups whole milk
7 large egg yolks
3⁄4 cup sugar
4 cups fresh strawberries
Instructions
Halve vanilla bean lengthwise and add to milk in a heavy saucepan. Bring just to a boil over medium heat. Remove from heat and set aside to cool.
Place egg yolks in a medium bowl and slowly whisk in 1⁄2 cup of the sugar until sugar has almost dissolved and mixture thickens.
Remove vanilla bean from milk and save for another use. Pour milk into egg–sugar mixture in a thin stream, stirring constantly. Return custard mixture to saucepan and place over medium-low heat. Stir constantly, 15–20 minutes, or until custard is the consistency of pancake batter, a little thicker than heavy cream. Do not boil.
Strain custard through a sieve and pour into six individual dishes or a large serving bowl. Allow the custard to cool at room temperature, then chill.
Wash and trim strawberries. Sprinkle with remaining 1⁄4 cup sugar, mix gently, and let macerate for 1 hour at room temperature. Spoon berries over custard. Serve with shortbread cookies.