Recipes
Chinese Tea Eggs (Cha Ye Dan) Recipe
Everyday Chinese snack made simple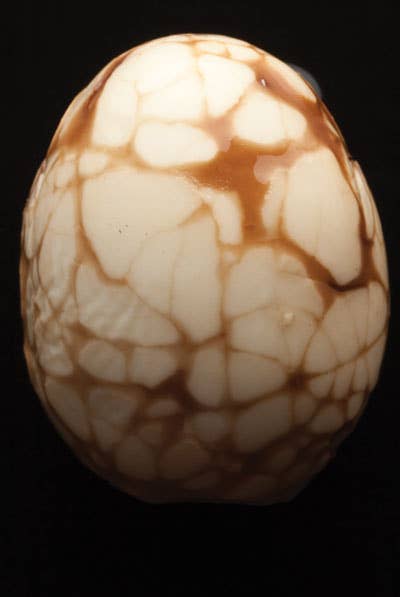 Cooked in a flavorful marinade of soy sauce, star anise, and cinnamon, these tea-stained eggs are a Lunar New Year staple and a favorite everyday snack in China. This tea egg recipe first appeared in the 2012 SAVEUR 100, with the article Chinese Tea Eggs.
Ingredients
1⁄2 cup soy sauce
1⁄2 cup sugar
1⁄2 tsp. whole black peppercorns
1⁄2 tsp. fennel seeds
8 whole cloves
2 whole star anise
2 sticks cinnamon
1 tbsp. loose-leaf smoked tea, such as lapsang souchong (available from Amazon)
8 eggs
Instructions
Step 1
Bring soy sauce, sugar, peppercorns, fennel, cloves, star anise, cinnamon, and 2 cups water to a boil in a 2-qt. saucepan; remove from heat and add tea. Let steep for 10 minutes. Pour marinade through a fine strainer into a bowl and keep warm. Place eggs in a 4-qt. saucepan; cover by 1⁄2″ with cold water. Place saucepan over high heat and bring to a boil; cover pan, remove from heat, and let sit until eggs are soft-boiled, about 5 minutes. Drain eggs. Crack shells all over but do not peel eggs; return to saucepan along with marinade. Bring to a boil and let cook, stirring, for 5 minutes. Remove from heat and add 2 cups ice. Let cool in marinade before serving.