Recipes
Pork Schnitzel with Green Olive Giardiniera
The beloved Italian pickled relish cuts the richness of these fried, breaded pork cutlets.
Serves

serves 4

Cook

13 hours 45 minutes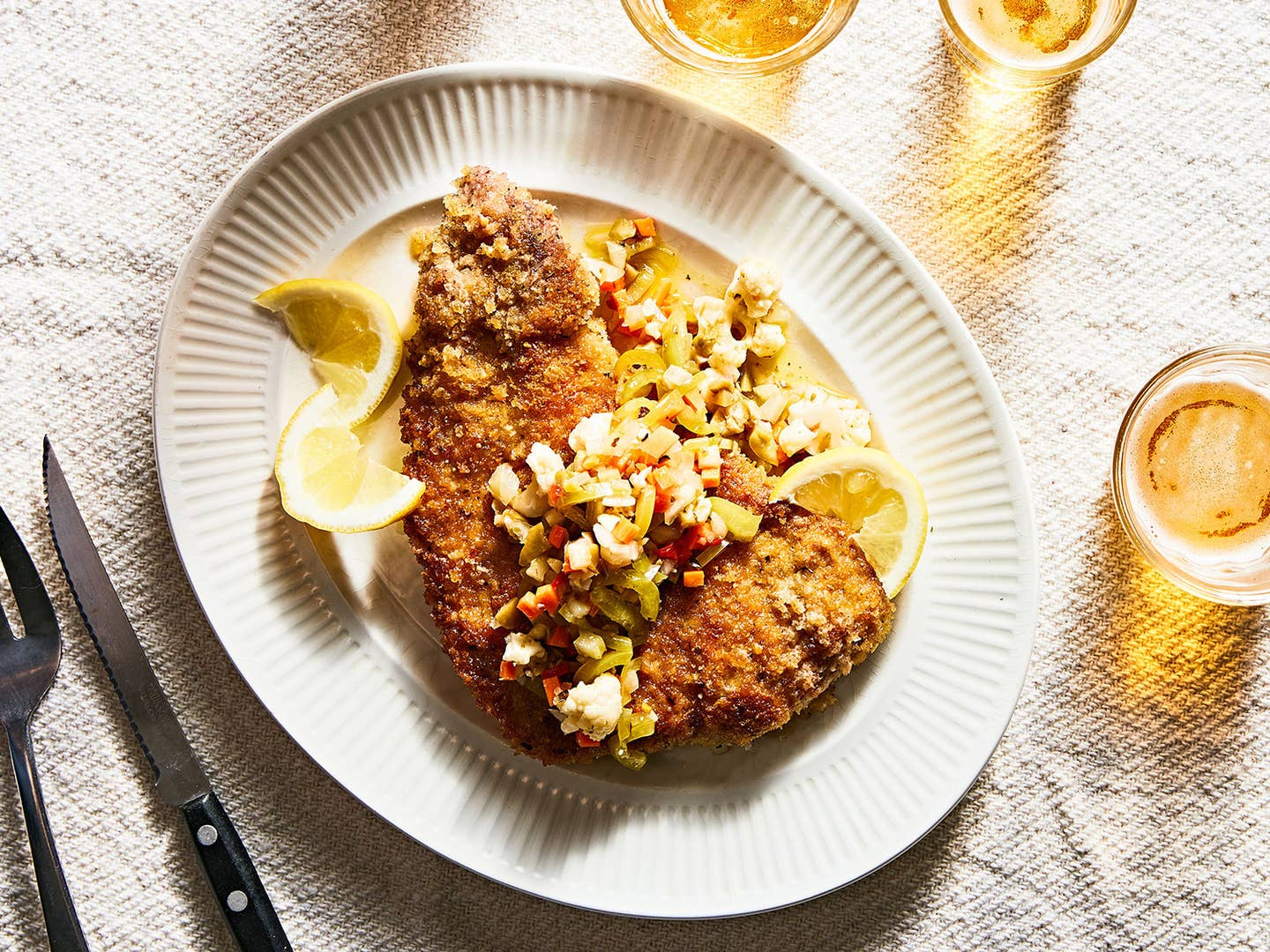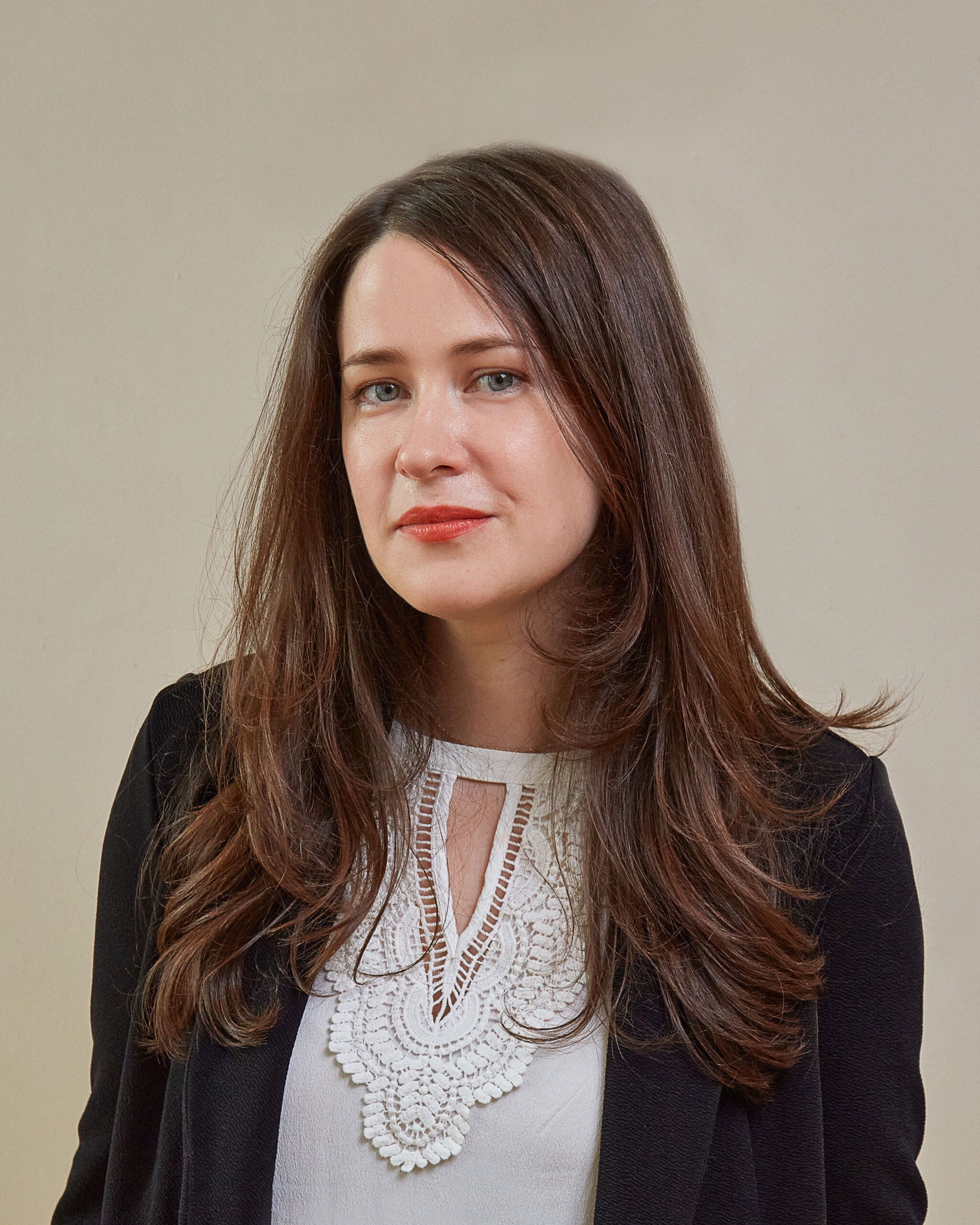 ---
Giardiniera, a vinegary, Italian-style relish, is an excellent condiment for sandwiches and meats like these crispy, pan-fried pork cutlets. Finely chopping the vegetables and heating the brine speed up the pickling process. This recipe makes extra giardiniera, but it keeps well in the fridge for at least a month. Add the leftovers to Chicago's classic Italian beef sandwich, a New Orleans-style muffuletta, or even a simple hot dog.
Ingredients
For the giardiniera:
2 banana peppers, thinly sliced (1½ cups)
2 medium carrots, finely diced (1½ cups)
¾ cup coarsely chopped cauliflower florets
1 large celery rib, finely diced (⅔ cup)
3 Tbsp. kosher salt
½ cup diced green olives (like Castelvetrano)
1 clove garlic, crushed and peeled
½ cup extra-virgin olive oil
½ cup white wine vinegar
1 tsp. dried oregano
½ tsp. coarsely ground black pepper
½ tsp. fennel seeds
For the pork chops:
2 boneless pork chops (9–10-oz. each)
1 cup (2¼ oz.) panko bread crumbs
⅓ cup (¾ oz.) finely grated Parmesan
¾ tsp. freshly ground black pepper
½ tsp. dried oregano
½ tsp. kosher salt, plus more as needed
¼ cup all-purpose flour
1 large egg
¼ cup extra-virgin olive oil, divided
Lemon wedges, for serving
Instructions
Step 1
Make the giardiniera: In a medium bowl, add the banana peppers, carrots, cauliflower, celery, and salt. Toss well to combine, cover tightly, and refrigerate for at least 6 hours or overnight.
Step 2
In a fine-mesh strainer set over the sink, drain the vegetable mixture. Rinse well with cold water, then add the olives and garlic; toss well. Transfer the mixture to a small bowl or 3-cup jar.
Step 3
In a small pot over medium-high heat, add the oil, vinegar, oregano, black pepper, and fennel seeds. Bring to a simmer, then remove from the heat and pour over the vegetable mixture. Cover and set aside at room temperature for at least 6 hours before serving; alternately, transfer to the refrigerator and use within 1 month. (Makes 3 cups.)
Step 4
Make the pork chops: Transfer the pork chops to a large, resealable plastic bag. Using the flat side of a meat mallet or rolling pin, pound the pork ½ inch thick.
Step 5
In a wide bowl, add the panko, Parmesan, black pepper, oregano, and salt; mix well. Sprinkle the flour over a large plate and season with salt. In a separate wide bowl, beat the egg with 1 tablespoon oil and season with salt. Working with one chop at a time, dredge the pork in the flour, followed by the egg mixture, and finally the panko mixture, packing the crumbs onto the pork to adhere; set by the stove.
Step 6
In a large cast-iron skillet over medium heat, add the remaining 3 tablespoons oil. When the oil is hot, add the pork and cook, flipping once, until crispy, golden, and cooked through, 4–5 minutes per side. Transfer to a serving platter and top each chop with ¼ cup giardiniera. Cut the pork into strips and serve hot, with lemon wedges and more giardiniera on the side.