One Ingredient, Many Ways: Capers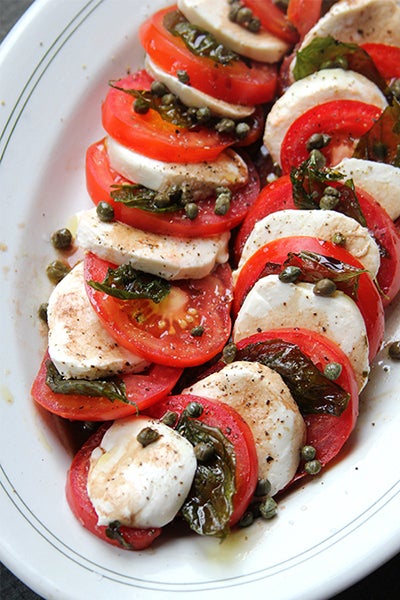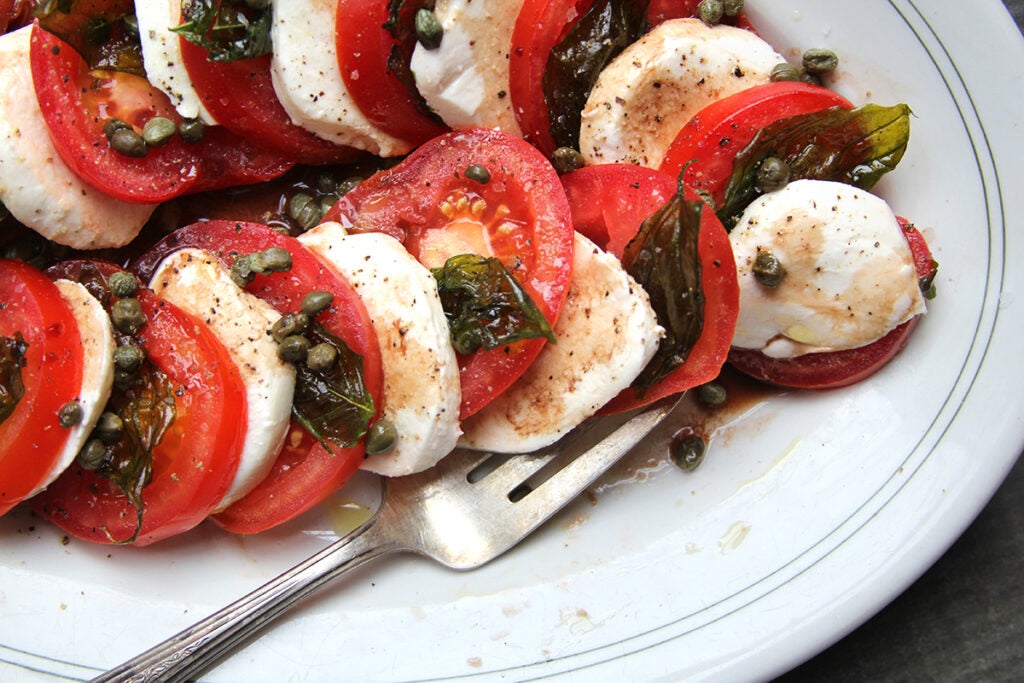 Caprese Salad with Fried Capers and Basil
Briny and slightly crispy fried capers punch up the flavor of this classic Italian tomato and mozzarella salad.
Despite their diminutive size, capers are flavor powerhouses. These tiny, briny buds of the perennial caper bush are harvested and sold in a range of sizes, but the smallest variety, called nonpareils, are my favorite to cook with. (Caper berries, which are approximately the size of a pearl onion, are the fruit from the same plant instead of the flowering bud.)
Fairly flavorless in their raw state, capers are usually preserved in salt or vinegar; the resulting bright, pungent tang cuts through fatty, unctuous foods, which is why they often end up accompanying rich dishes such as veal piccata, or getting stirred into creamy tartar sauce to serve alongside fried fish. For an unexpected twist, I like to fry the capers themselves and add them to simple vegetable sides—fried capers are particularly brilliant on a classic caprese salad. A brief sizzle in hot oil opens the caper's bud ever so slightly, adding unexpected crunch and a bright pop of salt and acidity that's a perfect complement to fresh tomatoes and creamy mozzarella.
See the recipe for Caprese Salad with Fried Capers and Basil »
MAINS
Classic Veal Piccata
Sautéed veal is draped with a white wine sauce sharpened with lemon juice and capers.
Vitello Tonnato (Veal with Tuna Caper Sauce)
A Piedmontese antipasto dish of veal topped with a creamy tuna and caper sauce is traditionally served on Christmas.
Tunisian Tuna Sandwich
A North African stuffed sandwich brimming with oil-packed tuna, capers, and pepperoncini.
Potato-Crusted Lyonnaise Fish
Capers make a tart garnish for tender red snapper covered in crispy shoestring potatoes.
Grilled Steak with Sauce Vierge
The flavor of grilled steak is amplified by a bright green sauce made with parsley, anchovies, jalapeño, and capers.
Brusiate alla Trapanese (Corkscrew Pasta with Trapanese Pesto)
In Trapani, Sicily, homemade corkscrew pasta comes covered in a rich pesto made with cherry tomatoes, almonds, basil, golden raisins, and capers.
Tramezzini (Venetian Tea Sandwiches)
Delicate, light and elegant, these tea sandwiches come with a variety of fillings, including tuna, olives, and capers.
Baccala Salad
Salt cod pairs wonderfully with sweet pimiento peppers, kalamata olives, and capers.
SIDES
Green Beans with Lemon and Capers
Crisp-tender beans are tossed in a simple, piccata-inspired dressing.
Roasted Garlic and Sweet Potato Crostini
Chopped capers add a burst of brine to crostini topped with creamy sweet potato.
Solyanaka (Russian Sweet and Sour Beef Soup)
A hearty soup gets a big dose of flavor from chopped pickles, olives, and capers.
Catalan Asparagus Vinaigrette
Claudia Roden's delicious take on the classic asparagus dish includes lots of briny capers.
Tartar Sauce
The bright, salty flavor of capers cuts through tartar sauce's richness.
Raw Tomato-Caper Sauce
A whole ½ cup of salt-packed capers go into this fresh tomato sauce. Serve it on pasta, crostini or grilled fish.
Peperoni con Acciughe (Stuffed Cherry Peppers)
Tiny hot peppers stuffed with a mix of tuna, anchovies, and capers make a perfect savory appetizer.
Tapenade Noir à la Figure (Olive Spread with Figs)
A classic Provençal-style tapenade combining black olives, anchovies, capers and figs, with delicious results.
Parsley and Onion Salad
This simple salad gets a big boost of flavor from a combination of grassy parsley leaves, salty capers, and finely chopped mint.
Everything Potato Galette with Lox and Crème Fraîche
An unusual potato galette captures the flavors of an everything bagel topped with all the fixings.
Caponata
A reader favorite, this classic Italian eggplant spread is made with caramelized onions and capers.
_Leah Koenig is a freelance writer and author of_The Hadassah Everyday Cookbook: Daily Meals for the Contemporary Jewish Kitchen.